Highlights

Privacy coins may be under the scanner of law agencies for their 'anonymity' in transactions
The three mentioned here rank on CoinMarketCap's list of privacy-focused cryptocurrencies
These tokens have appreciated lately, but how they fare in the long run cannot be ascertained
Privacy is generally valued in many modern societies. But many argue that privacy, as far as it relates to financial transactions, may not be a good idea. Blockchain-based projects are claiming to bring a decisive change to the internet.
One project, Audius, with its AUDIO crypto, intends to free the music industry of powerful labels. Gala Games, with the GALA native token, wants to infuse decentralization into gaming. But a few projects claim to further anonymous transactions, which is why they are clubbed under the privacy coins category.
Are privacy coins legal? For now, cryptocurrencies in most countries are unregulated. Some experts have raised the question of whether Russia may use cryptos to dodge sanctions, and maybe privacy coins have a role here. Separately, some analysts have raised the possibility of a connection with the recent rise in the prices of privacy coins and Joe Biden's likely executive order on cryptocurrencies.
All this aside, let us know which are the top privacy coins by market cap.
1. Monero (XMR)
Monero is arguably the most popular privacy-focused cryptocurrency. It could be, perhaps, considered the Bitcoin of the privacy coin category.
The project claims it obscures transactions in a manner that no one except the transacting parties know the exact details. This is said to be achieved by splitting the transaction amount into chunks, besides the creation of stealth addresses for every transfer.
The Monero project is also said to be in the cross hairs of some law enforcement agencies. Major exchanges like Coinbase do not support trade in Monero, but it may be traded on smaller ones.
The XMR crypto had a market cap of nearly US$3.6 billion as of writing, which made it a top 50 asset on the list topped by BTC. The Monero crypto had gained heavily over the past 24 hours, and the price was nearly US$200. It is notable that Monero's price was under US$140 a couple of weeks back.
Also read: AIOZ crypto soars: What is this decentralized content delivery network?
2. Zcash (ZEC)
The ZEC crypto is another privacy coin, which ranks second to Monero in terms of market cap. Zcash claims that though its transactions are anonymous -- unlike the "pseudonymous" BTC transfers -- the transfer details may be revealed during auditing. The project has its own native tech during the verification process, which it claims doesn't expose the transacting parties' details.
As of writing, Zcash had a market cap of nearly US$1.95 billion, and its price per token stood at nearly US$140. Zcash's trading volume and price had both surged over the past 24 hours, a trend that seems to have gripped some privacy-focused cryptocurrencies.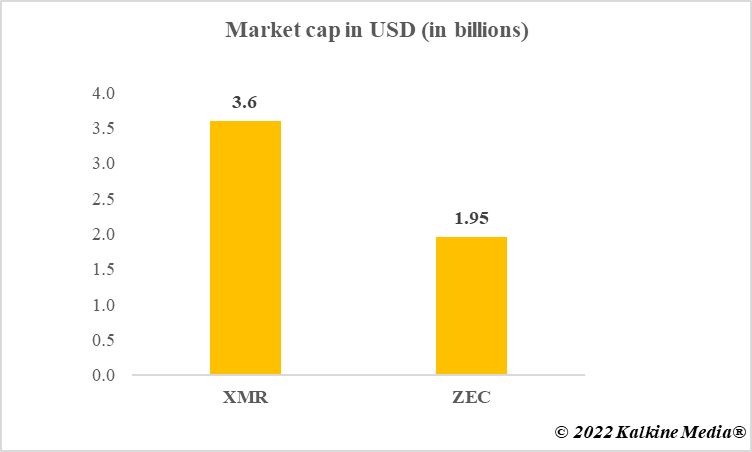 Image description: Market cap of major privacy coins
Data provided by CoinMarketCap.com
3. Oasis Network (ROSE)
The Oasis Network project seems to be different to the above two, in that it provides "privacy enabled" blockchain services to developers for the deployment of decentralized apps (DApps).
The project has a Layer 1 network that it claims can support non-fungible tokens (NFTs), DeFi protocols, blockchain games and metaverses. Oasis Network states that the ownership of assets over its network is kept confidential. Though the project claims the transactions are transparent, the underlying data's privacy is not compromised.
Also read: ULAB token rises: What are Unilab crypto's smart contract services?
The ROSE token of the network had a market cap of over US$830 million as of writing, and it ranked third on the CoinMarketCap list of privacy coins. The ROSE crypto's price had also gained over the past 24 hours, and the trade volume was also in the green.
Why are privacy tokens gaining?
All crypto assets, whether categorized as a blockchain network or as a metaverse or as a privacy coin, are vulnerable to sudden and sharp swings in their prices. Privacy coins have surged lately, and analysts are hypothesizing about different possible reasons like an expected Biden executive order on cryptos and possible use of these cryptos by people looking to evade identification.
Also read: Top 3 meme cryptos by market cap to watch after Ukraine's Dogecoin move
Bottom line
It cannot be said whether trading in the above-mentioned privacy coins is a good deal or bad. Over the past 24 hours, these three and others on CoinMarketCap's privacy coins list have gained.
The space is risky, and it may become more so if the project comes into the cross hairs of law agencies. How the above three would fare in the long run is a wait-and-watch scenario as of now.
Risk Disclosure: Trading in cryptocurrencies involves high risks including the risk of losing some, or all, of your investment amount, and may not be suitable for all investors. Prices of cryptocurrencies are extremely volatile and may be affected by external factors such as financial, regulatory, or political events. The laws that apply to crypto products (and how a particular crypto product is regulated) may change. Before deciding to trade in financial instrument or cryptocurrencies you should be fully informed of the risks and costs associated with trading in the financial markets, carefully consider your investment objectives, level of experience, and risk appetite, and seek professional advice where needed. Kalkine Media cannot and does not represent or guarantee that any of the information/data available here is accurate, reliable, current, complete or appropriate for your needs. Kalkine Media will not accept liability for any loss or damage as a result of your trading or your reliance on the information shared on this website.