Highlights

Bitcoin breaks into the all-time high barrier for the first time in six months on Wednesday as it reached touched US $66,610.
On Thursday, it was trading at US$66,093 at the time of writing (BST 12:00 pm) with a 24-hour volume of US$48,260,296,486.
Bitcoin was up by 3.18% in the last 24 hours and had a live market cap of US $1,244,633,672,413.
With almost 600% surge in price, the bitcoins had quite a dramatic year so far. The rally in bitcoins seem to be surging with every passing week and is expected to touch newer highs in near future. After breaching the all-time high barrier on Wednesday, the bulls are banking for it shooting towards moon.
On Wednesday, when the intraday trading closed, Bitcoin was well over US $65,000, after achieving a high of US $66,610, which was celebrated with joyous scenes across the market. On Thursday, BTC once again witnessed a strong rally during the intraday trading session and was rallying strong at US$66,093, with a 24-hour volume of US$48,260,296,486. Bitcoin was up by 3.18% in the last 24 hours and had a live market cap of US $1,244,633,672,413.
Image source: Trading view
As we can see in the chart, the moving average convergence divergence (MACD) line, which indicates the trend following the momentum, in the red histogram is below the signal line indicated in blue, as they intersect on 1 October, but since then the blue line has not only managed to steer clear, but have shown an upward trend, well away from the red line.
Also read: Watch out for these 4 highly anticipated Bitcoin ETFs
Indeed, Bitcoin's achieving its ATH was a celebratory moment, making up for the losses it had made during the market crash. But many ponder what's next and where to can Bitcoin can go from here?
Ups and downs
October has indeed been a golden period for cryptocurrency market. In this month alone, BTC's price, riding high on SEC approval of Bitcoin ETFs, coupled with the outstanding performance of ProShares Bitcoin Futures ETF, hauled close to US$570 million of assets on its first day. With this it has raised hopes of hitting a new high every day.
The market will also be happy that not just the price but the volume-wise too, the market has responded. There has been a volume spike of over 31.12% in the past 24-hours at the time of writing (BST 12:00 pm).
Also read: How rollout of Bitcoin ETF in US could be a watershed moment
BTC's one-day Moving Averages, Oscillators and Pivots, so far indicates a healthy zone, pointing that the bulls are having their nose ahead in the race. Having said that, while the 50 EMA showcases the bull run ahead, the 100 EMA, and 200 EMA (exponential moving averages) indicate that the bullish will subside as bears could begin to circle back in.

Image source: Trading view

Experts opinion
The Bitcoin ETF was indeed proving to be a watershed moment in crypto history as it gave the market the much-needed momentum with many market experts now predicting that it won't be a surprise if Bitcoin is able to break the US $100,000 barrier by the end of the year.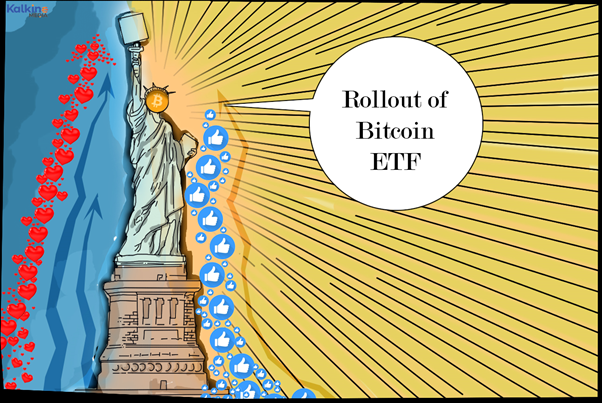 Source: Copyright © 2021 Kalkine Media
With Valkyrie's Bitcoin ETF slated to launch on 25 October, we could see Bitcoin hitting US $70,000, but the end of this week itself and Grayscale Bitcoin ETF expected to get a nod from the SEC, the market could well witness the momentum to remain at least till the holidays season in December.
Conclusion
BTC momentum has been heartening for market and much-needed one as well. Other cryptos and altcoins too have had a good run and its visible in the market cap increasing to US $2.67 trillion, an overall increase of 5.60 over the last day.