Summary

The cosmic themed currency was launched in March 2021 and is increasingly attracting crypto users around the world.
SafeMoon's most unique feature comprises of charging a 10% penalty fee from its sellers and rewarding its keepers for holding the currency.
However, the digital currency does not have any major advantage over the other cryptocurrencies, which raises questions over its long-term sustainability.
One of the most talked-about cryptocurrencies of recent time is known as SafeMoon. Being launched in March 2021, SafeMoon took inspiration for its slogan (safely to the moon) from the English phrase-to the moon. And, in such a short span of time, it has successfully built a huge fan following, with more than 2 million holders of this currency.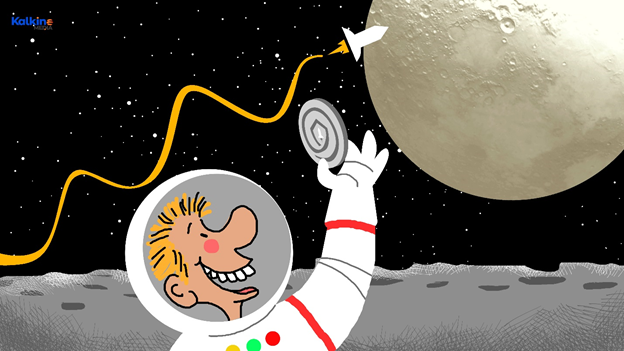 Source: Copyright © 2021 Kalkine Media
Currently, more than 570 trillion tokens of the cryptocurrency are in circulation with a market capitalisation of over $1 billion. Being low priced, it is hugely popular among crypto users.
Can't Miss Reading: Which are top 10 cheapest cryptocurrencies to keep an eye on?
Though like Bitcoin and Ethereum, SafeMoon was launched with a prime motive of fixing the price volatility associated with many cryptocurrencies. Hence, it discourages day trading and rewards those crypto holders who hold on to it rather than trade by levying a 10% fee on its sellers and redistributing half of it to its existing coin owners as rewards and the remaining 5% is used as a liquidity pool with SafeCoin.
Must Read: What is SafeMoon crypto?
A glance at some of the exciting features of SafeMoon
Static rewards are referred to as reflection, since the digital currency holders watch their investments growing rapidly. The longer one holds the currency, the more coins one tends to pick.
Manual burning of SafeMoon tokens
The team of SafeMoon regularly burns tokens, i.e., SafeMoon tokens are purposefully removed from circulation, which gives more control to its creators over the coin's supply. The intention behind such a move is to systematically raise its price by reducing its supply in the market. So far, about 400 trillion SafeMoon tokens have been burned.
A fee of 10% is charged on selling the tokens
As explained earlier, this is the most distinct feature of SafeMoon. The cryptocurrency imposes its sellers with a 10% penalty, every time they sell the digital currency, thereby maintaining price stability.
Recommended Read: How do I buy SafeMoon?
Who is behind SafeMoon?
This cosmic-themed currency is managed by a small group of people led by CEO, John Karony. Then, there is its Chief Technology Officer, Thomas Smith, and a community manager, Trevor Church. The trio is currently working on an independent video game studio, named TANO which stands for technically a new operation. They are supported by the Chief Operating Officer, Jack Haines-Davies.
Future of SafeMoon
This new cryptocurrency is focusing on a workplan for the year, wherein it has already begun a marketing campaign and increased its team size, in the initial quarter of the year. Further, it plans to create a SafeMoon app, its own wallet, and games, as well.
Plans are also being worked out by SafeMoon to open its own exchange and establish offices in regions like UK/Ireland and Africa.
How good is SafeMoon?
Though the popularity of SafeMoon is increasing rapidly because of the low-price, many crypto users have doubts about its use, as it does not have any major advantage over other prevailing cryptocurrencies, thereby raising questions on its long-term usage and success.
In the long run, those cryptocurrencies are favoured, which have a competitive advantage or serve a definite purpose.
Read: Crypto Safemoon Dives Leading to Scam Claims
Moreover, many top cryptocurrency exchanges do not support SafeMoon. Again, those exchanges where SafeMoon is listed, follow a convoluted process, i.e., one needs to buy BinanceCoin, convert it into a Smart Chain, and then purchase SafeMoon coins.
Also Read: Safemoon hurtling to the moon; but is it really safe?
To continue the trend of becoming one of the most sought-after cryptocurrencies even in the long run, SafeMoon has to work hard to keep up its pace with its counterparts and continue alluring the crypto enthusiasts.