Highlights

Syn City is a new entrant in metaverse gaming where AXS, MANA, and SAND are the leading players
Syn City crypto project claims it is the first 'mafia' game with blockchain underpinning
Syn City token, SYNR, is being released through IDO on decentralized exchange Polkastarter
If 2021 was about non-fungible tokens (NFTs) and meme cryptocurrencies, 2022 could well be the year of metaverse.
Tech giants are rushing to the virtual reality world. What blockchain-based projects offer is distributed power among users, which tech giants' metaverses may not allow. After the rally in Decentraland and The Sandbox metaverse tokens, Syn City token is now gaining traction.
What is Syn City crypto?
Syn City is a metaverse gaming platform. It projects itself as a 'mafia' verse where gamers can build a syndicate and engage in combats.
Syn City harnesses the decentralized features of blockchain and claims to handover the governance of the network to its users. Besides, it advertises itself as a play-to-earn game with no entry barrier for new users.
Unlike many other blockchain games like Axie Infinity, where new users have to first buy some tokens, Syn City claims to have no such constraints.
Also read: The Quadriga crypto fraud saga, and lessons for crypto investors
Syn City token
SYNR or $SYNR will serve as the governance token of Syn City metaverse project.
It would allow staking and participation in voting to decide the platform's governance. Staking of Syn City token for electing syndicate leaders is also one of the features.
Syn City IDO
IDO or Initial Dex Offering is when a blockchain project releases the initial lot of tokens via a liquidity exchange. Syn City metaverse is looking to raise US$500,000 through IDO on January 20, 2022.
Maximum token allocation per applicant is set at US$400. The price of SYNR token is set at US$0.02.
Syn City NFT
Syn City is underpinned by NFTs as are other metaverse cryptos like Axie Infinity and Decentraland. The official website of the project claims to have sold over US$3 million worth of NFTs in a matter of just 18 minutes.
Syn City also claims to have achieved the best trading volume on Binance NFT platform.
Metaverse tokens popularity
In the last couple of months of 2021, metaverse tokens outperformed most other cryptocurrencies.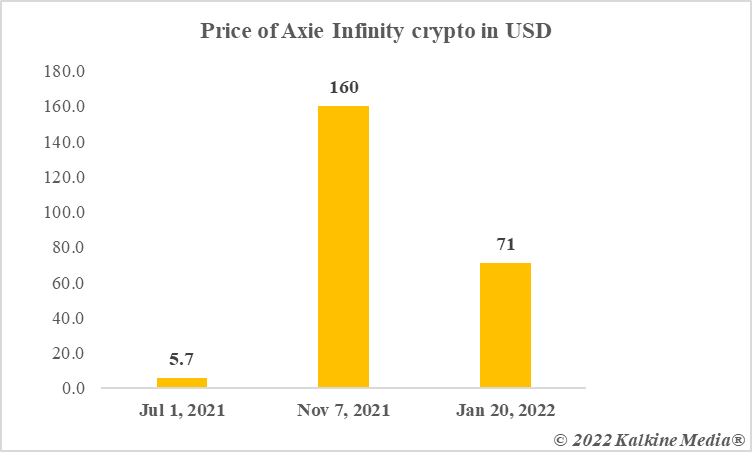 Data provided by CoinMarketCap.com
The interest was mainly triggered by Facebook's meta move. A few metaverse coins like AXS were in the trending crypto category even before Facebook's name change. AXS was one of the best performing crypto of 2021. Others like SAND and MANA also grew in value.
Also read: What is Walmart crypto? Is Walmart launching NFTs?
Blockchain based games are likened to metaverse. But, the fictional worlds of Facebook and Microsoft may differ in underlying tech. Tech giants may not have decentralized autonomous organization (DAO) underpinning, which all blockchain games are highlighting as their biggest USP.
Bottom line
Syn City is claiming to be the first-ever blockchain game with 'mafia' features. Users can build their syndicates and undertake 'loots' in the fictional world, something that may attract gamers. SYNR token has yet to be listed on a crypto exchange like Coinbase. As of now, it is being released at a fixed price through IDOs.