Highlights

The XLM coin was down over 3% Tuesday morning
Its 24-hour volume was up over 83%
It reached its all-time high in January 2018
The Stellar (XLM) crypto caught investors' eyes January 11, despite a decline of over 3% Tuesday morning. However, at the time of writing, its volume for the last 24 hours was up over 83%.
What is Stellar (XLM)?
In simple words, Stellar is an open network that facilitates the transferring and storing of money. It was released in July 2014 with the primary aim of providing financial inclusion through reaching the world's unbanked.
However, after some time, it changed its focus to offering help to financial companies to connect with each other through blockchain technology. XLM is the native token of the network. Meanwhile, its native tokens, lumens, operates as a bridge for making trading assets across borders less expensive than traditional means.
Also Read: Top 5 US e-commerce stocks to explore in Q1 2022
This service also marks its effort in challenging the existing payment solution providers, who tend to charge higher fees for the same kind of services.
Notably, Stellar was based originally on the Ripple Labs protocol and the blockchain was created as a result of a hard fork, while its coding was rewritten subsequently. Jed McCaleb and Joyce Kim co-founded Stellar in 2013.
Also Read: NinjaFloki crypto rallies again, up 1,200%. What's next for NJF token?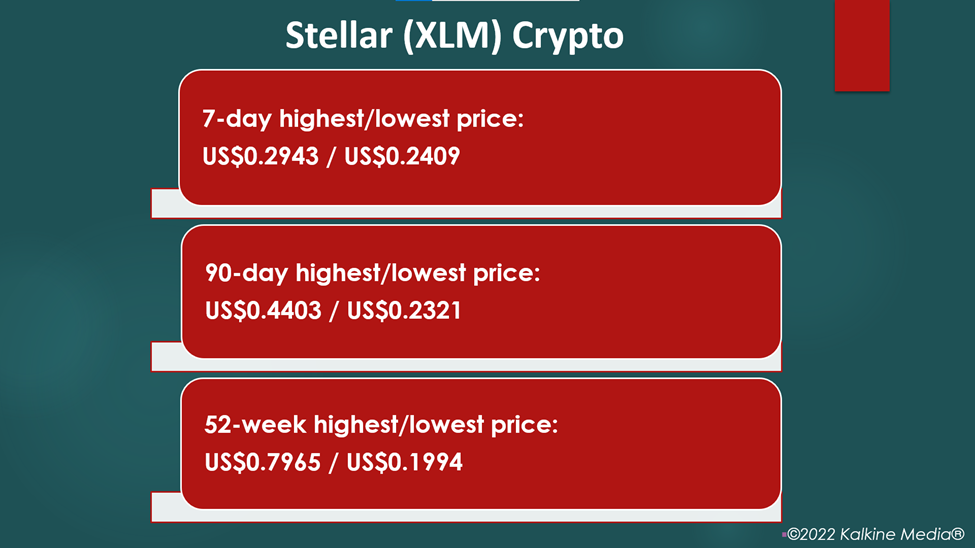 Also Read: FGI Industries Ltd IPO: What does kitchen & bath firm's FGI stock cost?
Total supply of XLM:
During the launch of the network in 2015, a total of 100 billion XLM coins were issued. However, currently, the total supply of the token is 50 billion, while its circulating supply is 24.7 billion. It can be traded on several exchanges like Binance, Coinbase, Kraken, Huobi, etc.
Also Read: Five cybersecurity stocks to watch in the first quarter of 2022
Pricing & other details of XLM coin:
The XLM coin was priced at US$0.25 at 6:20 am ET on January 11, down by 3.66%. It has a market cap of US$6.18 billion, and its fully diluted market cap is US$12.49 billion. Its volume for the last 24-hours was US$464.19 million through Tuesday morning, representing an increase of 83.20%.
The XLM coin saw the highest price of US$0.7965 and the lowest price of US$0.1994 in the last 52 weeks. It reached its all-time high of US$0.9381 on January 4, 2018. Over the past 12 months, its price tumbled 11.29%.
Also Read: Why is Dash (DASH) crypto trending?
What is Stellar crypto? XLM token's 24-hour trading volume spikes 83%
Bottom line:
Cryptocurrencies were a hot topic in the prior year, while various investors have shifted their focus towards the industry. However, the volatility of the crypto world is higher, and sometimes, even crypto experts fail to predict changes in the currencies. So, before investing in digital currencies, an investor should closely evaluate the risks associated with the market.