Highlights

Rarible competes with not only OpenSea but also with traditional auction houses like Christie's
NFT marketplaces may become the primary destination for NFT collectors to trade their assets
The RARI token's price could be a product of how Rarible facilitates trade in digital assets
The world of cryptocurrencies can add billions of dollars within hours and can also lose as quickly. In the wake of the crisis in Ukraine, cryptos lost value, but of late these assets have gained notably. In this light, NFTs, which though are not the same as crypto tokens, make for a close watch.
Non-fungible tokens are, at least what backers say, unique and some may command very high value. This is the sentiment that may have gone into the high-ticket sales of the NFTs of Beeple and CryptoPunk.
Of late, the exchanges that exclusively deal in NFTs have also gained traction. OpenSea is immensely popular, but today, let's know about an emerging NFT marketplace, Rarible, and its RARI token.
What does Rarible do?
Rarible bills itself as an ecosystem for virtually everything related to NFTs. The project is primarily a marketplace where NFTs linked to multiple projects, like that of digital artist Pak, can be traded.
Rarible claims it supports multiple blockchain networks, including Ethereum, which record the transfer of ownership of NFTs. The Rarible platform can facilitate the sale of metaverse-linked digital assets like land parcels.
Also read: What is Amazon Prime Gaming's new addition Crypto Against All Odds?
The project also has a Rarible protocol, which it says can help mint new NFTs, besides making Rarible a decentralized autonomous organization (DAO), where users take key decisions on governance. This is something that differentiates exchanges like Rarible from Christie's and Sotheby's.
What is Rarible Crypto || All You Need To Know About It
Rarible's RARI token
The RARI crypto, as claimed by the project, is primarily the governance token, which allows Rarible users to participate in voting, which lies at the heart of any DAO project.
According to CoinMarketCap, over 6.6 million RARI tokens were in circulation as of writing. RARI does not make the list as a top cryptocurrency right now, and with its market cap of nearly US$54 million, it does not feature even in the top 500 cryptos.
Also read: BTC, ETH, SHIB, MANA & UNI: Top 5 cryptos with best use cases
Rarible crypto price prediction
NFTs continue to be a big trend in the cryptocurrency world. Though these digital assets can be bought in auctions held at famous auction houses like Christie's, NFT exchanges like OpenSea and Rarible are gaining traction.
If Rarible attracts more NFT enthusiasts and the platform adds more popular NFTs to its marketplace, there is a chance the RARI token may reclaim the price of US$45 by the end of this year. RARI trades at nearly US$8 as of now, but it was priced at US$45 at one point in March last year.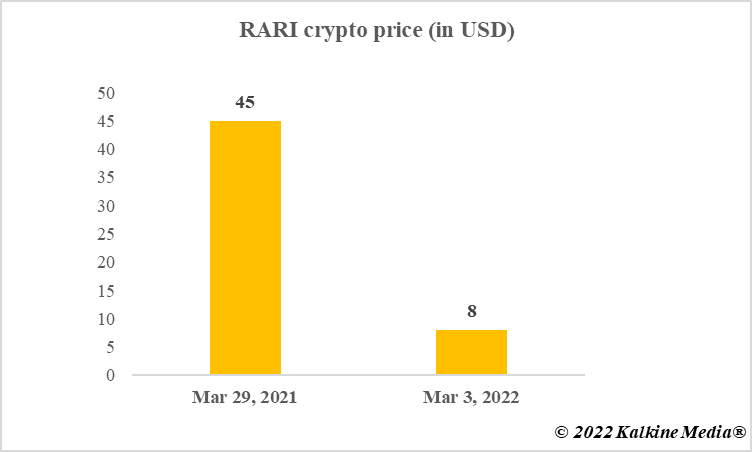 Data provided by CoinMarketCap.com
Also read: What is Fetch.ai crypto & its FET token's price prediction?
Bottom line
Rarible is a decentralized NFT trading platform, but it has yet to become as popular as OpenSea. The RARI token is native to Rarible, and its price growth might depend on how the Rarible marketplace performs in the long term. If Rarible can emerge as a major marketplace for trading in digital assets, it may lift RARI.
Risk Disclosure: Trading in cryptocurrencies involves high risks including the risk of losing some, or all, of your investment amount, and may not be suitable for all investors. Prices of cryptocurrencies are extremely volatile and may be affected by external factors such as financial, regulatory, or political events. The laws that apply to crypto products (and how a particular crypto product is regulated) may change. Before deciding to trade in financial instrument or cryptocurrencies you should be fully informed of the risks and costs associated with trading in the financial markets, carefully consider your investment objectives, level of experience, and risk appetite, and seek professional advice where needed. Kalkine Media cannot and does not represent or guarantee that any of the information/data available here is accurate, reliable, current, complete or appropriate for your needs. Kalkine Media will not accept liability for any loss or damage as a result of your trading or your reliance on the information shared on this website.