Highlights

Radicle aims to make the code-sharing space decentralized, with powers in the hands of developers
The RAD token price would rely on how Radicle finds patronage in the code collaboration space
Over the past 24 hours, Radicle crypto has gained while BTC and many others have lost value
At a time when high market cap and popular cryptocurrencies including BTC and XRP are trading in the red, one crypto has defied the odds over the past 24 hours.
Cryptos are risky, and their rollercoaster ride so far in 2022 is pushing this theory further. Bitcoin has yet again dropped under US$40,000 as of writing. The aggregate market cap of all cryptos has declined to nearly US$1.75 trillion, according to CoinMarketCap. While the latest trends may indicate many are seeking an answer to "why crypto is down today," at least one crypto is managing to rise.
What is Radicle crypto?
Radicle's open-source project is about introducing decentralization in code sharing. The project's developers say that users can collaborate on code through the Radicle Link protocol.
Radicle claims that the code collaboration space can be freed from intermediaries and platforms. Instead, power can be shifted to the hands of code developers that can share their code with peers using Radicle's decentralized storage services. The project has built 'Upstream' as a way for users to start hosting their code and collaborating with peers.
Also read: 10 best penny cryptos to watch in 2022
What is Radicle's RAD cryptocurrency?
RAD serves as a governance token, which allows users of Radicle to influence decisions. Developers that store and share their codes using Radicle also have the capacity to decide on the governance of the entire ecosystem.
RAD is actually what makes the Radicle network decentralized as opposed to centralized platforms. RAD can be traded over exchanges like Binance and Coinbase.
Also read: Is crypto dead & what is in store for blockchain in 2022?
Radicle crypto's price
Radicle's RAD token is trading at over US$7 as of writing. On CoinMarketCap's list of cryptos on the basis of market cap, Radicle sits pretty low. The market cap as of now is over US$190 million.
Over the past 24 hours, Radicle's trading volume has soared, and RAD's price is also up over 30 per cent.
Also read: Bitcoin price prediction 2025: Can Web 3.0 catapult BTC to $300,000?
Radicle crypto price prediction
Radicle's price manifested extreme volatility in 2021. It peaked to over US$26 in mid-April, but then fell to under US$5 by June. At the close of the year, the price was over US$10, which again dropped under US$5 after a consistent bearish phase.
The present rally in the Radicle crypto may be in support of its decentralized code collaboration services. If the platform can compete well with platforms like GitHub, Radicle's governance token may grow. In the current year, the price may reclaim the double-digit figure soon and may even reach US$15 by the end of 2022.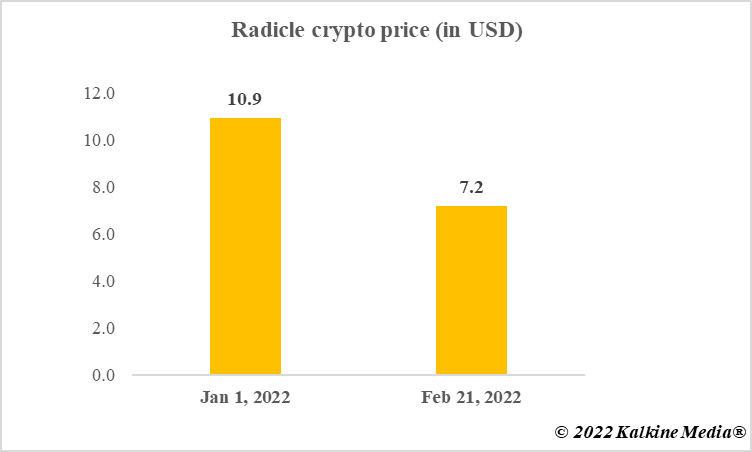 Data provided by CoinMarketCap.com
Also read: BTT, SHIB & XEC: Top 3 cheap cryptocurrencies with market cap over $1B
Bottom line
Radicle has a defined utility, and the RAD token plays a key role in the Radicle ecosystem. But since it is competing with platforms like GitHub, Radicle has a long road ahead. If it can indeed decentralize code collaboration, users might prefer its open-source platform over others.