Highlights

Kadena is another blockchain platform that is rivaling Ethereum with a promise to have cheaper transaction fee
KDA crypto is the network's native token, and KDA price would depend on Kadena's adoption by developers
Pact is the smart contract language that Kadena supports and which it claims has very easy-to-use interface
Multiple blockchain networks were competing in 2021 to help developers build decentralized apps.
The competition may further heat up in 2022. Solana emerged as the biggest rival to Ethereum last year, which made Solana's SOL crypto one of the best performing assets. While Cardano, Polkadot and other high market cap blockchain networks usually make news headlines, it is time to look beyond.
One blockchain network, Kadena, is claiming to be like no other. Let's know more.
What is Kadena?
Kadena allows developers to build smart contracts and other blockchain-based solutions like NFTs.
The platform was launched in 2016, and it claims to provide 'virtually free' transactions. Kadena boasts of its smart contract language, Pact, which it claims can weed out bugs. Pact can be used by developers in their early blockchain projects as the language is said to be easy to adopt.
Unlike most other blockchain platforms that are rejecting the proof-of-work consensus, Kadena claims it uses proof-of-work to have Bitcoin-like security for its network. Kadena can support DeFi, exchanges, wallets and DApps.
Also read: Is crypto dead & what is in store for blockchain in 2022?
Kadena crypto
Kadena has the native KDA crypto acting as the native token. KDA does for Kadena blockchain what Ether does for Ethereum network.
Users must pay their transaction fee in KDA token, the total supply of which is fixed at one billion. It is claimed by Kadena that KDA tokens would be mined over 120 years.
KDA crypto price
KDA has a high market cap of nearly US$930 million, which makes it one of the top 100 cryptos by market cap.
The price of KDA token is approx. 5.5 as of now, after having plunged over 10 per cent over the past 24 hours.
Also read: 'Crypto is for virgin' trend shines the spotlight on 'virgin' Bitcoins
KDA crypto price prediction
Solana, a major Ethereum rival, rose substantially in 2021. The network is being used by developers to build DApps. If Kadena blockchain can show similar promises, KDA crypto may have a fair chance to rise in the near-to-medium future.
Kadena crypto experienced a sharp rally in November 2021 and price peaked to almost US$25. In 2022 so far, Kadena has continuously lost value. Price might enter double-digit trajectory by the end of first quarter, but for a sustained rally, Kadena blockchain will have to be adopted by more developers.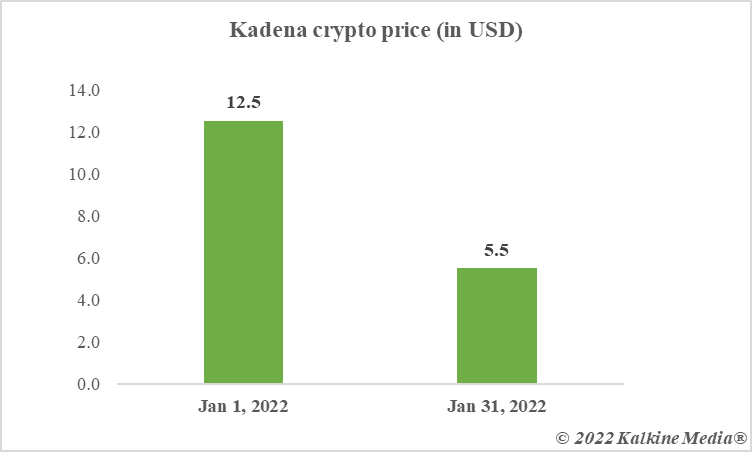 Data provided by CoinMarketCap.com
Bottom line
Ethereum's dominance in blockchain and as a leading provider of DApps services is under threat. Just like Ethereum, all other networks have a native token used for payment of fee. It is claimed that gas fee in Ethereum is quite high, and Kadena is one of the networks claiming to be very affordable. KDA coin has usage within Kadena, and the price movement will largely be a product of demand.