Highlights

Jasmy project aims to provide licensed access to personal data of users
Businesses can use this data to promote their products and services in an efficient manner
JasmyCoin is the linked token, and it peaked to US$4 in February 2021
Data is an invaluable commodity today. In the age of digital marketing, businesses are using novel ways to draw consumers' interest.
Personal data of consumers has immense value in marketing. The business identifies the right audience for the product by analyzing this data. A cryptocurrency project titled 'Jasmy' claims to bridge the gap between businesses and consumers with respect to storage and use of data.
What is Jasmy blockchain project?
Jasmy claims to be an enabler. By storing personal data of users, it allows service providers to access it and pitch their services to the right audience.
The project stores users' information in 'data lockers'. Businesses may harness this data and reduce the costs involved in information security. Jasmy claims that the personal information will be licensed by the user to the platform.
JasmyCoin crypto
JasmyCoin token is the native crypto of Jasmy project. It will be used for payment purposes by service providers that wish to use users' data for promotion purposes.
Also read: Norton crypto mining services: All you need to know
The project claims that the price appreciation of JasmyCoin will be a product of demand for data stored in lockers. As a mode of payment within the platform, JasmyCoin lies at the heart of the project.
JasmyCoin crypto price
JASMY token is presently trading at nearly US$0.07. The market cap of the token is approx. 340 million and it ranks among top 250 cryptos by market cap in the CoinMarketCap listing.
JasmyCoin crypto price prediction
JASMY has been quite volatile. Between February 2021 and April 2021, the price fluctuated between US$1 and US$4. Since June last year, the price per token has remained under US$0.50.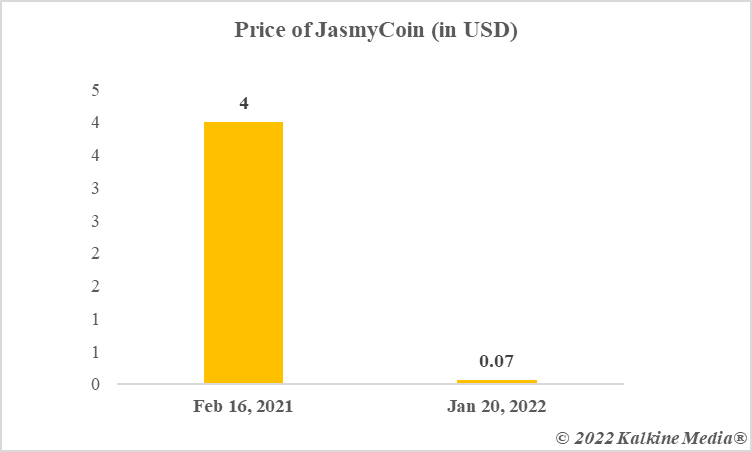 Data provided by CoinMarketCap.com
Price of JASMY may reach US$1, but the platform would have to prove its utility. The past performance was largely driven by sentiments, not fundamentals. Storing data in lockers and letting businesses have access to it sounds a fair business model. If more users flock to the platform to avail these lockers, price of JasmyCoin may undergo a surge.
Also read: Why are NFTs valuable?
Bottom line
Like most other native tokens, JasmyCoin has a limited use as a form of payment within its network. In the medium-to-long term, price would be decided by demand forces. More the demand for Jasmy data wallet services by both users and businesses, more the demand for JASMY token.