Highlights

Bitrise Coin is the native crypto token of the Bitrise blockchain project that offers wallet services
For now, the BRISE token is trading well under US$1, which might attract some investors
The BNB crypto is a part of the Bitrise project in the form of rewards to wallet users
Not every crypto project is identical, albeit each is powered by blockchain technology. Ethereum is a blockchain network helping developers build and deploy decentralized solutions and tokens. BitTorrent is using distributed ledger technology in torrent file sharing. Both have their native tokens in the form of Ether and BTT, respectively.
Now, another cryptocurrency project, Bitrise is in the news. Let's get to know what it is about.
What is the Bitrise cryptocurrency?
Bitrise claims to be a "hyper-deflationary" crypto asset. The key unique selling proposition (USP) of the project is its crypto buyback program.
Also read: 5 low-priced cryptos that may script a SHIB-like surge story in 2022
According to the whitepaper published by Bitrise, the network will facilitate "automatic buyback." Basically, a share buyback program involves the stock issuing company buying its own shares back from investors. In cryptocurrencies, a crypto buyback has yet to gain traction. Bitrise claims that its buyback feature would make holding crypto assets more profitable, besides limiting volatility in prices.
What is the Bitrise token?
The Bitrise project has a crypto wallet service. The Bitrise coin or BRISE token can be used within the wallet for what Bitrise claims to make payments in a local currency.
Bitrise charges a 12 per cent fee on transactions, which includes three components -- buyback, marketing tax and Binance Coin (BNB) distribution. The transaction fee is used to buy tokens, which Bitrise burns.
Bitrise coin's launch is in phases including its DEX listing on Pancakeswap, listing on CoinGecko, the launch of a peer-to-peer payments system, and eventually reaching the blockchain network development stage.
The answer to where to buy Bitrise tokens is the exchanges of BitMart, Pancakeswap and xt.com.
Also read: 5 breakout altcoins with metaverse underpinning
Bitrise coin price
According to CoinMarketCap, the BRISE token is priced at nearly US$0.00000031 as of now. The market cap of the token is nearly US$130 million, and the circulating supply is over 400,000 billion tokens. In mid-August, the price of the Bitrise token soared to US$0.000004 before falling back to the levels prevailing in the past.
Bitrise coin price prediction
Not much data is available on the price history of the Bitrise token. Besides, the market cap of the project is very low and cannot be compared with cryptos like Ether and Dogecoin with multi-billion-dollar market capitalization.
That said, low-priced cryptocurrencies are arguably closely watched by a section of crypto investors. This is because even Bitcoin had very humble beginnings, and low-priced altcoins like Axie Infinity and Shiba Inu soared in 2021. If investors choose to pick Bitrise for its low price, the price may see a near-term surge.
Binance Coin (BNB) and Bitrise
Rewards within the Bitrise project accrue in the form of the BNB token. Bitrise claims that BNB rewards are automatically transferred to wallets of users.
Also read: Is investing in altcoins better than Bitcoin?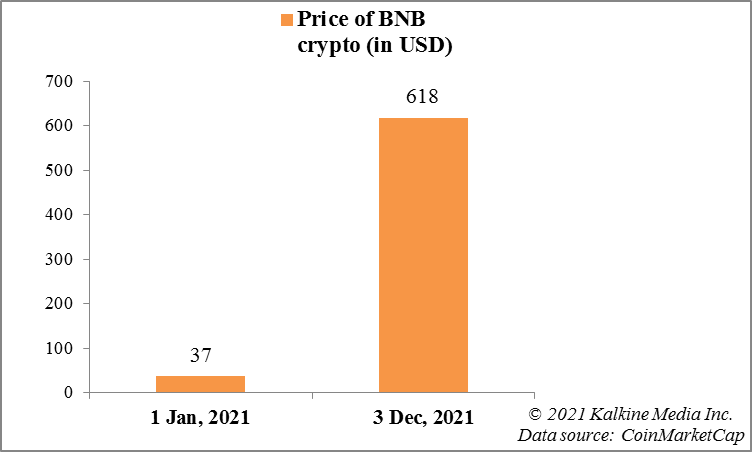 BNB has had a great year in 2021. From nearly US$37 on January 1, it is trading at nearly US$618 as of now. BNB has an impressive market cap of over US$103 billion.
Viewpoint
Bitrise can either be just yet-another blockchain-based project or it may become a game-changer owing to the buyback program for cryptos. For now, it is a low-priced token that might draw the attention of some investors looking for quick gains.
A few extremely low-priced crypto assets have shown great price appreciation in the past. Dogecoin and Shiba Inu were both trading at very low prices before these meme tokens registered whopping gains. But there is extreme volatility too, which makes trading in such crypto assets risky.