Highlights

DeFi lending is one of the leading sub-sectors in the blockchain-powered world of cryptos
Alchemix provides 'self-paying loans', with the concept of yield farming that helps generate new coins from existing crypto holding
ALCX token is a governance token, and Alchemix also has a stablecoin named alUSD
Blockchain-based digital currencies are not only redefining money, but every aspect related to it. Money finds new dimensions when institutions that provide credit services to borrowers come into play.
In the world of blockchain, this lending and borrowing is a little different. Instead of fiat currency like the US dollar, credit services in blockchain have crypto assets underpinning the arrangement. This new segment within the distributed ledger tech is popularly referred to as decentralized finance or DeFi.
What is Alchemix DeFi?
Like any other blockchain-powered project, Alchemix aims to solve a particular problem by harnessing the potential of peer-to-peer architecture.
The platform claims to let users borrow, while at the same time earn from the collateral. The process is simple – a borrower uses her crypto holding as collateral to secure a quick loan, but these collateralized crypto assets generate what the platform calls 'yield backed tokens'.
Alchemix is a project with the concept of yield farming at its heart. Yield farming typically means any holder of crypto asset staking or lending the holding in order to earn rewards in the form of new crypto assets.
Also read: Know how Bitcoin compares with the US dollar
How does Alchemix platform function?
The platform describes itself as a 'self-paying debt' facilitator.
This is achieved when the user of the platform deposits DAI token – a stablecoin – to secure an advance or loan from the platform. The deposited DAI coins generate 'synthetic' stablecoin, called alUSD. The new stablecoins so generated can be redeemed for DAI in 1:1 ratio, as claimed by Alchemix.
Also read: Cryptocurrencies vs. stock market: What can be the best pick for 2022?
What is ALCX crypto?
Most blockchain projects have a governance token in order to let users decide how it functions.
ALCX is the same governance token used within the Alchemix platform. Users can stake their holding of ALCX coins to participate in voting. This essentially gives powers to all users of the platform, and in turn differentiates Alchemix from conventional financial institutions that have a centralized entity in charge of the governance.
ALCX crypto price trends
Presently trading at nearly US$340 per token, ALCX has a market cap of over US$320 million. Though ALCX is not one of the top cryptos by market cap, the trading volume is quite high. More than US$100 million worth of ALCX coins were traded over the past 24 hours.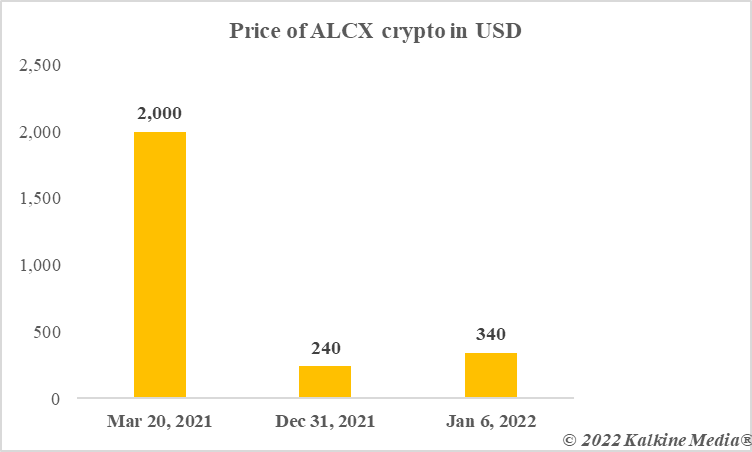 Image description: ALCX crypto price
Data provided by CoinMarketCap.com
ALCX price prediction
In March 2021, the price of one ALCX token breached US$2,000. The digital currency ended 2021 with a price tag of nearly US$240.
A week into 2022, and ALCX has gained immense value. This has come at a time when major cryptos like Bitcoin and Ether are trading at subdued price levels. Price appreciation of ALCX can attributed to growing stature of DeFi. If blockchain enthusiasts keep up the momentum for blockchain-based credit, ALCX may breach at least US$400 by the end of first quarter of 2022.
Also read: The top crypto gainers of 2021, and a couple of underperformers
Bottom line
ALCX, a governance token, has found backing in 2022. The token lost enough value in 2021, but since the Alchemix platform is into DeFi lending, with yield farming features, ALCX may pique the interest of crypto enthusiasts.