Highlights

The VERI token hit an all-time high of US$206.07 on Thursday.


The Ethereum-based Veritaseum (VERI) was founded in 2013.


The VERI token gave a return of 3374.12% YTD.
The Ethereum-based Veritaseum (VERI) token hit an all-time high on Thursday after unveiling plans to create software that will enable users to participate in peer-to-peer (P2P) capital markets globally without requiring intermediates or banks.
In other words, users would need a high-speed internet connection to partake in the capital markets using the Veritaseum platform. The VERI token continued to rise for the second consecutive day on Friday, gaining nearly 26%.
The VERI has been in the spotlight due to its rapid rise, helped by a cryptocurrency craze sweeping the global crypto market. This year, cryptocurrencies were the most discussed topic on social media forums like Reddit.
Veritaseum has a market cap of US$232.75 million. As a sign of investors' growing interest in the token, VERI's trailing 24-hour trading volume hit US$504,297 on Friday evening.
Also Read: Top cryptocurrencies that led conversations on Reddit in 2021
What is Veritaseum (VERI)?
Veritaseum is a software firm, while VERI is an Ethereum-based token called ERC-20. It is mainly used to make transactions in Veritaseum products and services. The tokens are protected by the robust security solutions of the Ethereum (ETH) blockchain network.
Hence, token holders can expect enhanced security of their digital assets from potential cybercriminals. VERI can be exchanged for various advisory services through the Veritaseum software. Therefore, it is considered a software function rather than an investment.
Also Read: Polygon buys Mir Coin (MIR) for US$400 million – All you need to know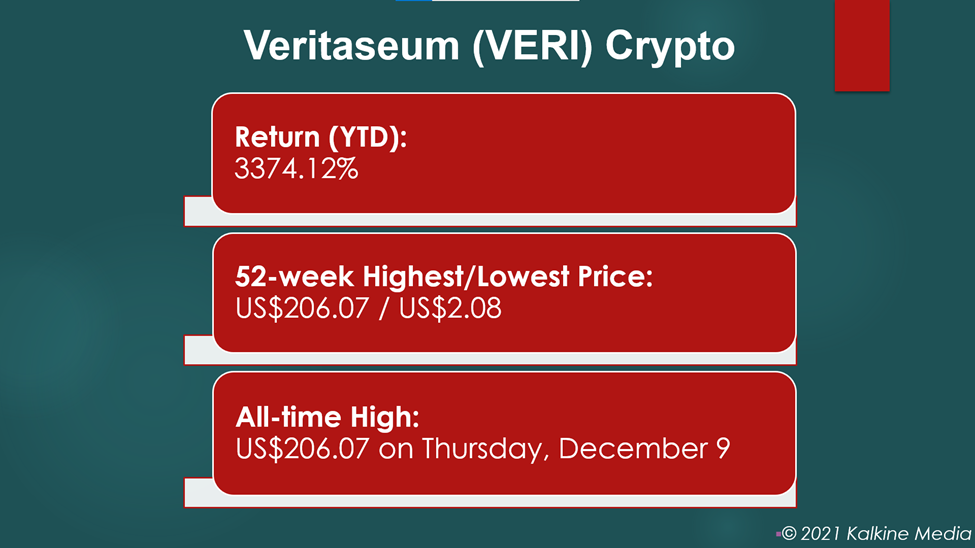 Source: *Data provided by CoinMarketCap.com

Also Read: Will these five travel stocks weather the Covid-19 threat in 2022?
Veritaseum's Services
The blockchain-based fintech company was founded by entrepreneur Reggie Middleton in 2013. Its decentralized platform provides access to the global capital markets for various digital transactions. In addition, it gives tokenized assets in areas like real estate, metals, etc., on the blockchain while offering exposure to different trading options.
Also Read: Novi wallet starts crypto payment service on WhatsApp - How it works?
Veritaseum (VERI) Token Price
The VERI token was priced at US$108.28 at 8:27 am ET on Dec 10, up 25.94%. Its market cap is US$232.75 million, and its fully diluted market cap is US$11.41 billion.
VERI'S last 24-hour trading volume was US$504,297. The token's 52-week highest price was US$206.07, and the lowest price was US$2.08. It reached an all-time high of US$206.07 on Thursday, Dec 9. The VERI token gave a return of 3374.12% YTD.
Also Read: Kickstarter builds blockchain-based crowdfunding platform. Here's why
Veritaseum (VERI) token hits all time high - Know Why?
Bottomline
According to Reddit, cryptocurrency was the most discussed topic on the platform this year, with more than 6.6 million mentions. In addition, Dogecoin, Ethereum, and Shiba Inu were the most searched topic on Google Search in 2021. Besides cryptocurrencies like Bitcoin, other digital assets like tokens and NFTs saw significant gains this year. However, investors should carefully evaluate the market before investing in digital assets.