Highlights

New blockchain projects may claim a variety of services, but only time can ascertain their utility
Unilab is also a new project in the smart contract deployment space, with ULAB as the native token
ULAB's price has gained lately, but how it performs in the long run might depend on Unilab's adoption by developers
As of writing, the CoinMarketCap website had listed over 18,000 cryptocurrencies. Of these, some are linked to gaming projects like Gala Games, some to blockchain networks like Solana, while some were meme tokens.
Though high market cap blockchain networks like Ethereum, Solana and Fantom regularly make news, they were not always as big. This shines the spotlight on new projects that might make the deployment of smart contracts smoother for amateurs. One such project is Unilab. Let's know more.
What is Biden's Execution Order to Explore Digital Assets?
What is the Unilab cryptocurrency project?
Unilab works in the smart contracts space, with a focus on easy deployment of a variety of blockchain-powered projects. Unilab claims it can help deploy token contracts and NFT contracts, which can create Ethereum-based ERC-20 and ERC-721 tokens, respectively. Besides, the platform also claims to offer support for ICO and blockchain-based crowdfunding projects.
Also read: 3 cryptos to watch if you are a cryptocurrency beginner
Unilab seems to be targeting those blockchain enthusiasts that do not have the same expertise as those developers that can build their apps on Ethereum, Solana or other networks. The project is claiming to be a bridge between the decentralized world of Web 3.0 and the "masses".
For now, Unilab states it has support for the Ethereum Virtual Machine (EVM) and the Binance Smart Chain (BSC) network, which it envisions to expand to non-EVM networks like Solana in the near future. More will be known only after Unilab opens its repository for DApps developers in the latter half of 2022.
Also read: GALA, ALICE & RARI: 3 gaming cryptos to watch in the near term
What Are Unilab Crypto's Smart Contract Services?
Unilab crypto
Available for trading on PancakeSwap, the ULAB token serves as the native token of Unilab. It can have a maximum supply of 100 million tokens, as claimed by the project. The token would be used in staking and for payments by users that access premium features of the network.
Unilab crypto price
Unilab's ULAB token sits very low on the CoinMarketCap listing of cryptos by market cap. Its trading volume over the last 24 hours was nearly US$14,000 as of writing. The price per token was US$0.11.
Unilab crypto price fluctuation
As stated earlier, ULAB is very new, but the price has manifested volatility. It started with over US$0.4 almost a month back, then fell to under US$0.2 in early February, rose to over US$0.3, before entering a continuous sliding phase, and now this late rally.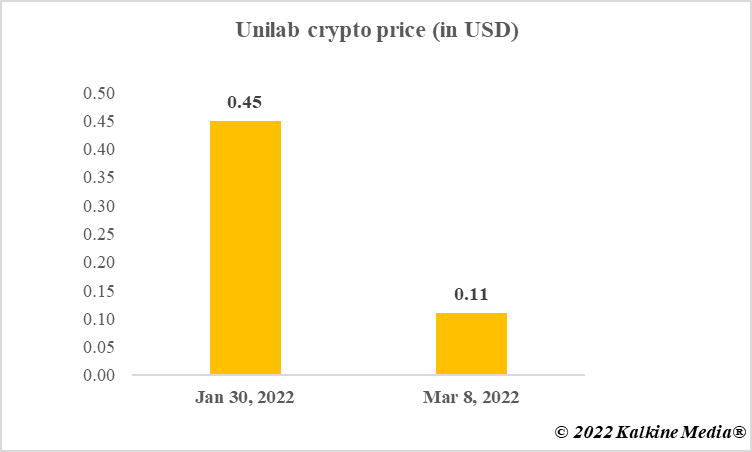 Data provided by CoinMarketCap.com
Also read: As Yearn Finance crypto drops, what is YFI token's price prediction?
Bottom line
Unilab is not only very new, it also has yet to demonstrate utility in a world where Ethereum and other high market cap blockchain networks currently dominate. The project is promising that smart contract deployment using its network will help amateurs enter the blockchain world.
The native ULAB token would be used within Unilab for tasks like staking. In this light, ULAB's price prediction is incomplete without having clarity on the response of users in the coming months toward Unilab's services.
Risk Disclosure: Trading in cryptocurrencies involves high risks including the risk of losing some, or all, of your investment amount, and may not be suitable for all investors. Prices of cryptocurrencies are extremely volatile and may be affected by external factors such as financial, regulatory, or political events. The laws that apply to crypto products (and how a particular crypto product is regulated) may change. Before deciding to trade in financial instrument or cryptocurrencies you should be fully informed of the risks and costs associated with trading in the financial markets, carefully consider your investment objectives, level of experience, and risk appetite, and seek professional advice where needed. Kalkine Media cannot and does not represent or guarantee that any of the information/data available here is accurate, reliable, current, complete or appropriate for your needs. Kalkine Media will not accept liability for any loss or damage as a result of your trading or your reliance on the information shared on this website.