Highlights

CoinMarketCap's NFT page lists more than 2,200 NFT projects, with BAYC at the top

New platforms are providing minting services to artists, with easy ways to trade these assets

NFTs, many experts say, can be overrated, with price not reflecting the utility of the asset
Non-fungible tokens (NFTs) of projects like Bored Ape Yacht Club (BAYC) and CryptoPunks are quite popular. A few digital assets of the latter have even fetched millions of dollars in auctions.
As NFTs gain traction, new projects are coming up at a quick pace. Though many experts argue that a non-fungible token is nothing more than blockchain-registered ownership proof of some asset, this has not dampened the spirits of NFT enthusiasts.
But before we go any further to discuss a few lesser-known NFTs, it is important to note that prices of NFTs, similar to cryptoassets, can manifest volatility.
Hereunder are three projects other than BAYC and CryptoPunks that rank at the top on CoinMarketCap list of NFTs.
1. CLONE X
CLONE X is a part of a larger NFT ecosystem, named RTFKT. The project claims to have 20,000 NFTs in the form of avatars, with a backdrop of extraterrestrials.
The project also has metaverse underpinning, and the NFTs are said to be launched in pre-sale and public sale modes.
2. Azuki
Azuki NFT has a collection of 10,000 assets, which come with differences in their costumes, physical appearances, and background colors.
Azuki is an Ethereum-powered NFT project. The ownership of an Azuki NFT, it is claimed, provides access to "The Garden", which appears to be a metaverse setting.
Also read: Top 5 most expensive NFTs ever sold including CryptoPunks
3. MAYC (Mutant Ape Yacht Club)
Heard of BAYC? MAYC NFTs are closely linked to it, in that when a BAYC NFT is exposed to serum, it produces MAYC.
This is what the description on OpenSea platform reads. MAYC is a collection of 20,000 NFTs that seem to be all apes in their appearances with differences in clothing and appearances.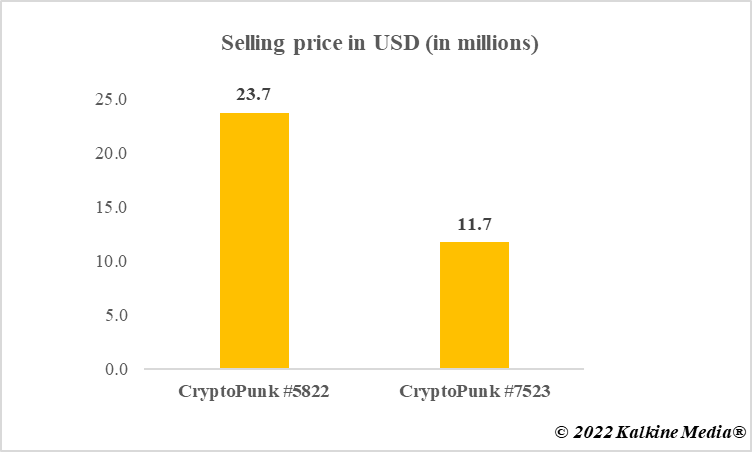 Data provided by CoinMarketCap.com
Bottom line
NFTs are evolving, with platforms like the recently launched Coinbase NFT offering minting services to creators.
CryptoPunks and BAYC are popular projects, but as of writing, CoinMarketCap listed over 2,200 NFT projects. The above three were on the top with CryptoPunks and BAYC in terms of estimated market cap.
Also read: Why are NFTs valuable?
Risk Disclosure: Trading in cryptocurrencies involves high risks including the risk of losing some, or all, of your investment amount, and may not be suitable for all investors. Prices of cryptocurrencies are extremely volatile and may be affected by external factors such as financial, regulatory, or political events. The laws that apply to crypto products (and how a particular crypto product is regulated) may change. Before deciding to trade in financial instrument or cryptocurrencies you should be fully informed of the risks and costs associated with trading in the financial markets, carefully consider your investment objectives, level of experience, and risk appetite, and seek professional advice where needed. Kalkine Media cannot and does not represent or guarantee that any of the information/data available here is accurate, reliable, current, complete or appropriate for your needs. Kalkine Media will not accept liability for any loss or damage as a result of your trading or your reliance on the information shared on this website.