Highlights

If you thought ProShares Bitcoin ETF is the only route to indirectly invest in Bitcoin, you are wrong
From Grayscale to Bitwise 10 Crypto Index Fund, many other funds have exposure either to Bitcoin or its underlying blockchain tech
Cryptocurrency funds can help investors steer clear of crypto exchanges and crypto storage in wallets
Yes, the launch of ProShares Bitcoin ETF has helped Bitcoin reclaim its past glory in terms of price. But, it is not the only Bitcoin-linked ETF in the market. There are several options to pick from.
The benefit of picking Bitcoin ETF over direct investment in BTC using crypto exchanges is that there is no need to store the holding in a wallet. Bitcoin ETF tracks movements in prices of BTC without having the investor to directly buy and hold BTC.
Here are top ten Bitcoin and blockchain funds to look for passive crypto investment.
1. ProShares Bitcoin ETF
There is a reason ProShares tops the list. It's listing under ticker BITO was a historic moment. It not just boosted Bitcoin's price, but also became the second-most heavily traded ETF on record.
Top 10 Bitcoin related ETF for easy, indirect cryptocurrency exposure
Tens of millions of shares were traded on the debut day, and price gained nearly 5 per cent. The billion-dollar turnover helped it fall just short of BlackRock carbon fund, which traded the heaviest on debut in stock market history.
According to the company, the fund will not invest directly in Bitcoin, but in cash-settled BTC futures. In order to maintain cash position, it will also invest in Treasury Bills.
Also read: Can Bitcoin be termed as the 'asset of the century'?
2. Grayscale Bitcoin Trust
Grayscale is arguably the most popular Bitcoin trust, similar to how Bitcoin is the most popular among all crypto assets.
It has nearly US$36 billion as assets under management (AUM). Grayscale is not a typical ETF, and it tracks price of Bitcoin prevailing on the CoinDesk's BTC Price Index. The shares of Grayscale can trade at even a discount or premium without perfect correlation with the price of BTC.
3. Amplify Transformational Data Sharing ETF
Amplify neither has Bitcoin in its name and nor does it predominantly target Bitcoin.
Instead, the ETF invests in companies that are into the blockchain tech and related aspects. Last month, MicroStrategy's CEO tweeted about increasing the company's holding of BTC. MicroStrategy is one of the companies Amplify's ETF has invested in. This is indirect investment in Bitcoin and its heart, the blockchain tech.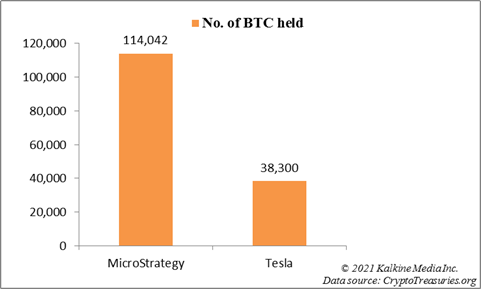 Amplify ETF also invests in BTC mining companies and crypto exchange platforms.
4. Bitwise 10 Crypto Index Fund
Bitwise tracks not just Bitcoin but also other major cryptos including Ether and Cardano. It is also not a pure ETF.
Bitcoin makes the biggest exposure of Bitwise Fund. It has nearly US$1.2 billion AUM.
Also read: 7 Altcoins up over 1000% in 2021
5. Siren Nasdaq NexGen Economy ETF
Did you know that Nasdaq has an index dedicated to the blockchain tech companies? Siren ETF tracks the Nasdaq's Blockchain Economy Index.
Siren ETF has parked funds in companies like Silvergate Capital, a banking services provider for cryptos and blockchain related businesses. Siren ETF has a global exposure, with over 25 per cent of assets in China and Japan.
6. First Trust Indxx Innovative Transaction & Process ETF
First Trust or LEGR has exposure to companies that are either developing the blockchain tech or using it currently or are planning to have exposure to blockchain in future.
With nearly US$135 million AUM, First Trust ETF has exposure in multiple countries beside the US. It has significant interests in emerging economies of China and India.
7. Purpose Bitcoin ETF
Purpose Bitcoin made as much noise when it launched in Canada in February as the newly launched ETF in the US. It was the world's first BTC ETF and similar to ProShares Bitcoin ETF, it also made an impressive debut.
It bills itself as a problem-solver for Bitcoin enthusiasts that do not want the hassle of using wallets and converting fiat currency to crypto. The difference between ProShares and Purpose is that the latter has as much exposure to BTC as is the money parked into the fund by investors. No futures, Purpose ETF has direct and full exposure. Investors benefit by easily trading shares with underlying BTC like they trade the shares of any conventional listed stock.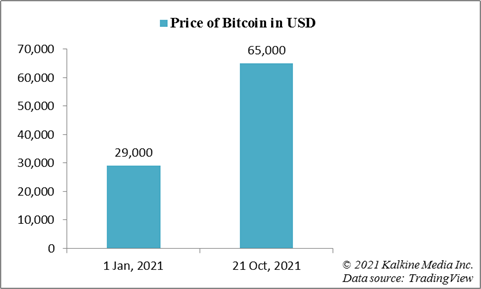 8. Simplify US Equity PLUS GBTC ETF
Simplify isn't as simple as the name suggests. That's because it holds other funds for exposure. One of the funds is the iShares Core S&P 500 Index. This allows the investor of Simplify ETF to have exposure to comparatively lesser volatile assets.
The other fund it holds exposure in is the Grayscale Bitcoin Trust. Grayscale exposure makes investors' funds reap the benefits that accrue to Bitcoin, like the ongoing price surge in BTC.
Also read: Can these 5 altcoins help fund holiday shopping?
9. Global X Blockchain ETF
Global X also does not have a direct exposure to Bitcoin or any other crypto asset, however, its exposure to the blockchain tech enables its entry in the list. It holds Coinbase and other such companies, and the portfolio has a global exposure, from the US and Canada to China.
To decide the exposure, Global X ETF categorizes companies into three, based on their revenue from the blockchain activity.
10. Bitwise Crypto Industry Innovators ETF
Bitwise holds exposure in companies that have a substantial Bitcoin holding. MicroStrategy naturally makes the cut and others like Silvergate are also a part.
Bitwise targets companies that sit anywhere in the cryptocurrency ecosystem. This makes it yet-another indirect crypto exposure ETF.
Also read: Can Bitcoin end 2021 with a price tag of $100,000?
Bottom line
Apart from the above ten, there are other funds as well with direct or indirect exposure to Bitcoin. It must be noted that some funds may have exposure to the seemingly promising blockchain technology. These funds can steer clear of volatility in crypto assets' prices by banking on blockchain, which has multiple other uses.
The debut of ProShares Bitcoin ETF made headlines and lifted BTC to new peaks. It has also compelled investors wary of Bitcoin to look at feasible alternatives. Bitcoin ETFs can be a suitable pick for investors who do not want to use crypto exchanges and hold BTC in wallets.