Highlights

THORChain platform is a decentralized liquidity protocol. It was launched in 2019, and its mainnet came in 2021.
RUNE is THORChain's native utility token.
RUNE jumped 737% YTD and ranks at 58, as per coinmarketcap.com.
The THORChain (RUNE) token has been gaining traction lately. It was trading at US$11.48, down about 4%, at 10:59 am ET, November 26.
By contrast, Bitcoin (BTC) was up 4% and Ethereum (ETH) rose 5.67% at the same time.
Analysts expect RUNE's price may hit US$19.531 in one year. If this projection is considered, its one-year return would be 70% based on the current price. Additionally, they expect the price could hit more than US$55 in the next five years.
What is THORChain?
THORChain is a decentralized liquidity protocol. It helps users in exchanging crypto assets across a range of networks while maintaining custody of assets through the process.
THORChain provides users a facility to swap their holdings with other assets without permission. It also offers easy liquidity, and the market prices are maintained as per the asset ratio in the pool. RUNE is THORChains's native utility token and is used in its ecosystem for governance and security. The platform was launched in 2019, and its mainnet came in 2021.
Also Read: Top 10 crypto wallets to explore in 2022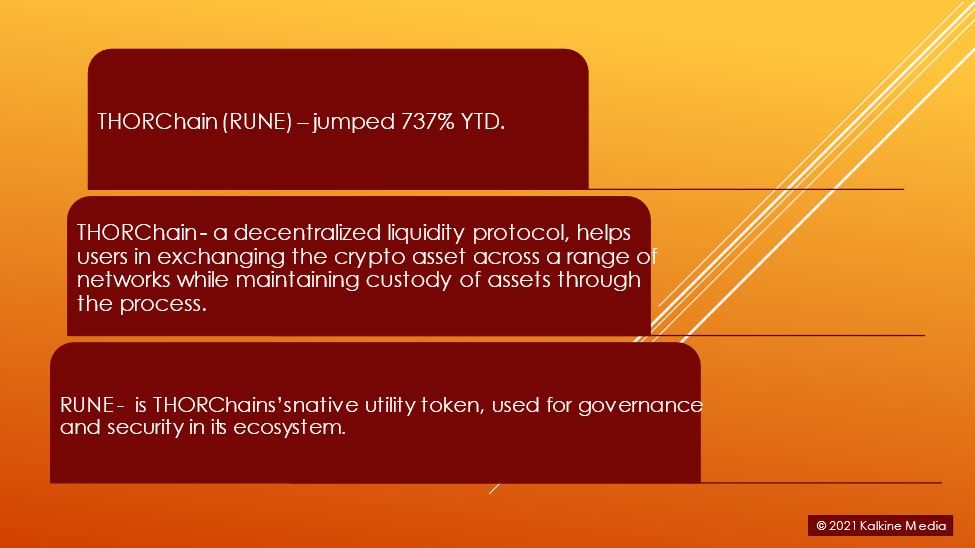 Also Read: BAT crypto - is it immune to market movements?
How it is different?
The THORChain platform has no official representative - no founder, CEO, director, etc. The people on the project are anonymous to ensure full decentralization.
The platform is not profit-oriented, and the fees generated go directly to users. Nothing is reserved for the team. The team gets only RUNEs. The token is available on many blockchains, including Binance and Ethereum.
The token gained 737% YTD. It rose around 64% in two months but fell around 7% in one month. On Friday, it has been declining after hitting US$13.31 at 7:30 am.
Also Read: HEX crypto (ERC20) gains 56% YTD: Should you explore this token?
There was no apparent reason for the price decline. The token has been in the positive territory for most of November compared to the previous month. The bullish momentum of the token kept the RUNE ranking stable at 58, as per coinmarketcap.com. RUNE touched an all-time high of more than US$20.84 in May this year but fell to US$3.036 in July.
Also Read: Thanksgiving Day: Top stocks to watch as holiday sales kickstarts
RUNE's current market cap is US$2.97 billion, up 4.18% in the last 24 hours. Its total asset value or (TVL) is US$325,039,943. The TVL is staked or locked in the protocol.
The token's 24-hour volume is US$190,947,947, up 71.34% in 24 hours.
In addition, RUNE's circulating supply is 258,210,215.14, the max supply is 500,000,000, and the total current supply is 461,668,422 RUNEs.
The token can be purchased from Binance, CoinTiger, KuCoin, and Mandala Exchange.
Also Read: Cohesity IPO: SoftBank-backed tech firm gears up for public offer
Bottomline
According to Wallet Investor, RUNE's price may hit US$19.531 in one year and US$55.5365 in five years. If the one-year projection is considered, the return would be 70% in one year based on the current price.