Highlights

Crypto investment may now turn toward monetizing gaming assets instead of just trading cryptos on exchanges
NFTs, which are a part of all play-to-earn crypto projects, have been the top trend in 2021
Axie Infinity aside, there are at least three more blockchain games that can likely rise in 2022
Bitcoin's dominance in the cryptocurrency universe is being challenged with each passing day. As of now, Ethereum's native token, Ether, which is also the most popular altcoin, has a market dominance of over 21 per cent in crypto space.
Though Bitcoin's market dominance is still as high as 40 per cent, 2022 can be the year in which many things can change. Ether has had a phenomenal year in 2021, with gains that dwarf BTC returns by a huge margin. Much of it can be attributed to the rise of altcoins and blockchain projects that use the Ethereum's network to power ERC-20 native coins, non-fungible tokens or blockchain games.
Earning by gaming, not trading
With the passage of time, the earning prospects underlying the blockchain universe are changing.
Much of the earning of crypto enthusiasts has hitherto come from trading Bitcoin or an altcoin. Investors await price appreciation of their crypto holding and book profit at the opportune time. This was the trend that has so far dominated the crypto investment space. But as the year comes to a close, a paradigm shift is underway.
Consider this. A piece of land, in the fictional world of one blockchain gaming project, Decentraland, has recently sold for over US$2.4 million. Though the prices of real estate assets are at record high in the real world in most countries, including the US and Canada, the aforementioned sale has come as a shock to many. In another scene, holders of assets like gas stations and banks in the virtual world of another game, PolkaCity, are monetizing assets to earn handsomely.
Also read: Next cryptocurrency likely to explode in 2022
In a yet-another scene, NFTs, most of which are using Ethereum's blockchain network to record the detail of any change in ownership over a digital asset, are also selling for millions of dollars each. Cryptopunks and Beeple's artworks are a shining example of the 2021 NFT craze.
This highlights the change underway in the cryptocurrency world where not just linked native tokens like DOGE and SHIB can make fortunes, but owning assets in a blockchain game can also be profitable.
Data provided by CoinMarketCap.com
The rise of play-to-earn
In 2021, there were two different timeframes when the sector kicked-off.
By early July, the 24-hour trading volume of AXS token, a crypto asset linked to Axie Infinity game, had already surpassed US$100 million. By the end of September, this figure crossed US$1 billion. This was no mean feat in a world that is dominated by assets like Bitcoin and Dogecoin, which frequently make news headlines for some reason or the other. From US$0.54 on January 1, AXS token was priced as high as US$150 in early November 2021.
The second bullish wave was the result of tech giant Facebook's dive into metaverse. The rumors that the company is changing its name to reflect the shift lifted prices of metaverse blockchain projects. Facebook may have never anticipated that the space it is planning to move into is already crowded with players like Decentraland, The Sandbox, UFO Gaming, MOBOX, and Alien Worlds, all virtual reality worlds where gamers can play and earn simultaneously.
Though in some cryptos, a sudden rise of price comes sans any real fundamentals, play-to-earn cryptos rose on strong fundamentals.
The top play-to-earn cryptos that may further explode in 2022 include these three.
Also read: Top 5 blockchain games of 2021 with massive price appreciation
1. The Sandbox (SAND)
This blockchain gaming project is a decade old virtual world, which lately found patronage. Adidas has announced creating its own metaverse on the platform, and global investor SoftBank has parked funds in the project.
The Sandbox's play-to-earn model is pretty simple. Users can create digital assets, and then trade them to make money.
The Sandbox has a decentralized autonomous organization (DAO) underpinning. It means that the users of the project are the real decision makers. They can stake their SAND token holding and participate in the governance of the platform. This feature distinguishes blockchain-based play-to-earn projects from Facebook's upcoming metaverse, where the company will be the centralized authority.
The market cap of The Sandbox is over US$4.4 billion as of now, and the price of SAND token is nearly US$4.8. The year-to-date (YTD) gains of the token are enough to impress even the staunchest critics of cryptocurrencies.
Also read: Top cryptos by market cap that ruled in 2021
2. Gala Games (GALA)
According to CoinMarketCap, Gala Games has over one million monthly active users.
Town Star is the project's blockchain-based game, which provides gamers the opportunity to own digital assets like a piece of land. Gala Games also has its own NFTs by the name of VOX. VOX, like Axie in Axie Infinity, are avatars.
Gala Games has a market cap of over US$3 billion as of now, which ranks it among top 50 cryptos in the list compiled by CoinMarketCap. It entered 2021 with a market cap of under US$10 million. The price of GALA token picked pace after mid-November. The price of GALA token, which is currently US$0.43, was over US$0.8 apiece in the last week of November.
Also read: Explained: Cryptocurrency categories – DeFi, NFT, Metaverse
3. WEMIX (WEMIX)
While most blockchain games including the most popular Axie Infinity seek at least some crypto holding by the user before they can log into the game, WEMIX asks for a simple Google login alone.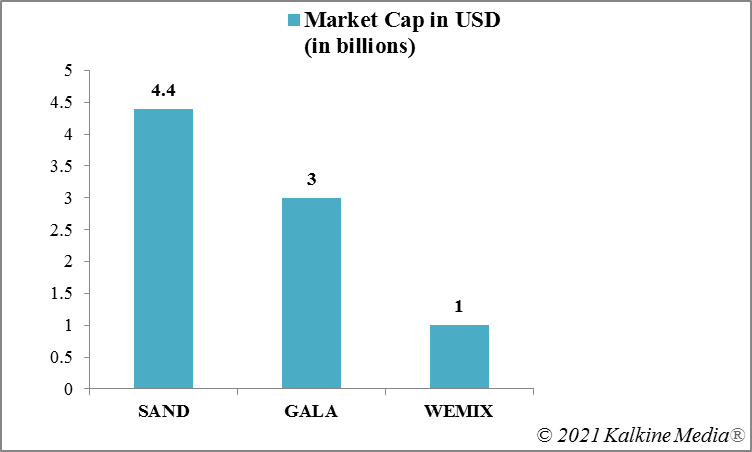 Data provided by CoinMarketCap.com
WEMIX crypto also has the same NFT and DAO features that underpin other play-to-earn cryptos. Price appreciation of WEMIX coin has been phenomenal in 2021. From under one dollar until September, the price peaked to US$24 in November before entering a bearish phase. As of now, WEMIX is trading at nearly US$8.
Also read: What are DeFi games & which are the most popular DeFi games?
Bottom line
Though play-to-earn cryptocurrencies have fared well, price volatility ails all tokens. A price correction is underway in the sector, which can be attributed to the wider cryptocurrency trend, where Bitcoin price is also under pressure. As the concept of blockchain gaming gains more traction next year, the above three coins have a chance to appreciate from their current levels.
*Data inputs as on December 20, 2021