The crypto space is inundated with a series of both good and bad news. Bitcoin is witnessing large buying interest and hitting a fresh all-time high while civil suits are being filed against Ripple.
SEC Files Civil Suit Against XRP for Breaching Investors-Protection Laws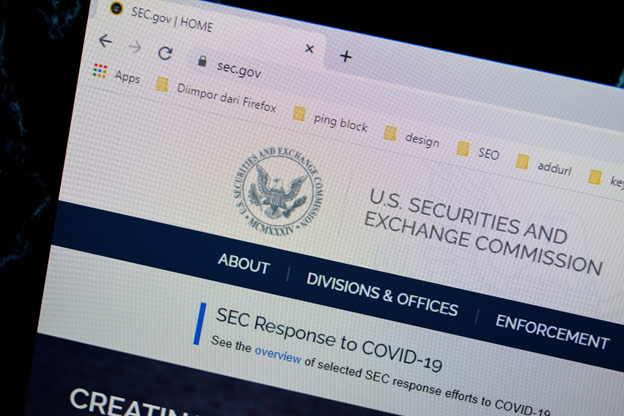 Image Source: Megapixl
The United States Securities and Exchange Commission had filed a civil suit on 23 December 2020 against Ripple Labs Inc. for violating the investor-protection laws when it sold its cryptocurrency Ripple (XRP).
According to the SEC's complaint, the blockchain Company has been running USD 1.3 billion of unregistered offering equivalent to selling unlicensed stocks. Further, in its comments, the SEC stated that XRP is an unregistered security offering to the investing community on the global front.
Stephanie Avakian – SEC Enforcement Division director mentioned that issuers seeking the benefit of a public offering must comply with the federal securities laws, requiring the registration of IPO under the Securities Act 1933, unless an exemption from registration applies.
The impact of the lawsuit filed by SEC is now unfolding for Ripple with Bitwise Asset Management dumping the world's third-largest digital currency.
Bitwise Dumps XRP
The Bitwise 10 Crypto Index Fund – listed on OTC Markets Group Inc with the ticker BITW has liquidated its position in Ripple after witnessing a surge of ~ 180 per cent since its listing on 9 December 2020.
Many analysts believe that unlike Bitcoin and Ether, which the SEC considers decentralised currencies, Ripple has been mainly liked as the product of Ripple Labs Inc., leading to a civil suit.
MicroStrategy Purchases More Bitcoins
Image Source: Megapixl
While certain disappointing news around the cryptospace emerged and once again thrown light on the prevailing risk of the cryptomarket, other currencies such as Bitcoin continues to climb the price ladder swiftly.
To Know More, Do Read: Bitcoin At an All-Time High Outperforming All Asset Classes, Why are investors Gung-ho?
The rally in what is now being regarded as the digital gold is primarily supported by a large institutional purchase. In the recent past, Michael J. Saylor – the co-founder of the fund MicroStrategy notified shareholders about the recent purchase of Bitcoin, supporting the market sentiment around the currency.
As per the announcement, the Nasdaq-listed fund has purchased ~ USD 650 million worth of Bitcoin or ~ 29,646 Bitcoins, taking the total holding of the fund in the currency to ~ USD 1.125 billion.
Furthermore, the market sentiment around cryptospace is also being supported by a large interest in the currency by hedge funds, celebrities, and now businesses.
To Know More, Do Read: Hedge Funds to Hollywood Celebrities Fancy Bitcoin
In the recent past, PayPal announced that it would integrate Bitcoin as a valid payment method on its payment platform.