Highlights

Created in 2009, Bitcoin is known as the "granddaddy of cryptocurrency".

With a sky-high price tag, Bitcoin is beyond reach for many, paving way for altcoins to gain market share.

Given the advances in the crypto world, the world's largest cryptocurrency needs to be more technologically advanced to maintain its position.
The boom in digital assets shows no signs of abating, with cryptocurrency continuing to make people obsessed with it. Bitcoin, the first ever digital currency, is currently reigning the crypto market. 
Created in 2009, the crypto king, also known as the "granddaddy of cryptocurrency", has come a long way in the last 12 years. Bitcoin's march to the mainstream has picked up speed of late with the crypto getting accepted as a legal tender in countries like El Salvador and Hungary. However, the crypto world is getting crowded with each passing day and given the rise of technologically more advanced cryptos, the road ahead for bitcoin may not be that smooth.
Altcoins like stable coins, memes, and NFTs, are garnering more and more attention for being less volatile, cheaper to acquire or for consuming less energy.
Related Article : What are the top five cryptocurrencies with the fastest growth in 2021?
In this article, we will look at three cryptocurrencies that have the potential to dethrone Bitcoin.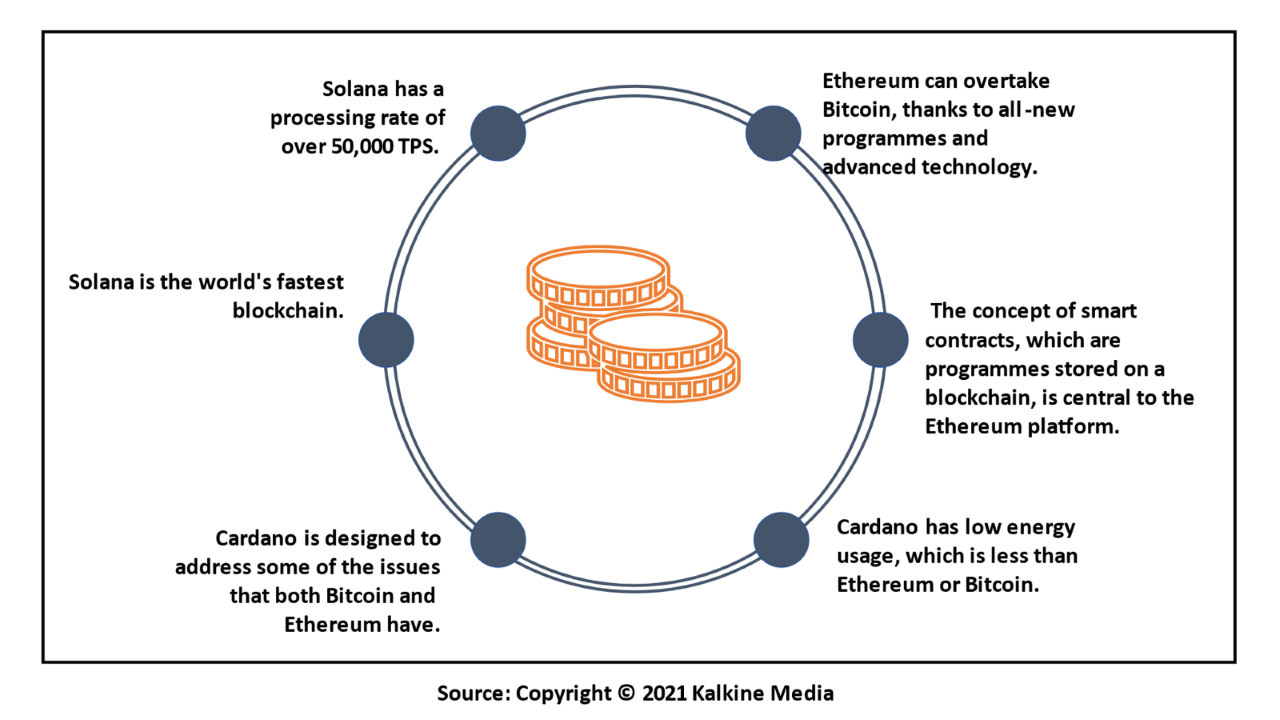 Ethereum (functionality)
The first potential threat to Bitcoin on the list is Ethereum, which is the second most valued cryptocurrency globally.
The Ethereum platform is based on the concept of smart contracts, which are programmes stored on a blockchain, a mechanism for storing data that makes cheating, hacking, and changing the system impossible or difficult.
In the crypto realm, smart contracts could be a game-changer. They are the driving force behind several breakthroughs, including decentralised finance and NFTs. An NFT is a digital asset representing real-world objects such as videos, art, in-game items, and music. They can be purchased and traded over the internet, usually with the help of a cryptocurrency.
All of these factors have contributed to the meteoric rise of cryptocurrencies in recent years.
In a decentralised blockchain network, no one needs to trust or know anybody else. Every network participant has a distributed ledger with a copy of the same information.
Ethereum, which is undoubtedly on crypto holders' radar, is well placed to overtake Bitcoin, thanks to all-new programmes and advanced technology.
Cardano (sustainability)
Cardano fancies itself as a "third-wave" crypto technology, trailing Bitcoin and Ether. Cardano, like Ethereum, runs decentralised applications with smart contracts, but it aims to be more versatile and efficient. In addition, it is a proof-of-stake blockchain platform, and hence, has a low environmental impact.
The crypto is designed to address some of the issues that both Bitcoin and Ethereum have. Its purpose would be to employ blockchain technology to resolve real-world problems, focusing on research-driven development.
The crypto has offices in 15 nations spread over four continents, and its work in Africa is one of the things that distinguishes cardano from other blockchains. For example, IOHK, a blockchain development firm, is collaborating with Ethiopia to develop the world's most powerful education administration system built on Cardano blockchain. In schools, the project will offer a secure blockchain ID and record system to five million students.
This pilot project, thanks to Cardano, has the potential to improve students' lives, as fraudulent academic accreditation is a significant problem in Ethiopia, and it can prevent them from working or studying abroad. In addition, employers will no longer need to hire costly third-party verification organisations due to this.
Cardano has the potential to supersede Bitcoin. Another most important factor could be Cardano's low energy usage, which is way lesser than that of Ethereum or Bitcoin, which infamously consume enough electricity to power a country. Cardano's network, on the other hand, consumes only 6 GWh per year.
Solana (speed)
Third on the list is Solana (SOL), which is the world's fastest blockchain, and hence carries the potential to outperform Bitcoin in terms of speed in the future.
Solana's first significant venture into NFTs was Degenerate Apes. Solana is a smart contract-based blockchain that can be programmed. Like Cardano, it has a low environmental impact.
Bitcoin has a processing speed of roughly seven TPS. However, Solana is speedier in contrast. It has a processing rate of over 50,000 TPS, making it far more scalable than Bitcoin. 
Related Article: US bitcoin ETF launched; Financial and crypto markets are finally married!
What's next?
Some say that Bitcoin is a digital asset equivalent to gold. Alternatively, some see it as a safe and secure vault that will function in the background and stimulate the growth of other cryptos. 
However, to stay in the race as time passes, digital currencies must become more technologically advanced, especially bitcoin, if it intends to maintain its numero uno status in the crypto world. Or else, bitcoin may lose its throne one day, being superseded by more innovative, technologically advanced, and environment-friendly cryptocurrencies.
Related Article: Will El Salvador and Hungary's embrace of Bitcoin make it immortal?