Highlights

Crypto trading seems lucrative solely because of the uncanny ability of these coins to move in the blink of an eye.
There are more scary stories of crypto traders than much-hyped "rags to riches", but these aren't highlighted in the media.
The unregulated market poses additional risks such as crypto theft, account hacking, etc.
Crypto trading is essentially the trading of cryptocurrency on a crypto exchange, just as other traditional asset classes are being traded such as stocks, bonds, forex, etc. However, the dynamics of the crypto market is somewhat different, making it relatively difficult to trade these highly volatile coins.
Image Source: Copyright © 2021 Kalkine Media
On the other hand, those who master the skill to efficiently trade these cryptos are also able to get a reward which is unmatched by other assets such as stocks. If you are looking to dive deep into crypto trading, it's better to go through some of the potential opportunities and risks trading in cryptos pose. Let us have a brief look at both.
The Good
Crypto trading seems lucrative solely because of the uncanny ability of these coins to move in the blink of an eye. This enables traders to garner multi-bagger returns fairly quickly. During a bull run like 2017 or the more recent one, when Bitcoin topped at around ~US$64,800 in 2021, it's very common to hear stories of rags to riches.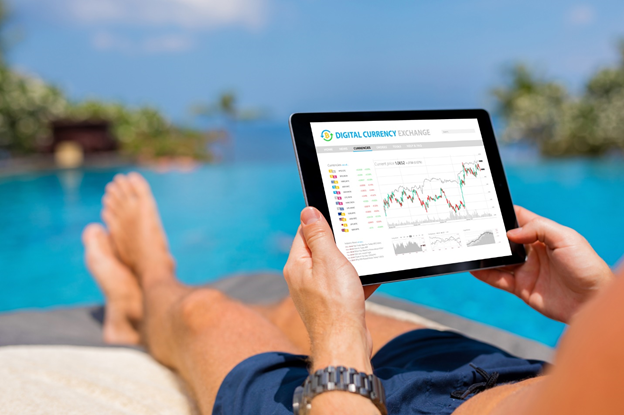 Image Source: © Kaspiic | Megapixl.com
Another major reason to trade in these cryptos is the 24-hour market. Cryptocurrencies trade 24X7, throughout the year without any holiday, not even a gazetted one. This allows for a sea of opportunities as traders can trade on Sundays, holidays and any time of the day.
Read More: Five factors that affect Bitcoin's price
The Bad
Crypto trading is not always about a rosy picture. For one rags-to-riches story you might have heard of, there have been 100s of "riches-to-rags" stories. We don't tend to hear them often because they do not get highlighted in the media. The immense volatility of cryptos, which leads it to deliver mammoth gains, is also the one which makes most of the accounts go bust. The ability to handle very high volatility is not everyone's cup of tea and therefore blowing up accounts in crypto trading is not uncommon.
Another major inherent risk in crypto trading is that the entire space is unregulated. This calls for a lot of legal problems with respect to taxes, crypto theft, account hacking, etc. Recently, a crypto heist worth US$613 million or a cyber-attack on the Ethereum network are some of the issues that are difficult to deal with in the absence of a watchdog. In perspective, stock markets are highly regulated across the world.
Bottom Line
As many benefits as there are in trading cryptos, there are far more risks related to crypto trading, which might not make them worth trading for a conservative trader. Same returns could be fetched from the much mature and highly regulated stocks market, as we have seen a lot of multi-baggers on the ASX this year.
However, a very aggressive short-term trader with sufficient capital might try to capture a few opportunities, which could seem fine depending upon his risk appetite, capital adequacy and ultimately skills to trade.
Read More: Inside Australia's blossoming love affair with cryptocurrencies