Highlights

NFTs revolutionized art collection by storing ownership on blockchain

Even cryptocurrencies had a long way before they became a mainstream investment asset

NFTs like Beeple's digital art and CryptoPunks have sold for millions of dollars each
Non-fungible tokens or NFTs are virtually everywhere. Many say, they have arguably trumped cryptocurrencies to become the hottest talk of the town in 2021.
It is not difficult to answer the question 'What is NFT'? Any artwork, music or a collectible in any form, with ownership of the collector registered on blockchain is NFT. The 'non-fungible' feature means that the token is one-of-it-kind. This is similar to any unique artwork of Leonardo da Vinci, which cannot be replaced by any other thing.
Read more: Top 5 most expensive NFTs ever sold including CryptoPunks
Why have NFTs become a craze?
First, the entry of new platforms like Coinbase in NFTs was a natural progression considering the craze. It is not just about Beeple or CryptoPunks, which have sold as NFTs for millions of dollars each. The crypto token of a blockchain-based game Axie Infinity, which has creatures named Axies as independent NFTs, has gained almost 20,000 per cent this year.
Second, not all NFTs are selling for millions of dollars but patrons are collecting it in anticipation of rise in value in future. New platforms like OpenSea are allowing creators to list their unique digital artwork, which can be sold to patrons. Then it is upto the seller to resell it at an appreciated price in some auction.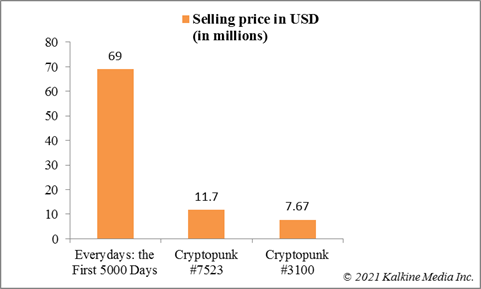 We have to understand the concept to understand why it has gained so much popularity. Art lovers were always ready to spend a fortune on a rare and unique work. NFTs added the blockchain and decentralised proof of ownership glamour to the world of collectibles.
Also read: What does 'fungible' in NFTs mean?
Will the NFT bubble burst?
Just like cryptos that were initially disregarded outright but are now being preferred by big institutional investors and billionaires, maybe NFTs have just begun. Bitcoin has only lately found its worth where one BTC coin is priced at over US$60,000. For past one decade, only speculators were betting on Bitcoin. Today, S&P Dow Jones has indices to track its price, and the first Bitcoin ETF has listed in the US after SEC's approval.
Also read: Top NFT projects to watch as we enter 2022
Saying that the NFT market has saturated is an overstatement, maybe they have yet to fully realize their value.
Bottom line
NFTs combined art and collectibles with blockchain. They did what cryptocurrencies did to currency by using blockchain. It is likely that the NFT craze has just begun and will slowly gain even more pace in the coming years.