Highlights

Web 3.0 may become a reality if blockchain projects can decentralize things like music and video
The Livepeer crypto project seeks to decentralize video streaming with token-based economics
The LPT crypto was as high as US$70 at one time in 2021, and its price would now be decided by various forces
If blockchain project Audius is aiming to decentralize music streaming, this project wants to combine blockchain with video streaming. Livepeer, an Ethereum blockchain-powered project, promises to decentralize broadcasting.
As we may be entering the world of Web 3.0 in the coming years, such platforms may attract users. At the heart of Web 3.0 is distributed ledger technology, which proponents claim does not allow any single entity, say a tech giant, to dominate the market.
That aside, let's know more about Livepeer and its LPT crypto.
What is the Livepeer blockchain project?
Livepeer claims to be an enabler for decentralized video streaming services. It allows developers to use its open-source network.
The project advocates ridding the broadcasting world of entities that exercise too much power. Instead, it favors distributed power with control in the hands of content creators and users. Livepeer also states that the entire arrangement would be underpinned by crypto economics. Incentives to creators and users will be in the form of tokens.
Also read: Can MakerDAO's MKR crypto touch $4,000 by the end of 2022?
LPT crypto
LPT is to Livepeer what ETH is to Ethereum's blockchain. The LPT crypto is another ERC-20 token, which harnesses the potential of Ethereum's blockchain network. LPT can be used to vote on proposals. The token also serves as the network's governance token through staking by its holders.
LPT crypto's price
LPT is a high market cap cryptocurrency, but it has yet to enter the top 100 list on CoinMarketCap. LPT crypto's market cap is nearly US$660 million as of now, and the price per token is nearly US$31. Its trading volume has surged over the past 24 hours, but the price has dropped.
Also read: Top 5 altcoins to watch in February
LPT crypto's price prediction
Like most other crypto assets, including the biggest, Bitcoin, the LPT crypto has also lost value so far this year. From over US$40 on January 1, LPT plunged to as low as US$20 on January 24. But the recovery over the past couple of weeks has brought back cheer for LPT backers.
LPT crypto crossed the US$70 price tag in November last year. The negative sentiment hit not only LPT but most other cryptos in the following weeks. Now that the crypto world is slowly recovering from the dull phase, the LPT crypto may also bounce back to at least US$40 by the end of first quarter.
Also read: Easy Crypto: Is it a safe platform for crypto trading in NZ?
By the end of 2022, if Livepeer's video streaming infrastructure attracts more backers, and investors are favorable toward riskier assets, LPT crypto's price may reach US$80.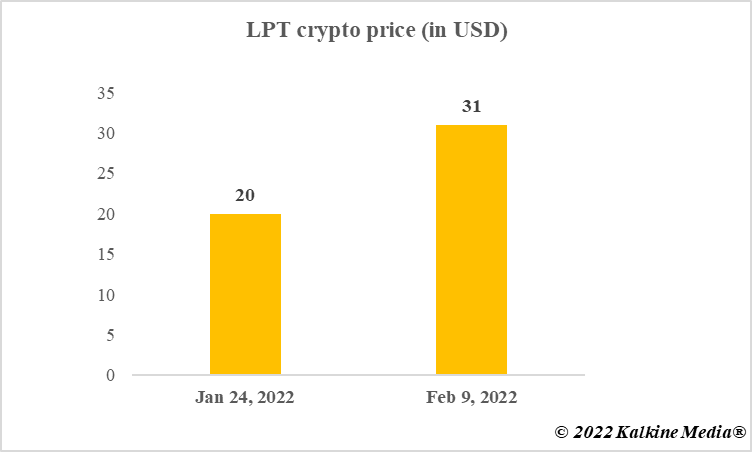 Data provided by CoinMarketCap.com
Also read: Top 5 Web 3.0 crypto projects to watch
Bottom line
The recent comeback of the crypto world has made investors optimistic. But this might not necessarily translate into price appreciation of all cryptos. LPT has a defined utility, and its price would depend on multiple forces including the project's adoption.