Highlights

Crowdfunding platform Kickstarter plans to develop an open-source blockchain-based protocol - a decentralized version of its Kickstarters Core - for crowdsourcing.
The Kickstarter (KSR) token traded up 0.31% at 10:27 am ET on Thursday.
Its 24-hour trading volume increased by 104.83% to US$2,843.
Crowdfunding platform Kickstarter (KSR) token traded up 0.31% to US$0.00000005 at 10:27 am ET on Thursday.
Why is it up?
On Dec 8, the company announced to build a new crowdfunding system based on blockchain technology in the first quarter of 2022. The company plans to shift its crowdfunding website to the new protocol after it is ready.
The platform's name is not yet fixed, but it will offer tools to create crowdfunding sites. It also plans to create a new governance lab for the protocol to promote decentralization later.
More and more companies are exploring Blockchain-based decentralized, open-source technologies these days. Kickstarter's open-source blockchain platform Celo claims to be a climate-friendly network with zero-carbon emissions.
Also Read: Will these five travel stocks weather the Covid-19 threat in 2022?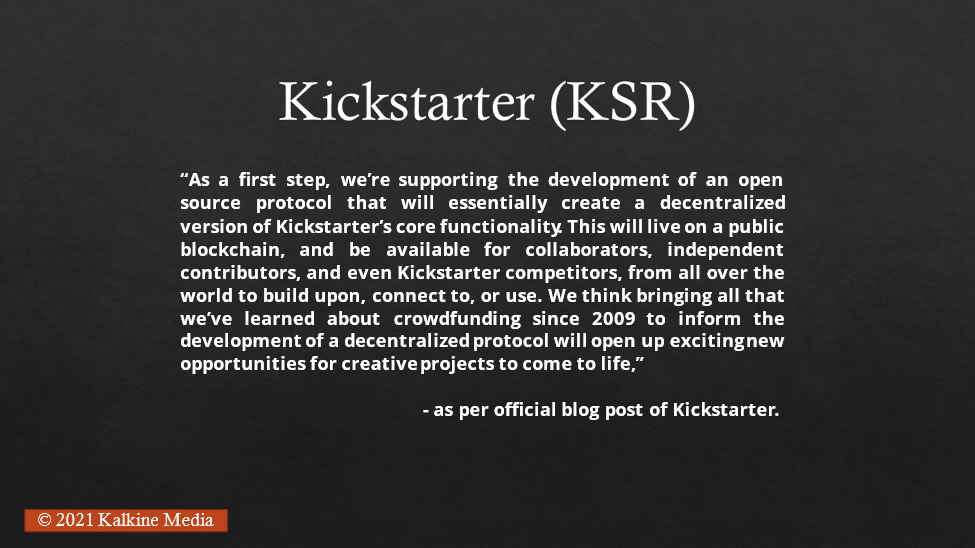 Also Read: Top growth stocks that gave over 200% return
Kickstart's Operations?
Kickstarter is a crowdfunding platform. It helps users raise funds for various projects like creating art, film, etc. Around 213,065 projects worth US$6.3 billion have been funded through its platform to date.
Kickstarter was founded with an aim "to help bring creative projects to life," according to its promoters. For instance, the company helped raise US$307,000 and US$430,000 for the Peloton stationary bike and pop group TLC, respectively.
Also Read: How far could COVAL token prices climb after Coinbase Pro listing?
Kickstarter will be the first client for its blockchain-based crowdfunding system. It has raised US$1,179,053 for some 40 creative work projects over the past day. In addition, Kickstarter helps create campaigns for turning ideas into reality. The creators share ideas with their targeted audience and communities on the platform for funding.
Also Read: Grove Collaborative to go public in merger with Branson-backed SPAC
How to buy the token?
One can purchase the token on Hotbit and LATOKEN. Kickstarter, a multichain incubator, is a launchpad for high-quality blockchain projects. Its 24-hour trading volume rose 104.83% to US$2,843. However, its market cap, circulating and the total supply are not known immediately.
The KSR token hit an all-time high of US$0.00000351 on Oct 23, 2021, and an all-time low of US$0.000000021329 on Nov 29, 2021.
Also Read: Cingulate Inc (CING) IPO: How to buy the stock?
Kickstarter builds blockchain-based crowdfunding platform. Here's why
Bottomline
With the Crypto craze going mainstream, more and more companies are joining the bandwagon and exploring blockchain-based open-source or decentralized platforms to advance their operations. While cryptocurrencies still led the blockchain revolution, other products and services are also being explored based on this technology.