Highlights

Keep Network (KEEP), NuCypher (NU) tokens merge to create Threshold token (T).

With the merger, the KEEP and NU token holders will get the new token T.
Cryptocurrency exchange Binance will upgrade their tokens to T.
Keep Network (KEEP) and NuCypher (NU) tokens have merged to create the Threshold Network Token (T), and the cryptocurrency exchange Binance has agreed to upgrade the tokens to T.
The Keep Network and NuCypher communities approved the merger in June 2021. After the network upgrade, the existing KEEP and NU token holders will get the new token T.  
Keep Network and NuCypher are protocols for data privacy on the Ethereum blockchain.  
Binance "fully supports" the merger, the Keep Network said in a Twitter message. The KEEP and NU tokens will now be automatically upgraded to T on Binance in the next one week. 
Ninety-three percent of Keep Network stakers had voted in favor of the merger. Keep's maximum supply is around one billion, and NU's maximum supply is about 3.9 billion.
Also Read: Top communication stocks on S&P 500 to watch
What is Keep Network (KEEP)?
It is an incentivized network for storing and encrypting private data in the form of off-chain containers called Keeps on the blockchain, making it fully censorship-resistant.
It addresses the problem of holding back blockchain adoption. Developers can make fully decentralized apps on the platform. KEEP is the native token of the Network and can be staked.
Keep's market capitalization is US$441 million. The token's trading volume increased by 25.42% to US$272 million in the last 24 hours to Thursday morning. Its circulating supply is 631 million. 
KEEP traded down 1.93% to US$0.6991 at 7:45 at ET on Thursday. 
The Network was founded in 2017.
Also Read: Betting stocks in focus ahead of Sunday's Super Bowl match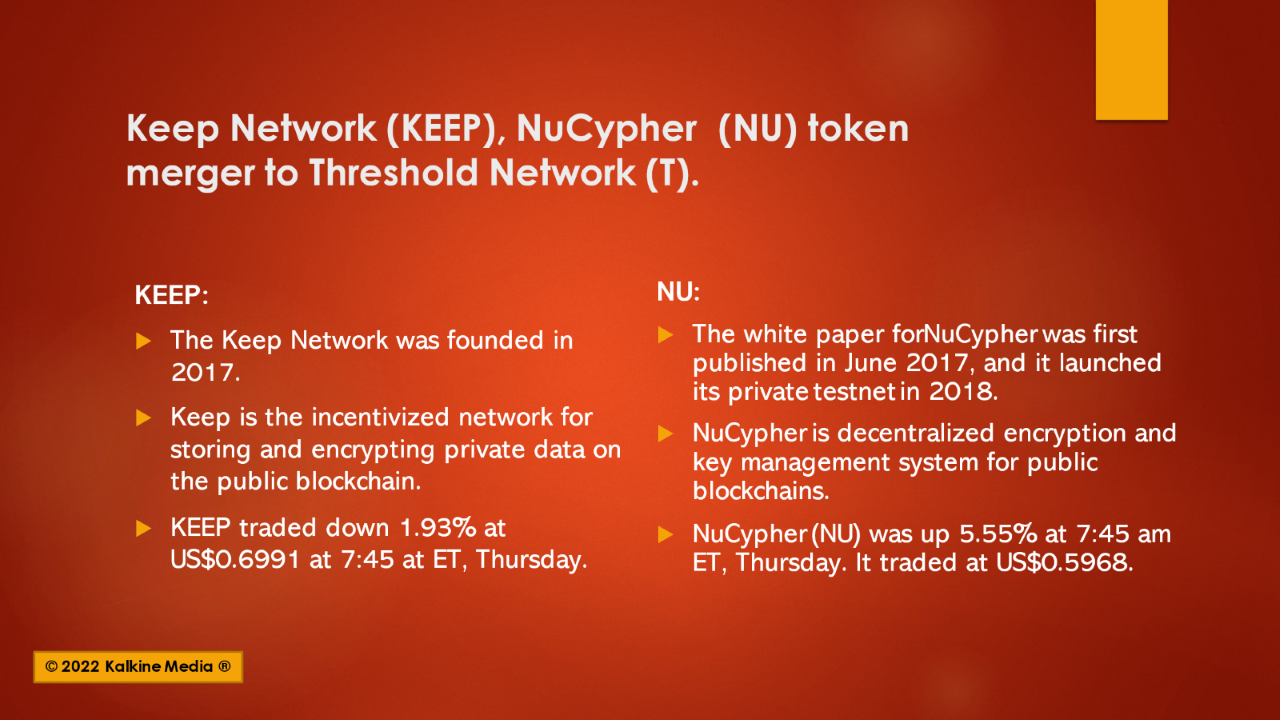 Also Read: Top 7 financial stocks on NYSE to explore
What is NU?
NuCypher is decentralized encryption and key management system for public blockchains. It offers end-to-end encrypted data sharing and decentralized storage solutions on blockchains.
NU is the native token of NuCypher. It is used to incentivize participants to perform key management services and access operations on the network. It is also used to run the worker node through the staking process.
NuCypher (NU) was up 5.55% at 7:45 am ET on Thursday. It traded at US$0.5968. The token has a current market cap of US$419.5 million. Its 24-hour volume rose by 82.75% to US$289,208,269. NU's circulating supply is 703 million.
NuCypher published its first white paper in June 2017, and in the following year, it launched its private testnet.
Also Read: 5 solar stocks to keep an eye on in February
What is Threshold Network Token (T)?
The Threshold token was created after the merger of Keep Network and NuCypher, finalized on January 1, 2022. The Network aims to provide a suite of cryptographic primitives for the dApps. 
T is a utility for the Threshold network and governance token for the Threshold DAO. The users can lock the token in coverage pools and earn yields.
Also Read: What is NFT? How to create and sell?
KEEP, NU tokens merge to form Threshold token (T), get Binance nod
Bottomline
KEEP token is available for trading at exchanges such as Binance, KuCoin, Crypto.com Exchange, Gate.io, and Mandala Exchange, and NuCypher can be traded on Coinbase Pro, Binance, UniSwap, Huobi, Gate.io, etc. The Crypto market is volatile, and investors must exercise caution before purchasing digital assets.