Highlights

In Japanese, the term Kujira signifies "whale".
Kujira team intends to level the playing field in DeFi (decentralised financed) by launching dApps for all.
ORCA is the first dApp from Kujira, with many more to come.
Do you fancy yourself as a "killer whale"? With the new born crypto token Kujira, your dream may become a reality.
In Japanese, the term Kujira signifies "whale". In crypto, a whale is a firm or individual who possesses a large amount of a specific cryptocurrency.
The makers of Kujira think that everyone should have the opportunity to be a whale. The Kujira team intends to level the playing field in DeFi (decentralised financed) by launching dApps for people, who otherwise remain deprived of accessing the same.
Let us deep dive to understand Kujira better.
Related Article: This holiday season, gift your loved ones cryptos
What is Kujira?
Kujira is a collection of decentralised applications (dApps). It token symbol is $KUJI.
Kujira is all poised to make ripples in the DeFi community. Kujira's objective is to create cost-effective and accessible tools for both seasoned aficionados and novice crypto traders. In addition, DeFi dApps are also designed for regular crypto users, providing an efficient, secure, and risk-free environment.
Because of its one-of-a-kind characteristic, Kujira has swept the crypto world. For the first time, non-whale crypto users will be able to execute strategies that are traditionally reserved for whales.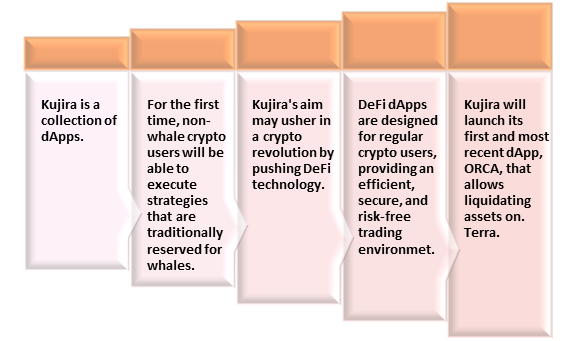 Source: Copyright © 2021 Kalkine Media
Kujira's first and latest DApp called ORCA
Kujira has launched its first and most recent dApp, ORCA. It provides a platform where members of the community can bid on debts that are set to be liquidated. So, due to Kujira, the liquidation procedure will be a breeze. Previously, participating in the liquidation procedure required a large amount of money and a well-planned program.
With Kujira, individuals can also sell and acquire digital assets on ORCA's decentralised network, comparable to RobinHood or PayPal. Kujira wants ORCA to be used across Thorchain, Solana, and any other blockchain with money market and borrowing capabilities.
In addition, Kujira allows liquidating assets on Terra, which is at the heart of dApps since it makes DeFi available to everyone. Terra is a blockchain-based ecommerce platform that is both trustless and programmable. It also offers fiat-pegged stablecoins to help cross-border payments be more stable.
Terra also uses LUNA, its utility and staking coin, and other stablecoins such as TerraUSD (UST). The Terra crypto ecosystem, powered by stablecoins, provides quick settlement, cheap fees, and frictionless cross-border exchange to fuel retail transactions.
How are ORCA facilitating borrowing in the crypto world?
With the rise of DeFi, it has become incredibly popular to use the existing tokens to borrow on the blockchain. Known as initial DEX offerings (IDOs), IDO is a decentralised and permissionless crowdfunding platform that allows fundraising in the crypto space.
At present, Anchor is a savings protocol running directly on Terra stablecoin ecommerce payment platform. Anchor enables users to avail a loan in lieu of their Luna (bLuna) and Ether (bETH) tokens as collateral. The loan is up to 60% of the token's value. As assets increase, so does the potential of growth in earnings of ORCA users.
Related Article: When will Shiba Inu reach the US$1 level?
Road ahead
New cryptos are born regularly in the crypto realm. The two things that come first in the crypto realm are innovation and creativity. If cryptos usher in revolution, the government will have no choice but to legalise them.
We can see from Kujira's example that the newly born crypto has a lot of potential, if its utility gets proved. Kujira provides dApps access to individuals who are, otherwise, deprived of opportunities previously only available to insiders, elites, and whales.
Related Article: Satoshi Nakamoto becomes world's 15th wealthiest as Bitcoin soars