Highlights

Cardano is one of the smart contract platforms added to the new fund by Grayscale
Cardano, Solana, and Ethereum have shed value in 2022, and so has the biggest asset BTC
Cardano is a top ten asset by market cap on the CoinMarketCap list of cryptocurrencies
Major cryptocurrencies, including the biggest of the lot, BTC, have registered losses in 2022. BTC and ETH had lost value over the past 24 hours as of writing, but a few like Polkadot (DOT), Cardano (ADA), and Ethereum Classic (ETC) were in green.
Competition among blockchain networks
No one can precisely predict which of the blockchain networks would become the favorite of developers in the coming years, but it can be said that Ethereum has some formidable competitors. Last year, SOL token of the Solana network rose very sharply to become one of the top performing assets. But SOL has lost nearly half its value so far in 2022.
Also read: What is Biswap DEX? BSW crypto trading volume spikes 25,000%
Another crypto, ADA, linked to the Cardano network, is also down nearly 30 per cent on a year-to-date (YTD) basis, but it makes for a close watch due to two reasons. First, it is one of the cheapest tokens in the top ten cryptocurrencies by market cap, and second, it is one of the non-ETH tokens to be included in the new Grayscale fund titled GSCPxE.
Cardano (ADA) and Grayscale Investments news
The GSCPxE fund of Grayscale is focusing on native tokens of networks that provide smart contract services. It claims to be a way to passively hold cryptos, without having to store individual crypto assets in wallets.
Also read: Pawtocol crypto's trading volume soars: What is it & UPI token?
At the close of March 22, 2022, the fund mentioned Cardano's share as over 25 per cent, which was the highest. Solana's share in the fund was nearly 23 per cent, while that of Avalanche was almost 18 per cent. This could be one of the reasons behind a recent surge in the value of Cardano's ADA token.
What is Cardano?
The project claims to be a proof-of-stake (PoS) network, which can be used by blockchain developers to build and deploy their decentralized apps (DApps). The "Alonzo" hard fork, which happened in 2021, added smart contracts to the Cardano's network. The blockchain claims to have better energy efficiency due to its PoS consensus method for validation.
Also read: What is Big Time blockchain game & does it have a crypto token?
Cardano (ADA) price
With a market cap of over US$32 billion, Cardano featured in the top ten cryptos on the CoinMarketCap list as of writing. The trading volume had surged over the past 24 hours, and so had the price of ADA.
The price as of writing was nearly US$0.96, but this was down as compared to nearly US$1.6 that ADA attained in mid-January 2022.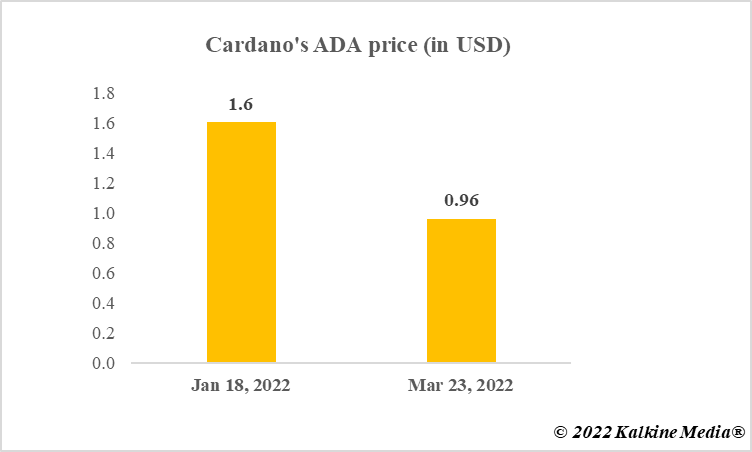 Data provided by CoinMarketCap.com
Bottom line
Cardano's trading volume and price have gained lately and one of the reasons behind this surge could be Grayscale's new fund that focuses on smart contract networks other than Ethereum. Cardano, Solana, and other projects are included in the fund, and Cardano had the biggest share. Whether it will help or have a bigger role to play in Cardano's future remains to be seen. But as market participant, one must do their market research before making any investment decision.
Risk Disclosure: Trading in cryptocurrencies involves high risks including the risk of losing some, or all, of your investment amount, and may not be suitable for all investors. Prices of cryptocurrencies are extremely volatile and may be affected by external factors such as financial, regulatory, or political events. The laws that apply to crypto products (and how a particular crypto product is regulated) may change. Before deciding to trade in financial instrument or cryptocurrencies you should be fully informed of the risks and costs associated with trading in the financial markets, carefully consider your investment objectives, level of experience, and risk appetite, and seek professional advice where needed. Kalkine Media cannot and does not represent or guarantee that any of the information/data available here is accurate, reliable, current, complete or appropriate for your needs. Kalkine Media will not accept liability for any loss or damage as a result of your trading or your reliance on the information shared on this website.