Highlights

The total number of cryptos listed on price-tracking websites and exchanges is never the same
A blockchain project with its native cryptocurrency may be up and running in some part of the world, with the wider world having no clue
Even tokens with very low market cap may return eye-popping profits, but these assets are riskier
Cryptocurrencies are on the radar of every investor, seasoned or amateur. One reason behind the rise in their stature is returns that dwarf even the best-performing stocks.
Take for example the nearly 25 per cent return of S&P 500 Index in 2021, which is nothing if we were to compare it with crypto assets like Axie Infinity and Solana, which gave over 10,000 per cent one-year return in 2021. But similar to how the S&P 500 is not the representative of the entire stock market that has numerous other listed stocks, crypto market is not about high market cap crypto assets like Bitcoin or Solana alone.
Total number of cryptocurrencies
Do we exactly know the total quantity of gold or other precious metals that the earth may contain? The thing is we only know about 'proven' reserves.
In cryptocurrencies, it is about how many are listed on a particular price-tracking website. At the time of writing, CoinGecko and CoinMarketCap – two of the leading crypto price tracking websites – have listed 12,411 and 16,691 crypto assets, respectively. By this measure, though it is certain that there are tens of thousands of cryptocurrencies in the market today, the precise number is not known.
Also read: Top cryptos by market cap that ruled in 2021
Why it is difficult to arrive at a number?
Each crypto asset represents a particular blockchain-based project. For example, Ether and AXS are the native tokens of Ethereum and Axie Infinity respectively.
These distributed ledger-powered projects can be founded by anyone at any time. Releasing a new token for such a project is no big deal. Unlike fiat currencies like the dollar, cryptocurrencies' supply isn't regulated. Any new project, say a music streaming site or a game based on blockchain, can float its own crypto asset freely in the market.
How many cryptos are tradable?
For now, cryptos are a speculative tradable asset. If someone bought Bitcoin at US$29,000 at the start of 2021, it can be sold today at US$42,000 to book profit.
To buy and sell, one cannot use the services of price tracking websites. Dedicated crypto exchanges are available for this. The list includes Coinbase and Binance. The former allows trade in nearly 100 cryptos while the latter supports nearly 500 assets on its global platform. Binance's US platform, however, only allows trade in nearly 60 cryptocurrencies. In Canada, locally headquartered exchanges like Bitbuy are offering trade in relatively lesser number of cryptocurrencies.
By this measure, the total number of cryptocurrencies depends on the crypto exchange an investor picks.
Also read: Best crypto exchange in Canada: Here are the top contenders
Which is the best cryptocurrency?
There is no single crypto that can be termed the best. High market cap cryptocurrencies are as volatile as low market cap coins. There have been instances when humble altcoins have dwarfed the returns of biggies like Bitcoin and Ether over a particular timeframe.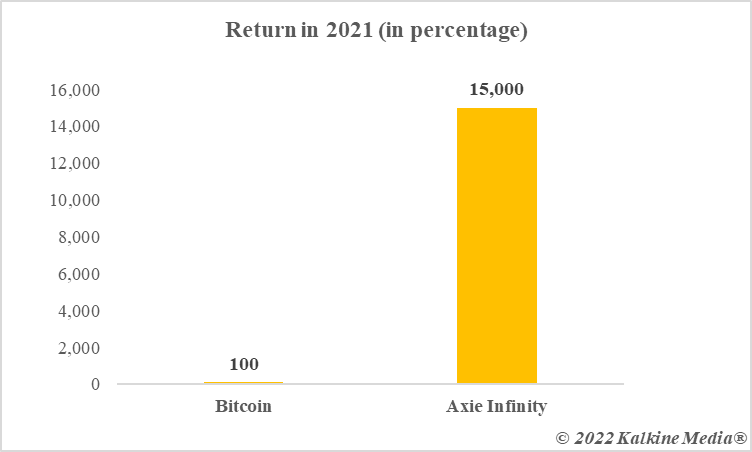 Image description: Bitcoin vs. Axie Infinity in 2021
Data provided by CoinMarketCap.com
As of now, crypto investments are profitable only when the asset is purchased and sold at the opportune time. Which asset it is matters less.
Also read: Crypto crash 2022: Is it all bearish in cryptocurrencies?
Bottom line
It is impossible to track the exact number of cryptocurrencies. A project may be selling its native token to a closed-knit group of investors, and the wider world may have no clue about it. The same token may become the best-performing crypto over a particular period, say 1-day or 1-week. Investors, especially the retail ones, must be cautious about whether the blockchain project is legitimate before making any investment decision.