Highlights

El Salvador's adoption of Bitcoin will go down in Bitcoin history due to Blockstream's endeavours.
Blockstream is the driving force behind all of the technology and infrastructure required in "Bitcoin City."
Blockstream's contribution has boosted their popularity, and they may soon become blockchain technology's monarch.
If you're wondering why there's so much buzz about cryptocurrencies these days, make a mental note to read more breaking news in newspapers while sipping your morning tea. With the way the crypto tsunami has overtaken the world investors, it appears regulatory bodies and governments are finding it difficult to ignore it.
As a major step, to encourage investment and enhance the country's economic development, El Salvador has adopted the digital currency, Bitcoin.
How Blockstream powered El Salvador's first "Bitcoin City
And, Blockstream, a Victoria-based blockchain technology firm, has assisted the nation towards establishing a city in its honour, as well as making the coin useable for a wide range of transactions.
We'll look at how Blockstream-assisted El Salvador in claiming the title of "the first nation to adopt Bitcoin."
Related Article: Can Singapore also become "global crypto hub"?
How did Blockstream help El Salvador build its "Bitcoin City"?
For Blockstream, 2021 was a watershed year. The company is a provider of blockchain technologies with a focus on cryptography and distributed system. The company works on the technology that allows the use of Bitcoin for all types of payments, such as point of sale terminals.
In 2021, the company grew its operations and opened more Bitcoin mining facilities. The seven-year-old hi-tech company also secured $210 million in funding to build the infrastructure that El Salvador required to build its Bitcoin city.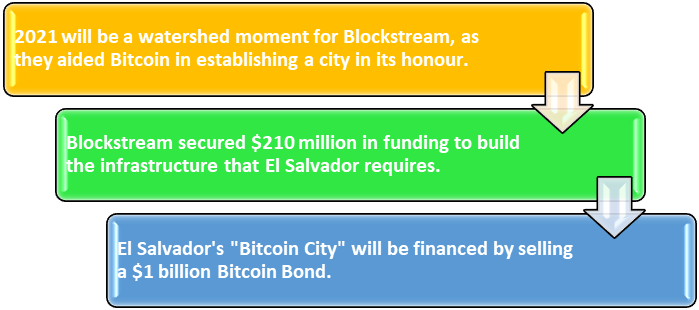 Source: Copyright © 2021 Kalkine Media
The company's purpose in El Salvador, according to Blockstream chief strategy officer Samson Mow, is to assist how to carry out the Bitcoin programme. Mow also added,
Blockstream will be overseeing all operations of El Salvador's "Bitcoin City", which will be financed by selling a US$1-billion Bitcoin Bond. The bond would be split in half, with half going toward Bitcoin mining infrastructure and energy and the other half going for Bitcoin purchases.
"Bitcoin City" will be constructed close to the Conchagua volcano. The government will ensure that all commercial and residential amenities are available to citizens.
President Nayib Bukele has devised a strategy to make the city "tax free". In addition, he aims to harness the volcano's geothermal energy to power Bitcoin mining.
Related Article: Do you want to give crypto a shot? Here are few tips
Related Article: How to spot NFT trends?