Gold vs Bitcoin debate is in spotlight with Bitcoin leading the race, as more and more investors are flocking towards alternative means for return enhancement, in an environment of low interest rate and unpredictability.
To Know More, Do Read: Bitcoin At an All-Time High Outperforming All Asset Classes, Why are investors Gung-ho?
Over the last one year, Bitcoin has significantly outperformed gold with a superior return of 320.31 per cent as compared to gold's total return of just 19.8 per cent.
Bitcoin Total Returns Against Gold Total Returns (One-year) (Data Source: Refinitiv Eikon Thomson Reuters)
So, does that mean gold has permanently lost its sheen against bitcoin, and the digital asset is now the primary asset to be considered as a safe haven?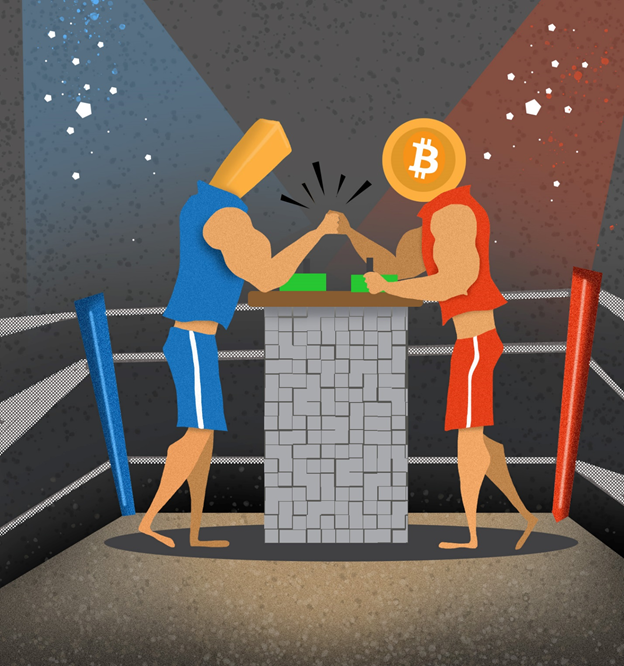 Image Source: © Kalkine Group 2021
Earlier in December 2020, JPMorgan published a global markets strategy note, in which, the investment banking behemoth suggested that money outflow from gold to bitcoin could have been a problem for gold going ahead.
As per the paper published by JPMorgan, about USD 7 billion has flowed out of global gold-backed ETFs since October to December 2020. Meanwhile, the Greyscale Bitcoin Trust has seen a money influx of about USD 2 billion. Furthermore, the investment banker anticipates the trend to continue.
Also Read: Bitcoin in 2020 - A Year of Low Interest Rate, Quantitative Easing, And Economic Drop-Off
But one thing which one needs to understand is that money managers are always in a relentless pursuit of higher returns, as that is what decides their incentives. However, in the majority of cases, where money managers have set a trend for some time, they leave one thing behind, i.e., volatility. An ideal safe-haven asset should have low volatility.
Image Source: © Kalkine Group 2021
Secondly, liquidity plays a crucial role in determining who is going to wear the crown of safe haven. As per the data from the World Gold Council, the market capitalisation of gold stood over USD 10 trillion in 2020.
On the flip side, Bitcoin market capitalisation reached an all-time high above USD 600 billion in January 2021.
Quite a comparison, which strongly reflects on the liquidity. Also, a relatively small liquidity for Bitcoin as compared to gold simply implies when in the need of an entry/exit, a small group of large investors could bring some volatility into play, , which is not a major concern for gold market players thanks to its wide global distribution, ranging from central banks, governments, large funds, to households.
Also Read: Hedge Funds to Hollywood Celebrities Fancy Bitcoin
However, while at the moment liquidity seems to be favouring gold against bitcoin, the market cap for the digital asset is growing faster, which in turn, has improved its liquidity.
One common attribute to both gold and bitcoin is their limited supply, which has been an overall trendsetter in both assets.
But while the gold reserves are held for strategic purposes by both central banks and governments, bitcoin is currently being held by shark investors, which could be inferred by visualising the number of unspent coins around present levels.
This fact simply implies, that institutions are playing a bet on the future of the currency, and quite frankly, they can afford to do so. However, for the retail investors, stomaching volatility could be challenging, as it features non-attributable for the traditional safe haven.
Yes, gold has had its period of higher fluctuations, but even historically, it has been significantly lower as compared to Bitcoin.