Ethereum or Ether, the world's second largest cryptocurrency has climbed an all-time high of USD 1,429.00. The cryptocurrency is a major token that empowers the ethereum blockchain network, on which a majority of DeFi-based applications are being built.
Ether or the token of the ethereum network provides the holder some rights to manage the blockchain network as a reward while giving some prerogatives in the development of DeFi-based applications built upon the ethereum network.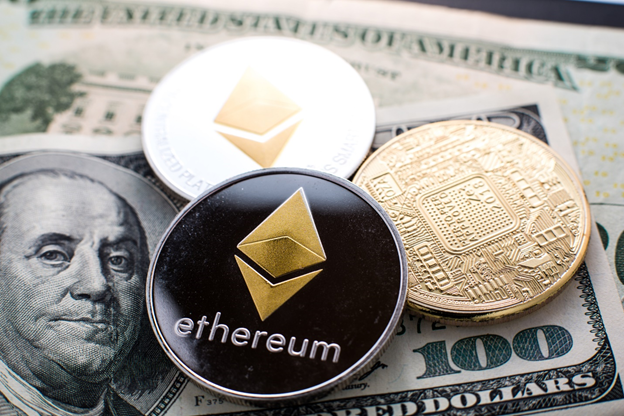 Image Source: Megapixl
The ongoing paradigm shift in decentralised finance is one of the many factors which is keeping the prices of cryptocurrencies buoyant, including Ether.
To Know More, Do Read: DeFi Led Sentiments Keep Bitcoin Afloat
Many top DeFi-based applications that allow consumers to borrow, lend, such currencies are based upon the ethereum blockchain network, and surmounting popularity of such applications is keeping the currency afloat while attracting the investing community over the opportunity to generate additional alpha on their investment while keeping the beta almost similar to that of any cryptocurrency.
To Know More, Do Read: Yield and Liquidity Farming - Tools to Generate Alpha in the Crypto Space
Some of the most prominent DeFi-based applications that had played a central role in attracting towards Ether are as below:
Maker: A DeFi-based lending platform
Synthetix: A DeFi-based investment platform
Compound: A DeFi-based lending platform
InstaDApp: A DeFi-based smart wallet
In the recent past, the digital currency has topped its previous bull market peak, two months later than Bitcoin. However, while Ether has been slow to follow the previous top as compared to Bitcoin, the currency has clearly surpassed total returns from Bitcoin on a YTD basis.
Ether has delivered a total return of 79.48 per cent on a YTD basis, considerably up against the total return of just 19.11 per cent delivered by Bitcoin.
Further, despite a slow runner, Ether has outperformed Bitcoin over the medium-term as well with one-year return from Ether outperforming the same from Bitcoin, considerably.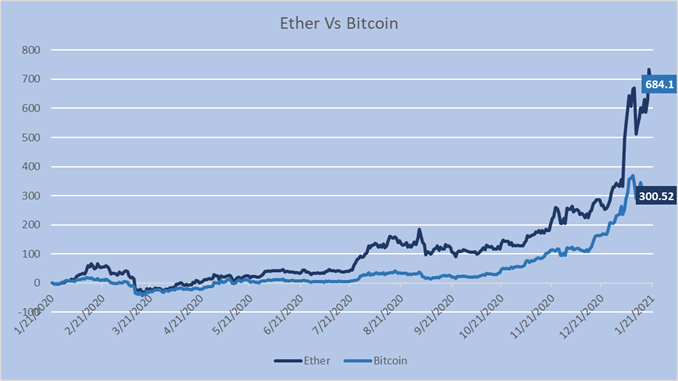 Image Source: Kalkine Group, Data Source: Refinitiv Eikon Thomson Reuters) as on 21 January 2021
Moreover, while Ether is on a bull run, and even surpassing the total return from Bitcoin in 2021, many industry experts are closely watching this space.
Whist Ether is gaining some mainstream popularity among the investing community, another development on ethereum blockchain network front, i.e., Ethereum 2.0 is keeping the eyes of investors glued to it.
Image Source: Shutterstock
On 1 December 2020, Ethereum took a major step towards the positioning of the blockchain project to be a censorship resistant base layer operating in the background of tomorrow's internet by announcing the release of a new blockchain – the Beacon Chain.
Since the announcement, Ethereum, and in turn, Ether has garnered significant interest from tech geeks and investors, with even many large institutions participating in the same.