Highlights

Kanye West, aka Ye, is an American musician who rose to fame in the late 1990s and early 2000s as a successful producer and later as a critically acclaimed solo artist.

The rap star is no stranger to controversy.

Kanye's bold statement on NFTs comes amid the bearish worldwide crypto market.
American musician Kanye West is back ruffling feathers – this time for his view on non-fungible token (NFTs). Taking to Instagram, the famous rapper wrote, "Do not ask me to do a ****ing NFT." Instead, Kanye wants to focus on real things, "real products." 
Huh, quite the antithesis of metaverse!
Don't ask Kanye West about NFTs
Kanye, aka Ye, is no stranger to controversy. From PR gimmicks announcing his bid for Presidency of the United States to the never-ending feud with fellow musician Taylor Swift, the rapper knows how to be in the limelight.
Cryptocurrencies, metaverse, blockchains and all things related have been sweeping the world for the last couple of years. And just a month into 2022, Kanye has managed to be in the eye of the crypto storm.
A hoard of celebrities, artists, sportspersons, and influencers have actively embraced the NFT trend to reach a broader audience and woo fans. 
Kanye's decision to say "no" to NFTs in the midst of the growing love for cryptoverse is a daring one. Let's wait and see how big of an impact Kanye's statement has on crypto enthusiasts. 
Also Read: Justin Bieber Pays Over US$1 million over the floor price for NFT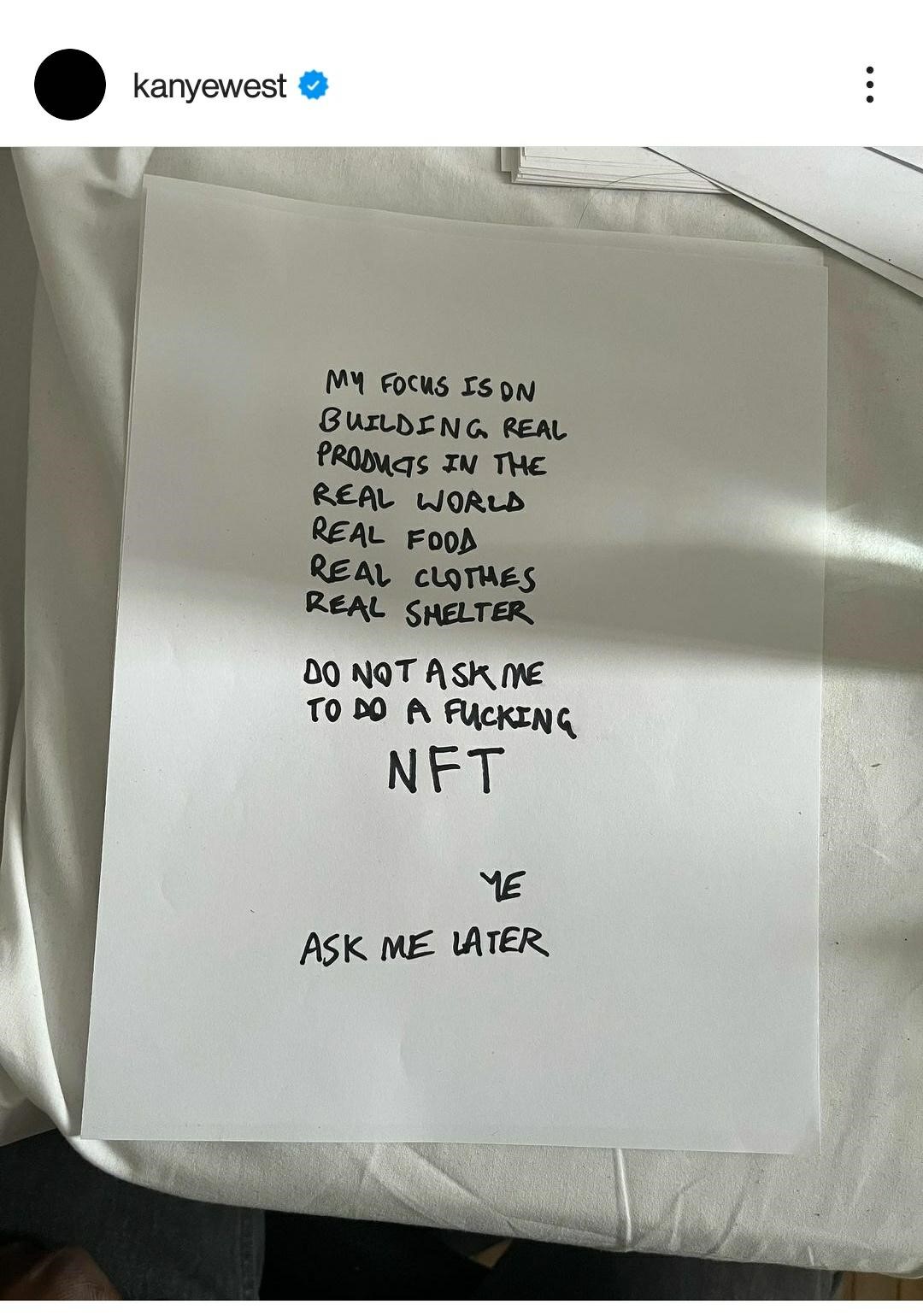 Source: Kanye's Instagram post
What is Kanye's view on NFTs & Cryptos?
West shot to the limelight in the late 1990s and early 2000s as a successful producer and later as a critically acclaimed solo artist.
His post on NFTs comes days after he announced the release of the much-anticipated Donda 2, his 11th studio album and the follow-up to the Donda and Donda (Deluxe). The album is being developed in collaboration with American singer Marilyn Manson, who's been accused of rape.
West's decision to not join the slew of celebrities who have rushed into the NFT space is poles opposite to the stance of his ex-wife, American reality star and businessperson Kim Kardashian. The latter was recently sued over allegations of 'pumping and dumping' EthereumMax crypto.
Also Read: What is Twitter's new feature about NFT and profile picture?
However, West is not anti-crypto. He's openly declared his support for Bitcoiners and is reportedly tipped to be among the future top investors the world's largest cryptocurrency by market cap.
Back in 2014, some developers even launched Coinye, a cryptocurrency named after West. However, the token lived for just week, before West drowned it in a lawsuit.
Recent Article: Animoca Brands: The Company Who Jumped on NFTs Early