Source: Shutterstock


                              
Tesla owner has once again tweeted on his favorite meme-based cryptocurrency, Dogecoin. This time, just three words: "Dojo 4 Doge."
Elon Musk's followers and the Reddit legion have started speculating on this tweet. Some of them are anticipating that Dojo is a Tesla supercomputer that might power dogecoin going forward.
Mr Musk's tweets– whether on any stock or cryptocurrencies or any other topic – always set trends.
Earlier this month, he tweeted "Dogecoin is the people's crypto". This tweet pushed the meme-crypto coin by almost 68 per cent during the intraday trading session on February 4.
The planet's wealthiest person has approximately 47.6 million followers on Twitter, and most of them are retail investors. And these retail investors are still counting on the Shiba Inu dog-themed virtual coin and twitting '#dogeto$1'.
Let us look at the dogecoin movement and how Musk's obsession is pushing its market value:
Dogecoin (DOGE)


The dog-mascot coin is at a market cap of US$ 7 billion, following a meteoric rise of 916.11 per cent year-to-date (YTD). Its total supply is 128.35 billion. In contrast, bitcoin's total supply stands at 18.63 million.
Last week, Mr Musk raised his concern for the heavy Dogecoin buyers, claiming "too much concentration" is a problem.
Dogecoin is currently trading at US$ 0.054502 per token, with a one-day volume of US$ 3.52 billion. That means half of the existing volume of the crypto has changed hands in the last 24 hours.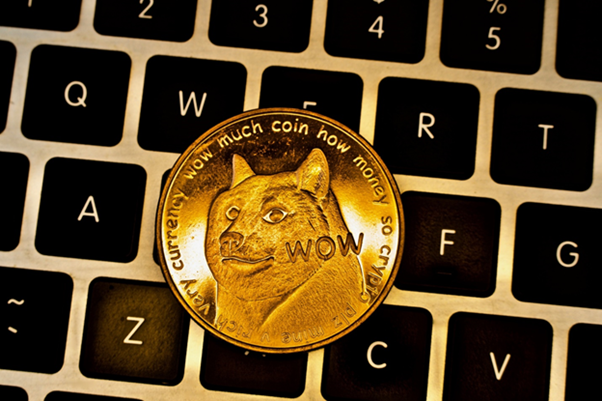 Source: ©B65381 | Megapixl
A Glance At Apex Crypto Coin: Bitcoin
Bitcoin's volatile trend has continued this week but with a forward movement. The largest virtual coin moves four steps ahead and takes three steps back.
On Sunday, the coin breached a US$ 58,000-mark for the first time. But by Monday morning, it is trading at US$ 53,700 per token and down by almost 6.5 per cent.
In the first week of this month, Tesla announced on exchanges that it has bought bitcoins worth US$ 1.5 billion. That refueled the giant cryptocurrency's rally and helped it to claim US$ 1 trillion in market value.