Summary

Coinbase plans to go public through a direct listing course, as per its blog.
The crypto exchange holds an asset on its platform of US$ 90 billion, with 43 million verified users.
The company would become the first to get listed in this crypto retail segment.
Cryptocurrency exchange Coinbase Inc is planning to go public via the traditional direct listing route, it revealed in a blog post on Thursday, January 28. The US-based company has already submitted a draft registration form with the U.S. Securities and Exchange Commission (SEC) in December last year.
Once the SEC completes its review process and admits Coinbase, it will become the first publicly listed crypto exchange in the world.
Cryptocurrencies have been gaining more traction from the big bulls at Wall Street recently, and most of them are trading at all-time high prices. Coinbase expects to make more out of the ongoing crypto rush with this direct listing.
What is Direct Public Offering (DPO)?
In case of a direct listing, the company reaches out to the public directly, without taking help of underwriters, banks or any third-party intermediaries. By floating its own shares on the exchange, the company can set lower prices of the issues and save up on several fees.
Coinbase heading for a direct listing rather than an IPO will allow it just lists its shares and start trading, without the hassles of traditional issue-price setting etc..
Apart from the crypto agency, Spotify, Slack, Palantir, and Asana followed the same DPO route. Online gaming firm Robolox, which is set to go public soon, is also taking this route.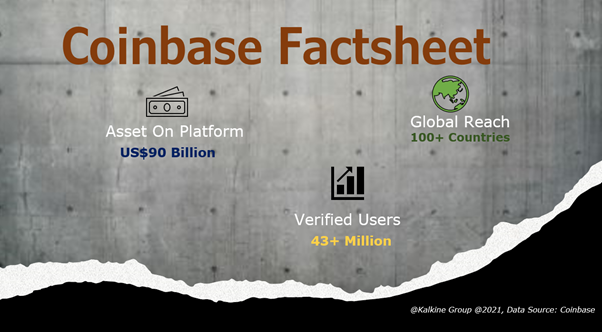 What is Coinbase?
The company was formed in 2012 as a simple digital wallet to purchase cryptocurrency Bitcoin. Now, it is one of the standard-bearers for the crypto industry. It has a total volume traded of US$ 455+ billion on its platform. The company has more than 43 million verified customers trading through its exchange.
The exchange is operating in more than 100 countries, with an asset on the platform of US$ 90 billion. The company is currently offering over 40 digital coins to retail investors to exchange their conventional money with cryptocurrencies such as Bitcoin, Litecoin, Ethereum, Ripple, etc. Its rivals are Gemini and Kraken in the US; and Binance, and OkCoin globally. But Coinbase would lead in this segment once it goes public.
Initially, the crypto exchange had opted for an IPO, but changed its listing route after the SEC allowed direct listings last month.