Highlights

Bitcoin has a share of nearly 47 per cent in the cumulative market cap of cryptocurrency world
Having started the year with US$29,000 price tag, BTC more than doubled in fewer than four months
Multiple positive factors and excessive mainstreaming of BTC is likely to lift prices in the near term
A few hiccups aside, 2021 has been a great year for Bitcoin and its backers. Where does Bitcoin go from here?
Will the world's largest crypto asset soon touch the US$100,000 mark? A few analysts believe that the resistance level of BTC is approximately US$65,000. The level indicates a price tag which any asset achieves, but then fails to transcend it owing to resistance from market forces.
Can Bitcoin end 2021 with a price tag of $100,000?
For Bitcoin, which started the year with a price tag of nearly US$29,000, there is seemingly no resistance level. To understand this, and to locate answer for the US$ 100,000-mark question, let's note some major developments over past few months. These are not quantitative, but they influence the price.
Endorsement by billionaires
The founders and CEOs of some big tech companies like Twitter and MicroStrategy have rallied behind Bitcoin. Twitter's Jack Dorsey has time and again claimed that BTC can become the native currency of the internet. This is no mean claim. The internet changed the way people consume news, buy things, and it can likely change the way people transact.
As of now, digitization in payments is restricted to banks remaining a key intermediary. Besides, central banks like the Fed command a lot of authority on currency. The real digitization of money and payments systems may have yet to arrive. Dorsey repeated his 'native currency' claim in the B-Word Conference where another multi-billionaire, Elon Musk accepted having invested in Bitcoin.
Last month, MicroStrategy's CEO Michael Saylor tweeted that the company has bought new 5,050 BTC at a price of US$48,099 per Bitcoin. This takes the company's total holding to a whopping 114,042 BTC. Musk's Tesla holds 38,300 BTC.
Also read: Can Bitcoin be termed as the 'asset of the century'?
Soaring market cap
Bitcoin is the only one-of-its-kind asset in the top-ten list of assets by market cap. The list is topped by Apple, which has a market cap of nearly US$2.4 trillion as of now. Bitcoin is at the sixth spot, above the giants including Facebook and even Tesla, which has soared over the past one and a half years.
An important point to consider here is that Bitcoin's market cap is above US$1.1 trillion as of now, while Facebook and others below are yet to even touch the $1-trillion mark. Bitcoin has grown into a formidable force, and if the momentum sustains, it may likely become the biggest.
Bitcoin's high market cap owes to both retail as well as institutional investors. Though some big investors like Tesla have made their holding public, many may yet to have come out. Institutional investors always look for assets that can beat inflation and produce higher returns than the traditional market. Risks are a part and parcel of their investment strategy, and BTC seems to be a calculated risk.
Also read: MicroStrategy bitcoin holding soars, dwarfs Tesla's
The 2021 Bitcoin rush
The fear of missing out (FOMO) is real. After Canada, which approved the first-ever Bitcoin ETF earlier this year, the US securities regular has now approved a similar ETF in the world's largest economy.
It's not just BTC that is becoming a place to park money, even related instruments are booming. A cryptocurrency exchange, Coinbase, listed on Nasdaq in April 2021, and has market cap of nearly US$75 billion as of now. One can imagine how investors are rushing to the cryptocurrency frenzy. If we were to calculate the cumulative investment in all cryptocurrencies and related products like exchange platforms, the crypto space might be bigger than anything.
The rush led to S&P Dow jones launching new indices to track the movement in price of BTC. If S&P 500 index is the heart of global stock market, it definitely has a formidable competitor now. Many big banks in the US and elsewhere are also offering crypto exposure to their clients in a bid to keep investors from sending dollars to crypto exchanges.
Also read: 5 best cryptos to watch in 2022
Also read: Top 5 cryptocurrencies available for under $1
Bitcoin has fueled interest in altcoin
Calendar 2021 was the year of altcoins. One altcoin, AXS of Axie Infinity blockchain game, has soared more than 20,000 per cent so far. Ether, Bitcoin's biggest rival in the decentralized ledger space, is also up nearly 400 per cent on year-to-date (YTD) basis.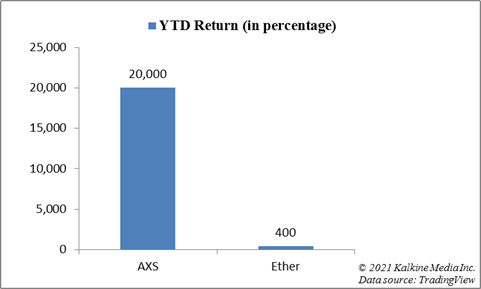 BTC has an overall share of nearly 47 per cent in the cumulative market cap of all crypto assets. The rest is made up of altcoins, which are providing unique decentralized solutions. BTC's popularity is one of the major driving forces behind altcoins' surge.
Also read: 3 reasons why Bitcoin is going down at any point in time
Bottom line
Bitcoin's popularity and adoption reached new peaks in 2021. Besides, El Salvador's Bitcoin adoption as a legal tender made big news. If the momentum sustains, it is likely that BTC price will soon breach the so-called resistance level. Once that is achieved, and given we still have at least another two full months, BTC can likely touch the US$100,000 mark before 2021 ends. By all measures, the price is very likely to stay in the higher trajectory from hereon.