Highlights

Bloktopia's metaverse provides real estate in its virtual reality world as NFTs to users
The BLOK token is native to the project, which is to be used in the staking and purchase of digital assets
BLOK, which ranks among the top 500 cryptos in terms of market cap, has lost so far in 2022
The combination of blockchain, gaming, and non-fungible tokens (NFTs) seems to have become a top trend in the crypto universe. The recent launch of the ApeCoin (APE) crypto, which is attached to the Bored Ape Yacht Club NFT project, accounted for a few of the crypto-related headlines.
But the metaverse-NFT combination has numerous participants. A few with multi-billion-dollar market caps include Decentraland and Axie Infinity. Some others may not have such a high valuation right now, but they seem to be gaining traction. One such cryptocurrency is Bloktopia. Let's know more.
What is the Bloktopia metaverse?
Bloktopia seems to be riding the play-to-earn wave. Play-to-earn usually refers to an ecosystem with a gaming verse where users can earn revenue by acquiring and holding digital assets. These assets can be in-game characters, for example, Axie Infinity has Axie creatures in the form of NFTs.
Also read: What is ApeCoin crypto & its link to the BAYC NFT project?
In Bloktopia, real estate seems to be the major digital asset that users can purchase. Besides, the project claims to provide crypto0related content to users in a "skyscraper" type of model, which has 21 levels in recognition to the maximum supply of 21 million BTC tokens. Gaming and a revenue model based on advertising are also claimed to be a part of the Bloktopia metaverse.
BLOK crypto
Bloktopia uses BLOK as the native token, which it claims enables purchases in its metaverse. The token can also be used in staking and gaining access to exclusive content.
For governance -- Bloktopia claims to be a decentralized autonomous organization (DAO) -- the project uses Reblok NFTs to give voting rights to holders.
Also read: What is Loom Network crypto's 'basechain' service & its token?
BLOK crypto's price
The BLOK token is a relatively newer token. As of writing, it had a market cap of nearly US$127 million, and the per token price was nearly US$0.015. BLOK entered the year 2022 with a price tag of nearly US$0.05, and a sharp and sustainable rally has, so far, evaded this token.
BLOK crypto's price prediction is hard to make considering the volatility all crypto assets have shown in 2022.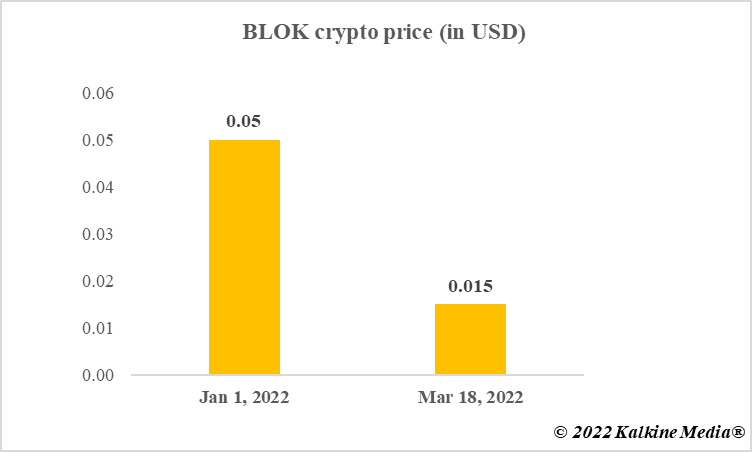 Data provided by CoinMarketCap.com
Also read: BCE & TELUS (TSX:T): 2 Canadian telecom stocks to watch
Bottom line
Metaverse-related tokens like MANA and SAND have gone on to become high market cap assets, but Bloktopia, which has comparable offerings, is yet to scale such heights. Virtual real estate has had its share of success in the recent past, with brands like Nike and Adidas joining the frenzy. How this helps Bloktopia is yet to be seen. With DAO underpinnings and a crypto-NFT combination, the project may draw the interest of enthusiasts, but nothing is certain.
Risk Disclosure: Trading in cryptocurrencies involves high risks including the risk of losing some, or all, of your investment amount, and may not be suitable for all investors. Prices of cryptocurrencies are extremely volatile and may be affected by external factors such as financial, regulatory, or political events. The laws that apply to crypto products (and how a particular crypto product is regulated) may change. Before deciding to trade in financial instrument or cryptocurrencies you should be fully informed of the risks and costs associated with trading in the financial markets, carefully consider your investment objectives, level of experience, and risk appetite, and seek professional advice where needed. Kalkine Media cannot and does not represent or guarantee that any of the information/data available here is accurate, reliable, current, complete or appropriate for your needs. Kalkine Media will not accept liability for any loss or damage as a result of your trading or your reliance on the information shared on this website.