Highlights

BENQI is a DeFi platform that enables lending and borrowing of crypto assets held by users

The platform uses Avalanche's blockchain, which is among the best performing altcoins of 2021

Most DeFi platforms currently use Ethereum, which makes BENQI's QI token an interesting watch
As we bid final goodbye to 2021, it has become quite clear the year belonged to altcoins. Bitcoin has so far gained nearly 100 per cent this year, but altcoins like Solana and Shiba Inu have skyrocketed.
In this light, let's find out about BENQI crypto, an altcoin project working in decentralized finance.
What is BENQI crypto?
The project is a part of the universe that is trying to make finance a little more decentralized. BENQI is a liquidity market for crypto assets where lenders and borrowers can engage without any intermediary in between. The platform manages liquidity in cryptos.
Read more: 5 low-priced cryptos that may script a SHIB-like surge story in 2022
Built on Avalanche's network, BENQI claims to soon have multi-chain support. Holders of crypto assets can use BENQI to earn interest by lending their tokens. This movement of cryptos between the lender and borrower creates liquidity in the market. The platform claims to offer low fee to users of its DeFi services.
About BENQI token
BENQI's native token is QI. It serves the same purpose as Ether does in Ethereum or AVAX does in the Avalanche network. Native tokens are used in payment of network fee and also as rewards for developers.
QI token is a relatively new altcoin, launched in April 2021. BENQI says that QI holders can participate in the governance of the network by staking their QI tokens. This feature makes BENQI a decentralized autonomous organisation or DAO. The initial sale of this ERC-20 token was done through an ICO.
Also read: 7 Altcoins up over 1000% in 2021
BENQI token price
QI token is priced at nearly US$0.24 as of now. The market cap is nearly US$78 million. QI tokens will have a maximum supply of 7.2 billion units, of which 325.6 million are circulating as of now.
QI token price prediction
QI traded at under US$0.20 for much of October and November. The price shot to nearly US$0.33 on November 21 and then experienced volatility.
The price of QI token is likely to stay in the same trajectory and well under US$1 in the near-term. But if the BENQI platform finds further adoption in the DeFi universe, the price is likely to surge considering the push triggered by demand forces.
BENQI's underlying Avalanche crypto
Avalanche has emerged as a formidable rival to Ethereum's blockchain in 2021. It claims to have three inter-operable blockchains, which it says can add more value to the distributed ledger technology. The platform allows creation of new crypto assets just as they can be created in the ERC-20 standard available in Ethereum. It supports smart contracts and building of decentralized apps.
Also read: Is investing in altcoins better than Bitcoin?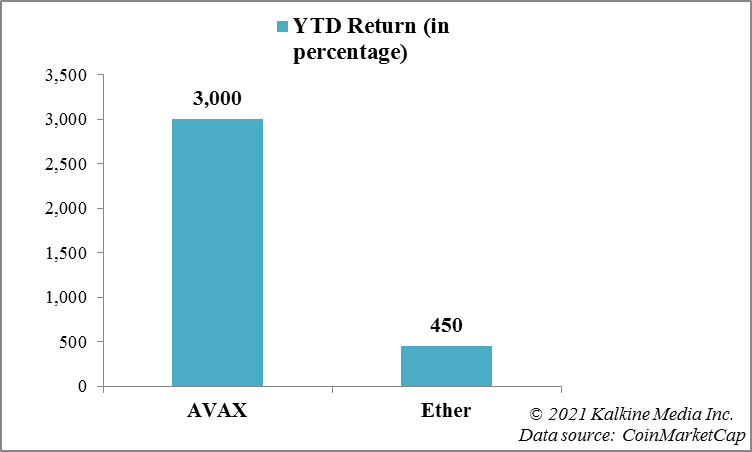 Avalanche's native AVAX token has so far returned well in 2021. On January 1, it was priced at nearly US$3.3, which has soared to nearly US$110 as of now. Avalanche's market cap is over US$24 billion. Avalanche's YTD return is more than Ethereum.
Viewpoint
BENQI crypto is a new entrant in the cryptocurrency space. DeFi networks are gaining traction for their ability to maintain liquidity in the market. A crypto investor has a good chance of earning without having to sell the holding. Besides, BENQI works on a DAO model, which allows users to have a greater say in management. Most DeFi are currently using Ethereum's blockchain, and BENQI is the first to have used Avalanche's network. The low-priced attribute of BENQI can work in its favor if the platform finds more users.