Summary

Despite a host of new cryptocurrencies to add to the 4000+ that are currently out there, investors should be wary of which companies are legitimate.
'Memecoins' – including 'Dogecoin' – are coins based upon jokes whose value are fuelled by speculation and are often subject to volatility.
It is essential to research the team behind a cryptocurrency as well as the whitepaper and the Company's transparency before deciding to invest.
On the back of speculation against recently launched cryptocurrency, Safemoon, it is essential to identify the signs of a legitimate cryptocurrency versus the red flags of a possible scam.
Safemoon, a crypto that started in late March of this year, dived last week, losing two-thirds of its value in 24 hours before rebounding. This led to claims by crypto influencers that the coin was nothing more than a Ponzi scheme amid its marketing tactics where those who sell the coin are charged a ten per cent fee. Half of this fee is then redistributed amongst those who hold on to the coin for the long term.
RELATED: Crypto Safemoon Dives Leading to Scam Claims
The Crypto Boom
The success of various crypto, including Bitcoin, has seen a massive influx of would-be investors trying to catch the wave of rapid appreciating value.
DO READ: Bitcoin reclaims US$50,000-mark after plunging to lowest in two months
Amongst the 'serious' cryptocurrencies, however, there has also been a slew of 'memecoins' proliferating the markets. The most famous is Dogecoin which was started by engineers Jackson Palmer and Billy Marcus as a joke in 2013 to satirise other cryptos. Rapper Snoop Dogg has also been involved in the promotion of Dogecoin with the entertainer promoting 'DogeDay' on April 20 – the unofficial holiday of cannabis users.
The most recent of these memecoins is a crypto called "Australian Safe Shepherd" (ASS) Coin, which was launched just a few days ago. A team leader for the coin urged users to tweet Elon Musk, Binance CEO Changpeng "CZ" Zhao and Barstool Sports founder Dave Portnoy using the hashtag #asstronauts. Indeed, much of the value of various memecoins have been bolstered by the tweets of well-known public figures such as Musk.
There is even a memecoin named after the Tesla founder called 'Elongate', which was started in March 2021. Elongate has said it has donated over AU$1 million to charity.
INTERESTING READ: On Musk's Rocket, Dogecoin Soars to Record Highs
Source: © Dimarik16 | Megapixl.com
The Danger
Whilst these memecoins may seem like harmless fun, experts warn these cryptos are often set up for creators and a handful of early investors to get rich quickly while leaving relative latecomers broke and out-of-pocket.
In 2017, a crypto called BitConnect suddenly closed its doors following a meteoric rise. The Company had claimed it would earn investors a high 40% return per month based on an initial deposit. Several people voiced concerns at the time that BitConnect was little more than a Ponzi scheme. This proved to be the case indeed when, in 2018, The Texas State Securities Board issued a cease-and-desist order citing failings in user transparency as well as misleading statements.
GOOD READ: Bitcoin slumps to 48-day low on tax hike angst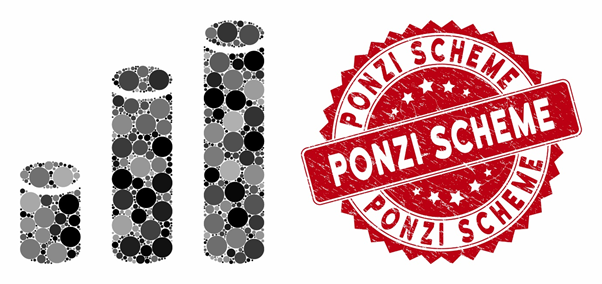 Source: © Ahasoft | Megapixl.com
Good and Bad Crypto: What is the Difference?
With over 4000 cryptocurrencies in existence, it may seem a daunting task to identify the good from the bad. However, there are ways to differentiate the more suspicious or fraudulent coins from the legitimate ones.
Source: © Photodynamx | Megapixl.com
Research the Team
Firstly, get to know the team behind the coin as the developers of a crypto are often the most important factor in its success. Often scammers will create fake founders using the names of more well-established names in the crypto world. Therefore, research the listed founder's social media presence, including their Twitter and LinkedIn and check to see if their activity is congruent with the number of followers they have. Those who rarely engage with their followers on social media should be considered a danger.
Also, check to see if the founders have the experience and expertise they claim to have and whether it is pertinent to their project.
Research the Whitepaper
Each cryptocurrency should have a whitepaper – a foundational document outlining the goals and strategies of the Company, including the timeline and the implementation of said strategy. Read this document carefully, along with any supplementary material such as financial models. A company that does not offer a whitepaper should be avoided.
Transparency
Companies that are more reliable are the ones that keep their investors informed with regular and detailed progress reports. It is also beneficial if the Company's leaders are in regular dialogue with investors and potential investors through social media or other means. It is perfectly acceptable and encouraged to raise questions to the listed leaders of the organisation which may not be answered in the information the Company has provided.
Moreover, look for a company to make available a timeline for what has happened since its inception.
Be Vigilant
If the proposed return on a crypto sound too good to be true, it should be treated with extreme caution. There are currently many cryptocurrencies whose value is based upon pure speculation. The value of Dogecoin recently skyrocketed on the back of some complimentary tweets from Elon Musk and Snoop Dogg. Although this resulted in a meteoric rise for Dogecoin, it should be noted that its value could drop just as quickly and drastically.
Finally, it should be remembered that although a company may be legitimate, if it is poorly designed, it could well end up costing investors a lot of money. Therefore, it is imperative that investors do their homework before parting with their cash.
ALSO READ: How To Invest in Bitcoin & Ether Funds?