Highlights

DESO crypto comes with a claim to inject decentralized attributes to social media
DeSo blockchain is being used by over 200 apps, which allow control over the network to users
DeSo crypto listed on Coinbase in mid-December 2021, and its price has remained volatile
If Bitcoin and altcoins are promising to decentralize finance by using the blockchain technology, a new blockchain network is envisioning decentralizing the social media.
Social media is one of the most dominant sectors of the 21st century. A leading name that comes to the mind is Facebook. According to the proponents of decentralization of social media, control over users' data, which is in the hands of a central organization, must shift to users. For this to happen, decentralized social or DeSo has built a new blockchain.
What is DeSo decentralized social media blockchain
DeSo project began in 2019. It is an independent blockchain, which claims to make social media apps scalable.
In blockchain's distributed ledger framework, the authority over any data and transaction rests with the users of the platform. Instead of a centralized organization storing and owing data in its database, what blockchain can do is decentralizing this ownership.
Also read: Top cheap cryptocurrencies with high market cap
DeSo claims that social media industry is even more centralized than finance. Tech giants dominate the field. The project envisions decentralizing the industry, like 'Bitcoin and Ethereum are decentralizing the field of finance'.
A layer-one blockchain, decentralized social claims to be an important player in Web 3.0.
DESO crypto
Within the blockchain of decentralized social, DESO is set to serve as the native token.
DESO token may be used to pay for the services of the DeSo platform, and it may serve as an incentive for users when they post good content on an app built on DeSo. Diamond's decentralized social network uses the services of DeSo.
In December 2021, Coinbase listed DESO crypto, which triggered a limited bull run in the price. From nearly US$85 on December 10, the price reached nearly US$157 on December 15, 2021.
Also read: What is Cardano ADA price prediction after SundaeSwap launch?
DESO crypto price prediction
Amid the ongoing price fluctuation in all major cryptos including Bitcoin and Ether, it is difficult to predict the trajectory of DESO token in the near-term.
DESO crypto was priced nearly US$103 on January 1, 2022, but it is presently trading at US$72. The market cap of DESO is nearly US$640 million.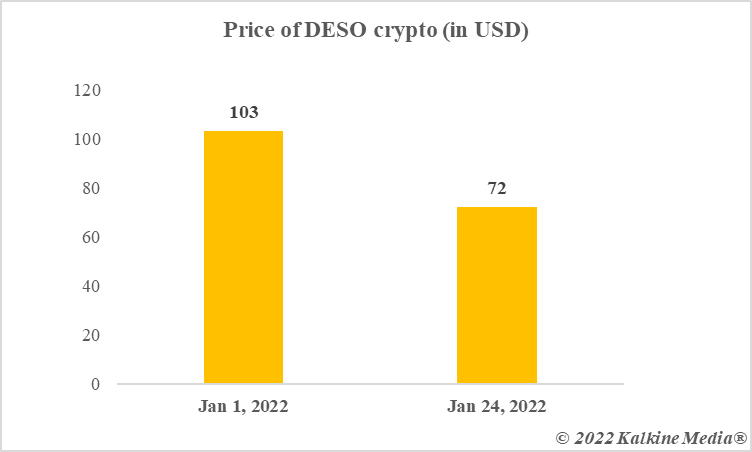 Data provided by CoinMarketCap.com
Over the past 24 hours, DESO crypto price has surged almost 75 per cent. The trading volume is also up by almost 1,000 per cent. DeSo platform claims that over 200 applications use its network. It also counts Sequoia and Coinbase Ventures as holders of DESO crypto. By this measure, DESO crypto may reach at least US$100 by the end of January. Any further rise would rely on decentralized social crypto demand in the industry.
Also read: Why is crypto market down? 5 key reasons
Bottom line
DeSo crypto is underpinned by the promise of decentralizing something that virtually everyone uses -- social media. Bitcoin has attained success so far with its claim to decentralize finance. If DeSo network is adopted by new social networking apps, DESO crypto may have a fair chance to return well. But all cryptos are volatile, and price may fluctuate in any direction.