Source: tetrisfun, Shutterstock
Bitcoin has once again surpassed US$50,000 per token resistance level yesterday, and it is inches away to retain its US$ 1 trillion market cap. The giant blockchain-powered coin is expected to cross a US$ 60,000 milestone this month.
On the back of the digital gold rally, we will look at the following Canadian crypto stocks:
Bitfarms Ltd. (TSXV: BITF)
The blockchain firm provides services to the cryptocurrency networks that deal in Bitcoin, Ethereum, Litecoin, etc. It has a market of C$ 890.76 million.
Its stock has zoomed as much as 175.60 per cent year-to-date (YTD), surpassing Bitcoin that has gained 76 per cent YTD. It has also registered a massive surge of over 1,130 per cent in one year. Its stock price is C$ 6.89, and its price-to-cashflow ratio is 63.90.
The company reported on March 2, that it has enhanced its cryptocurrency mining capacity. Its stock surged over 5 per cent after this announcement.
CryptoStar Corp. (TSXV: CSTR)
This crypto miner has been making a buzz parallel to the recent bitcoin success. It has an attractive one-year growth of 611 per cent. The stock has soared over 166.66 per cent YTD, returned more than double compared to the world's largest electronic coin.
CryptoStar recorded its all-time high of C$ 0.84 per share on February 23, and now it is down at C$ 0.32 per piece. The company expects to upgrade its Alberta-based data centers this year, planning to get an electricity supply of 120 MW.
Hut 8 Mining Corp. (TSX: HUT)


This crypto mining firm is now a unicorn and has graduated to the TSX (from the TSXV), driven by the bitcoin rally.
It has gained 770 per cent in one year. The company reported yesterday that it has paid its US$ 20 million loan and claimed a US$ 1.6 million interest savings.
The firm has 3,012 Bitcoin in its books, including 1,000 bitcoins are in its Genesis saving account.
Hut 8 shares have returned over 204 per cent in 2021. It also looks forward to increasing its energy capacity by over 30 per cent this year.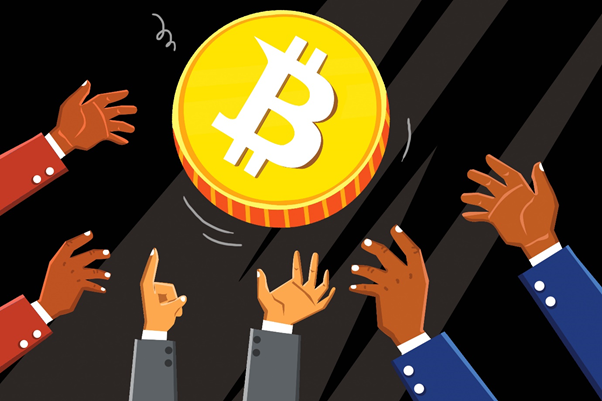 Source: Copyright © 2020 Kalkine Media Pty Ltd.
DMG Blockchain Solutions Inc. (TSXV: DMGI)
The software firm offers blockchain-backed peer-to-peer transactions and earns its income from the crypto mining business. The company is planning to expand its mining operations in the current year.
The blockchain stock has gained 3,100 per cent in one year and up 486 per cent YTD.
Its current price is C$ 3.52 per common share versus a 52-week high of C$ 5.34.
It holds a 27,000 square foot mining center and 85MW electricity source in British Columbia, Canada.
Hive Blockchain Technologies Ltd. (TSXV: HIVE)
Stocks of this blockchain firm have amplified approximately 1941 per cent in one year. Its market cap has also rocketed to almost C$ 2 billion. Once a penny stock, now it is one of the top Canadian crypto stocks.
HIVE has an average volume of 7.8 million for the past 30 days and a YTD growth of more than 130 per cent. Its share price of C$ 5.51 is down 25 per cent from its 52-week high of C$ 7.25 per piece.
On March 2, the company reported its Q3 2020 income from crypto mining of US$ 13.7 million, a surge of 174 per cent year-over-year (YoY).