Summary

Copper Mountain Mining (ASX:C6C) reported record output in Q4 2020.
Company's 29 per cent overall production for FY2020 came from fourth quarter alone.
C6C has third Ball Mill project in commissioning stage to further increase the production from next year.
ASX and TSX listed, Vancouver based mining company Copper Mountain Mining Corporation (ASX:C6C) has exceeded its production targets for Q4 2020 beating overall 2020 production guidance.
Copper Mountain Mining Operations with mineral deposits and facilities
(Source: C6C's ASX Update, dated 30 November 2020)
The company aimed to produce 70-75Mlbs of copper in 2020 and managed to beat the upper end of the production guidance to achieve 77.6Mlbs.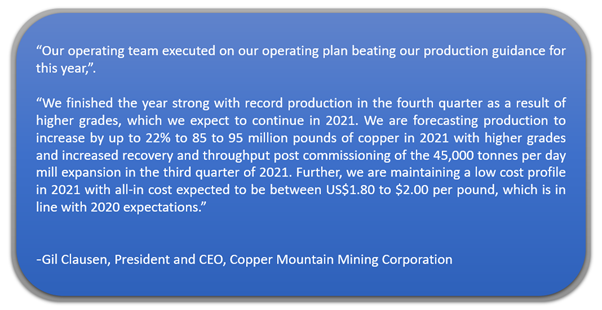 (Source: C6C's ASX Update, dated 7 January 2021)
The company produced 98.2 million copper equivalent pounds in 2020 with around 29 per cent contribution from the fourth quarter alone. The rise in production was possible due to high-grade copper which expected to continue in 2021 also.
Production Statistics for 2020: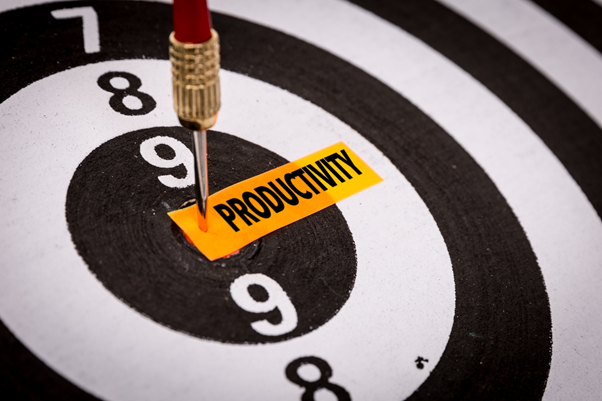 Shutterstock Image
The company produced a total of 28.7 million copper equivalent pounds in Q4 of 2020. The copper contribution was 23.1 million pounds. Gold and silver contributed 8,959oz and 144,934oz, respectively.
The production for the fourth quarter of 2020 had risen by 22 per cent comparing Q3 2020 and 23 per cent YoY. The overall gold and silver productions were recorded at 29,227oz and 392,494oz respectively for the year 2020.
Production Forecast for 2021:
Shutterstock Image
The company aims high to explore 85-95Mlbs of copper in 2021 with 45,000tpd ball mill expansion projects in the commissioning stage. The project will further improve productivity through better copper recovery technique.
Gold and Silver production is expected to lie between 25,000-35,000 oz and 500,000- 550,000oz, respectively.
Interesting Read: How is Marketech Setting Trends in Stock Trading Platforms?
The organization is anticipating all-in cost (AIC) to stay low for 2021 and lie between US$1.80 to US$2.00 per pound.
Growth capital for 2021 is expected to be US$33 million, whereas exploratory capital will lie between US$3 to US$4 million. Most of the capital for 2021 is expected to be spent in ball mill project.