Summary

Gold is extensively used for the manufacturing of computer chips, spacecraft, jet engines, communication equipment, and jewellery.
Most of the world's gold demand is fulfilled by mine production whereas a significant proportion comes from metal recycling.
Australia is one of the largest gold producers with nearly 60% of deposits in Western Australia.
Gold is a high density, malleable and lustrous yellow metal, which has been treasured since ancient times for its permanence and beauty. Most of the world's gold is used for jewellery manufacturing.
Backed by its superior electrical conductivity, corrosion resistance property and other desirable chemical properties, gold has emerged as an essential industrial metal.
Gold has several important applications such as in the manufacturing of computer chips, spacecraft, jet engines, and communication equipment. While maintaining its importance in arts and industry, the yellow metal is also widely used as a commodity for long-term investment purposes.
Source: © Theohudayanto | Megapixl.com
Good Read: Why go for gold ETFs? Which is Australia's best gold ETF?
Global Gold Supply
Around 75% of the total gold supply comes from mine production. However, it is not sufficient to meet the overall worldwide demand for gold.
As a result, the remaining supply of gold is addressed by recycling. The majority of gold recycling comes from jewellery with gold extraction from technology accounting for nearly 10%.
Gold mines and mining operations have become increasingly diverse geographically. The Asian region accounts for around one fourth of newly mined gold production globally, while Africa contributes nearly 19%. South America and Central America produce 17%; North America supplies 16%; and the CIS region accounts for 14%.
As per the June 2021 edition of the Resources and Energy Quarterly, Australia is expected to emerge as the world's largest gold producer for 2021. The country accounts for the largest gold reserves in the world.
In 2021, the global gold supply is forecast to increase by 3.6% to 4,788 tonnes, owing to higher gold mine production in Australia, US, and Canada.
Source: © Pricelessphotos | Megapixl.com
Must Read: Is euphoria around gold stocks short lived?
Australian Gold and Operators
Around 60% of the Australian gold deposits is concentrated in the Western Australian region, which is the country's hub of gold exploration activity.
As per the report, the region accounted for 67% or 220 tonnes of the total gold mine output and nearly 70% of the total gold exploration expenditure in 2020.
Pilbara in Western Australia is one of the key mining regions, boasting many successful gold discoveries.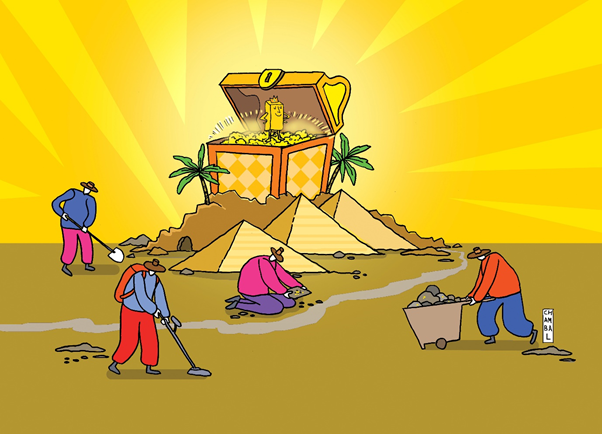 Source: Copyright © 2021 Kalkine Media
Don't Miss: Who is the largest gold producer in Australia?
Several gold miners operate in the Western Australian region. Newcrest Mining's (ASX:NCM) Cadia gold operations produced nearly 180koz in the March 2021 quarter while NCM's Telfer mine produced 105koz of gold during the reported period.
Newmont's (NYSE:NEM) Boddington mine produced 152koz, whereas its Tanami mine produced 117koz of gold in Q1 2021, mainly due to higher grade ore deposits.
AngloGold Ashanti's Tropicana operations mined 82koz during the first quarter and Northern Star's (ASX:NST) Jundee mine produced 64koz during Q1 2021.
Also Read: Top ten fully franked gold stocks with high dividend yield