In the past year, people have moved more and more away from safe haven assets to stocks, leading to an unprecedented rally in global stocks on back of liquidity surge.
However, equities are not the best performing asset class. That accolade is owned by the crude. Such has been the rally in the crude oil prices that the trend on Western Texas International (WTI) prices cannot be calculated in percentage terms: it has moved from negative to positive.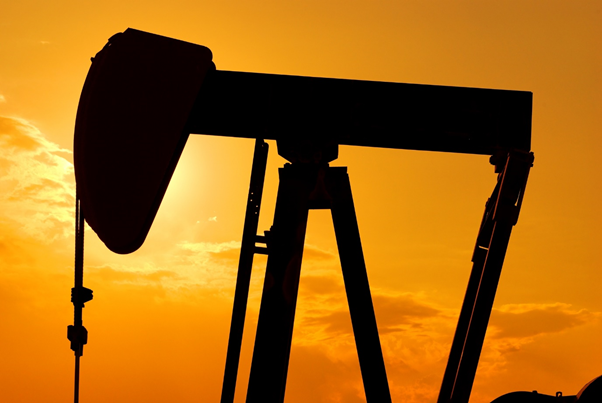 Crude oil extraction activity in Bahrain desert. © Rizami | Megapixl.com
A year ago, on the back of supply glut, the WTI prices were trading in negative territory – the WTI prices stood at minus (-) US$ 37.63 a barrel on 20 April 2020.
As the pandemic triggered lockdowns across the world, transportation came to a screeching halt and economic activities went into a freeze. As a result of this, the demand for oil fell drastically while production continued unabated – leading to an unprecedented glut in the US, which predominantly consumes WTI.
Also read: Crude oil rally eases on halted European COVID vaccination program
Since then, even as the pandemic has become deadlier, the economic sentiments – betting over the recovery – have become bullish, leading oil prices to shoot up. As of 20 April 2021 – a year after WTI plunged into negative territory – oil stands at US$ 62.34 a barrel, a surge of almost US$100 for each barrel.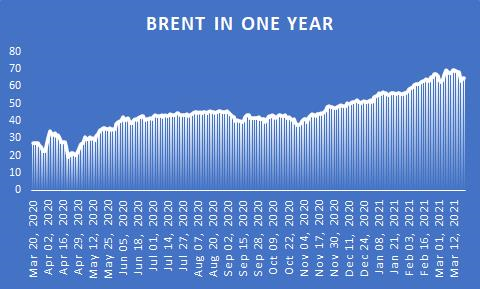 Source: Kalkine Research
On the other hand, even as Brent Crude – another benchmark for global crude oil prices – didn't slip into negative territory, it has jumped by three and half times in the past year, from around US$19 a barrel to the current level of US$66 a barrel.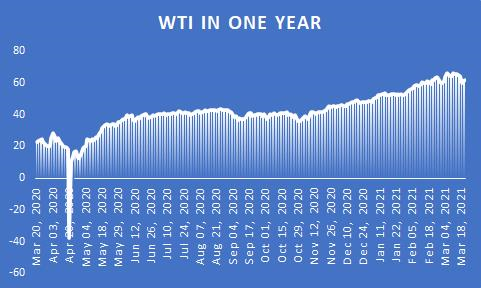 Source: Kalkine Research
Share price movement of some of the biggest oil and gas companies in Australia in the past one year -- Woodside Petroleum Ltd (ASX:WPL) up 17%, Santos (ASX:STO) up 71% and Oil Search (ASX:OSH) up 58% .