Source: pan demin,Shutterstock
Summary

Crude oil floats near US$70 to start the week amid rising demand and ongoing production cuts from OPEC+.
Earlier, Brent crude oil prices took off over US$70 per barrel after an oil facility in Saudi Arabia was assaulted by a drone on 7 March 2021.
China is expected to release positive industrial production and retail sales data today, further fuelling the oil momentum.
The world has started creeping out of the claws of COVID-19 and put back life to the pre-pandemic levels. Crude oil prices soared up on Monday, with Brent drifting near $70 a barrel. The oil momentum is driven by fuel demand recovery amid global vaccination drive and output cuts from major producers.
Besides, world's second largest oil consumer China is expected to release positive industrial production and retail sales data today, further fuelling the oil momentum. Additionally, Joe Biden's US$1.9 trillion stimulus package is also fuelling the crude oil bulls, while the stimulus money will start hitting the bank accounts of people this week.
The year 2020 smothered economic growth. The prices of crude oil dipped to almost non-existing levels in April 2020, registering the period as the darkest phase of the oil industry. The WTI crude oil dipped to negative levels for the first time in the oil and gas industry's history.
The turnaround story for crude oil in 2021, however, is closely eyed by traders around the world.
In the wake of a strong recovery in crude oil prices, various ASX energy stocks have gained amazing climbs. Gas producer Santos (ASX: STO) soared as much as 3.2%, recording the second consecutive session of gains on 12 March 2021. Beach Energy (ASX: BPT) and Origin Energy (ASX: ORG) soared above 1% on Monday.
Oil's Remarkable Journey
Crude oil faced big hurdles in its 2020 journey. Market uncertainties during the first half of 2020 and crude oil supply glut pulled the Brent crude oil prices from a monthly average of US$64 per barrel in January to US$18 per barrel in April.
With the start of summer, the prices started to accelerate in June on the back of ease in lockdown and OPEC's significant decision to curb the production, channelising the market's oil glut first.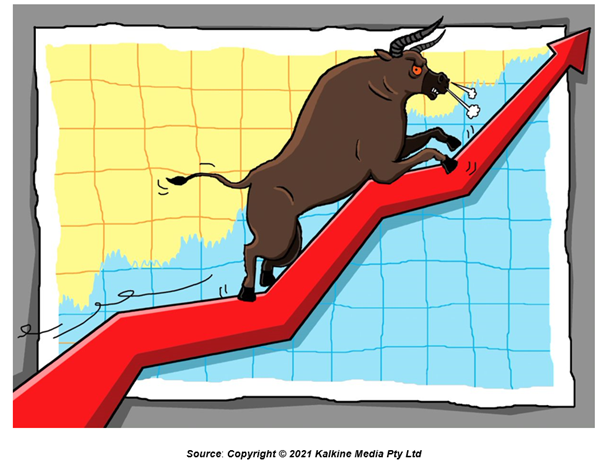 Notably, oil prices started to rebound in the second half of 2020 as an aftermath of OPEC and its allies' significant decision to continue the production cuts in July too. Further, by the end of the year, the cartel announced to adjust the production of 0.5Mbpd from January 2021, witnessing progress in demand and a drop in inventories.
Oil Bulls Fuelled Again
A tiptoeing stimulus on the back of various government packages, relaxed COVID lockdowns and vaccine rollouts is pumping the economy's engine again.
Notably, the prices of Brent crude surpassed US$70 per barrel, breaking the lows of the past 14 months on 8 March 2021, followed by a drone attack on Saudi Arabia's storage tank in the Ras Tanura export terminal.
The surprise move of OPEC and its allies also boosted the oil prices earlier when the cartel decided to continue the production cuts in April too. Previously in February, a chilling Texas storm dented the US's crude oil supply with the shutdown of operations.
Good Read: Brent crosses US$70/barrel-mark on Ras Tanura missile attacks
The oil watchers were particularly very surprised by the cartel's decision and believed that the coalition wants to tighten the market betting on US shale, that it will not rebound in the near future amid oil price hikes.
Bright Outlook
In the wake of soaring demand and ongoing production cuts leading to a bullish crude oil market, EIA has lifted its 2021 Brent crude oil price forecast by US$10 per barrel to lie between US$65-US$70 per barrel during March and April.
EIA also forecasts that WTI prices will average at US$63.50 per barrel in both March and April 2021. In addition to that, as per Refinitiv, UBS has also lifted its 2021 oil price forecasts to US$65.5 per barrel from US$57 per barrel , and from US$60 per barrel to US$62 per barrel for 2022.