Highlights

Uranium prices appreciated more than 50% on a Y-o-Y basis, trading at US$45.05/lb
The Kazakhstan unrest is fuelling the price rise as the country produces 40% of the global supply.
The ongoing energy crisis in Europe has led to the realisation that nuclear energy has to be a part of the energy mix.
Uranium prices have been gaining traction, jumping nearly 50% year-on-year to trade at US$45.05 per pound in the international market as of 24 January 2022.
As the world's largest uranium exporter faces deadly violence, the impact has also been felt in commodity prices. Kazakhstan is witnessing a civil war-like situation, triggered by increases in prices of liquefied petroleum gas at the start of the year. The Central Asian country accounts for nearly 40% of all global supply of uranium.
Related read: What does European energy crisis mean for Australian energy players
Uranium is considered a clean source of energy by many as there is no carbon emission during any stage of the energy generation process in nuclear reactors.
However, at the same time, many oppose nuclear energy, owing to concerns related to the safe disposal of nuclear waste, which is highly radioactive. The Fukushima Daiichi nuclear disaster in 2011, triggered by a major earthquake and a 15m-high tsunami, left the world thinking about safety aspects of nuclear plants. As the world was emerging from the Chernobyl disaster, the Fukushima accident happened. This was the second-worst nuclear plant accident in the history of nuclear power generation.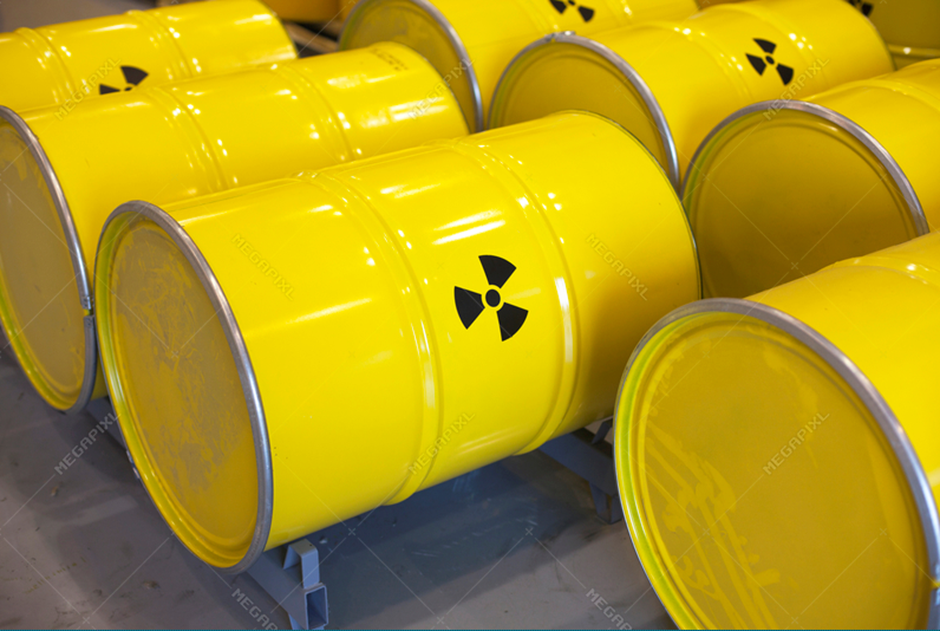 Radioactive waste (Image source: ID 22196010 © Wellphotos|Megapixl.com)
Also, the relative cost of power generated from nuclear energy is more than other renewable or fossil fuel-based plants.
Nuclear energy produces nearly 10% of global electricity
Data from the World Nuclear Association shows that nearly 10% of the total electricity generated globally comes from nuclear energy. Civil nuclear power plants are operational in 32 countries, and many more countries are dependent on electricity generated from the plants through regional transmission grids.
The 2015 Paris Agreement on climate change has led to a burgeoning rise in renewable energy projects, particularly wind and solar power generation projects.
However, Europe's untimely transition into renewable energy has pushed the entire sub-continent into a deepening energy crisis. The weather has become hostile, leaving blades of wind turbines unturned. Also, when winter approached, there was a lack of natural gas stockpiles, thus resulting in a surge in LNG prices. In 2021, LNG prices hit an all-time high.
Related read: Three ASX-listed stocks under spotlight amid skyrocketing uranium prices
Nuclear energy in the energy mix
Despite two devastating accidents related to nuclear plants, the reliability of nuclear energy is significantly high. In a normal scenario, nuclear power plants keep on generating energy for a longer period of time with periodic refuelling. There are zero-carbon emissions, and except for the residue of uranium or nuclear fuels, it is considered a clean source of energy.
The ongoing energy crisis in Europe has left people pondering over whether nuclear energy could be introduced in the renewable energy mix. Climate change has brought the focus on renewable projects, but the reliability is not high due to their dependence on weather.
Related read: Kopore Metals (ASX: KMT) diversifies its portfolio, enters uranium business
Australian miners to benefit from rising uranium prices
Australia holds the largest reserves of uranium in the world and is currently ranked third in uranium production. With new plants set to become operational in China, South Korea and Russia by 2024, demand for uranium is slated to rise.
Many countries are getting ready to make their debut in nuclear energy, including Saudi Arabia, Ghana, and Bangladesh. Several nuclear energy-producing countries have confirmed that nuclear energy will continue to play a key role in their initiative to lower carbon emissions.
For more insights, watch: What's fuelling the Uranium Bull Run?
Below is a list of a few ASX-listed uranium miners that have delivered significant returns in the last one year.