Highlights

A lifetime home loan scheme is a financial product designed for homeowners aged 55 and above to take loan against the value of their house.
Lifetime home loan and home reversion plan are the two main types of equity release schemes.
There are two different types of lifetime home loans that include Roll-up lifetime and interest payment lifetime home loan.
A lifetime home loan has become one of the most popular ways for older homeowners to release equity and finance long-term care. It is more flexible, versatile and in demand than ever before.
It is a financial product designed for homeowners aged 55 and above to take loan against the value of their house and it does not need to be repaid until go into long-term care or in case death. However, these schemes do not offer the best value for money that's associated with your house.
Lifetime home loan and home reversion plan are the two main types of equity release schemes and it is important to understand the difference between both. It is necessary to understand the advantages and disadvantages of equity release plans and take financial advice to determine plan for funding will be more suitable for your circumstances and needs.
How does a lifetime home loan works?
A lifetime home loan is a loan designed to secure against your house for your whole life, while retaining ownership with interest rolling up over time.
The loan can be taken in lumpsum, or you can take the amount for a set period or for life and if you draw down the borrowing, you only must pay interest on the amount you take from time.
Until you die or go into long-term care, the full amount including interest is not due for repayment. At this point, it should be clear that your house will be sold, and the amount is used to pay off the loan you borrowed and anything that is left over goes to your beneficiaries. And in case the money from the sale of your home is not enough to pay off the loan, you beneficiaries need to pay the left amount.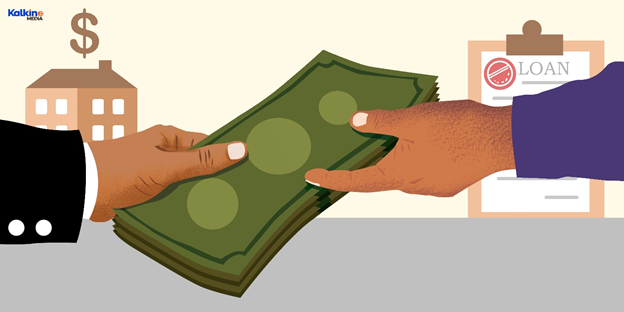 Source: Copyright © 2021 Kalkine Media
Many loan providers offer a no-negative-equity guarantee in which beneficiaries need not to pay the more amounts if the money from sale of your home is not enough to pay back the loan.
Also read: Facing home loan hurdles? Here's how to get the best deal
Types of lifetime home loan
There are two different type of lifetime home loan to choose from:
Roll-up lifetime home loan
In a Roll-up lifetime home loan, the interest is added to the money you borrowed and you don't have to make any regular payment. However, the principal amount including the rolled-up interest needs to be paid when your home is eventually sold. The interest you owe can increase quickly such as if the interest rate on the lifetime home loan is 4%, the debt from a Roll-up loan will almost double in approx 19 years.
Interest payment lifetime Home loan
In an interest payment lifetime mortgage, the interest need to be paid on some or full amount of loan monthly which may be fixed or variable and in some loans you can also make payments of capital. When your home is sold the principal amount is to be repaid, excluding any capital repayments if you have made them.
What does it cost?
The cost of lifetime home loan may cost you:
Legal and valuation fees
Adviser fee for their advice and support to set up the scheme
Buildings insurance
Arrangement fee to the lender for the product
A completion fee that is paid at completion or added to borrowed amount.
All the above cost could add up to between £1,500 and £3,000 and there might be some extra cost for repaying your loan early, known as early repayment charges.
How much equity can you release?
This depends on various factors such as:
Type of property
Value of property
How the property was constructed
You age and outstanding mortgage
UK's financial services regulator Financial Conduct Authority (FCA) regulated the lifetime home loan schemes. So, the lifetime home loan provider needs to meet certain standards and provide clear complaints and compensation procedures.
Advantages and Disadvantages
Advantages
You can stay in your own home as long as you need it.
You may borrow a lumpsum amount or a loan provider can offer a flexible option where you may borrow some money for a set period.
Fixed rate of interest prevents spiraling out of control.
You may get benefited if in future the value of your property increases
The loan is only repaid if you move into care, sell your property or in case of death.
The equity release on your home is tax-free.
Many scheme providers guarantee the total debt can't exceed the value of your home.
If some money is left after the full payment of debt after you sell your house, that amount will be given back to the beneficiary to provide inheritance.
The scheme may help you to reduce your inheritance tax liability.
Disadvantages
The Lifetime home loan may affect your claim to benefits, or support from local council. As amount borrowed through equity release schemes is likely to affect the assessment of your capital and income.
The inherent property will be substantially reduced that you pass on to your beneficiaries.
However, your beneficiaries may pay off the debt and keep the home.
You may not be able to move to smaller property or transfer the debt.
Taking lifetime home loan may be inflexible if your circumstances change and you will need the loan provider's agreement for someone else, such as partner or relative to move in.
You need to have your property insurance.
You may have to pay arrangement, legal and valuation fees.
You still have to pay Council Tax and Utility Bills.
Loan provider will expect you to keep your home in good condition, so you have to pay for maintenance and repayment in case of any damage.
Homeowners are charged early repayment charges if they repay their loan before they move in to long-term care or death.
The interest payable increases that total owed amount quickly as the interest is charged on both the principal amount and the interest.
Also read: US home prices refuse to cool down as demand-supply woes continue