Highlights

Gold is considered as a stable investment option as compared to the other volatile assets.
Gold may not be a good diversifier in case of rising interest rates.
Gold prices have a strong inverse relationship with real interest rates, which means that a rising interest rates lead to falling gold prices.
Diversification of the investment portfolio is the key for investors to maximise their risk-adjusted returns in the long run and protect themselves from the fluctuations in the market. For a layman, it is always advisable not to put all their eggs in one basket. However, when the markets are going up, investors are least concerned about diversification, but the topic suddenly becomes relevant when the markets start going down.
Being severely hit by the pandemic, the markets weren't performing well for quite some time. But throughout the recovery phase, a significantly weaker performance of the market was witnessed in the third quarter of 2021. So, the topic of diversification has been on the minds of investors yet again.
In September, investors saw the break down of the relationship between bonds and equities which inflicted huge losses on even the well-diversified portfolios. More risk assets may suffer due to the upcoming tightening cycle which is driven by soaring inflation accompanied by slow economic growth.
ALSO READ: 3 gold stocks to buy amid fear of economic slowdown
Investing in gold right now
Gold has been a reliable investment option for more than thousands of years and has been used as a medium of exchange before money was introduced. It has been used for portfolio diversification, beating inflation, hedging against excessive central bank money printing, and also for balancing losses from the stock market as it is uncorrelated to stocks and bonds. It is considered a stable investment as compared to the other volatile assets.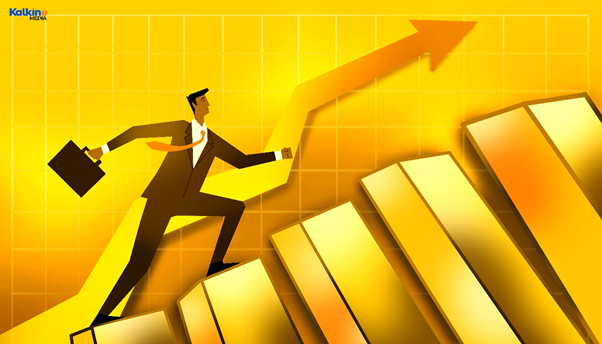 Source: Copyright © 2021 Kalkine Media
Investors are expecting inflation to rise and with increasing volatility in the equity and bond market, several investors may turn to gold as a safe haven. Gold is proclaimed as one of the best diversifiers amid rising inflation, but investors holding gold are likely to be disappointed with the protection provided by the yellow metal.
Gold prices have a strong inverse relationship with real interest rates, which means that a rising interest rates lead to falling gold prices. This implies that despite gold being touted as an inflation hedge, it is not as such, and it may not be as good a diversifier in case of rising interest rates.
Due to a surge in energy prices and subsequent supply chain constraints, interest rates may be hiked by the Bank of England or the US Fed to respond to inflationary trends, but these factors are in fact disinflationary in nature as they lead to a reduction in the already low discretionary spending by consumers. Central banks may miscalculate the interest rates or raise them too soon as they have no historical data to currently base these assumptions on, which means government bonds are definitely not the answer for diversification, and probably gold is also not.
ALSO READ: Why you shouldn't have too much gold in your portfolio
The struggle continues
The gold market still continues to struggle in a limbo, standing at around £1,291 per ounce as of now. Gold prices haven't been affected by the increasing inflationary pressures. Oil and gas prices have surged to record high levels amid the global energy crisis, and several economists are anticipating that this inflationary trend isn't as transitory as the central banks are expecting it to be. Gold prices aren't being supported as the leading market participants are expecting a more aggressive action from central banks.
However, gold investors should rethink before liquidating their assets as they may be overestimating the aggressiveness of central banks regarding tightening of interest rates. A lot can happen over the next year or so, and gold prices may rise to record high levels in the long run as it is difficult for central banks to exit the unorthodox monetary policies that they enter in such times.
ALSO READ: Gold vs. cryptocurrency: Which investment can help you right now