Summary

14 percent Canadians admit to changing investment approach amid coronavirus pandemic
COVID-19 – a litmus test for companies' survival strength
Smart long-term investments can help ride out recurring market gyrations.
A rollercoaster ride is probably the most common trope used to define a volatile stock market. Since March, capital markets across the world have crashed and jumped back on course, before contracting again.
In Canada, the pattern has been the same. Even the business sentiment across the country is at an all-time low since the 2008-09 recession, according to the central bank.
Busines Outlook Survey Indicator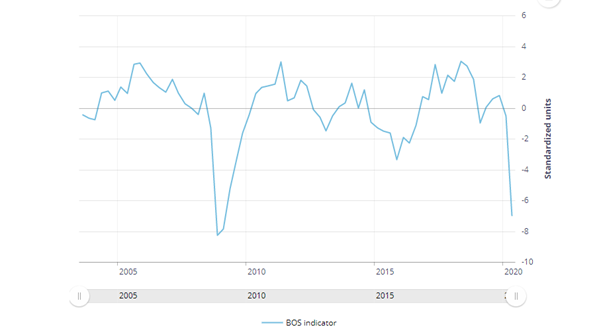 Impact of COVID?19 can be seen in investment activities as businesses report an outright decline in sales, and as a result are cutting down on spending.
As the elevated state of uncertainty continues, weakening demands are most prevalent in tourism, finance, real estate, commodities, and energy sectors, according to the Bank of Canada.
"However, many businesses expect the weakness in their sales to be temporary and not extend over the entire 12-month period ahead," it said on July 6.
As Canada continues to reopen from lockdowns, consumer confidence has been on an upswing, say surveys.
The Conference Board of Canada's Index of Consumer Confidence, a consumer confidence indicator, rose by 16 points to 79.7 in June while the Bloomberg Nanos Canadian Confidence Index went up marginally to 46.2 points, from 46 a week before. The Bloomberg index reported a rise for the 10th straight week.
The uptick in Canadian consumer confidence is a likely indicator of future upswings on the bourses.
The S&P/TSX Composite (TSX) Index gained back 38.9 percent by June 30, after bottoming out on March 24. Similarly, the S&P/TSX Venture (TSXV) Composite Index recovered by 79.5 percent after crashing in mid-March.
The Right Timing
For many investors, this is an ideal time to buy equity of the future movers and shakers. Scrip prices have been ascending and descending wildly since the coronavirus hit the economy. As a result, more than one in 10 (or 14 percent) Canadians have admitted to changing their money-investment approach amid the pandemic situation, according an Ipsos survey.
Building a COVID-proof portfolio
With COVID-19 becoming a litmus test for companies' survival strength, investors should examine firms that are expected to deliver profits over a longer period and smooth over the pandemic-induced economic slump with minimum creases.
An ideal scenario will be investing in evergreen sectors and industries with sticky demand. These can include shares in utilities, telecom, consumer goods, information technology, healthcare Technology and pharmaceuticals.
While most of us expect the prices to fall in the coming months, stock of at least a handful companies from the above-mentioned sectors may pick up in a post-COVID world.
Materials sector is yet another Canadian industry that investors can look out. The sector has played a pivotal role in the bounce back of TSX and TSXV indexes. Materials constitute 52.4 percent of TSXV and 14.4 percent of TSX composite. It mostly consists of companies like precious and base metal miners, metals, chemical and fertilizer producers.
Another point to keep in mind is putting the investment eggs in as many baskets as possible.
The market will undergo a healthy bull run as the economy reopens. But after the initial jump, there could be a contraction again.
And then, there is always the investor impulse to cut losses and cash out to avoid stock plunge.
For instance, investors who stayed with stocks during the 2008-2009 financial crisis have incurred good gains over the decade. But the investor who chose to cut losses and reinvested as the market recovered, ended up with lower capital gains.
Looking at smart long-term investments can help one ride out the recurring market gyrations. A balanced mix of stocks and bonds is also seen as a reasonable investment approach.
Let us look at some of the top performing stocks on TXS:
Shopify Inc. (TSX: SHOP)
Market Cap: C$143.5 billion (as on July 7, 2020)
Stock Price: C$ 1,334.82 (as on July 7, 2020)
Canada's largest e-commerce brand has successfully been able to ride the pandemic, with it stocks doubling in price since January this year. Shopify Inc (SHOP) became the most valuable Canadian company by market cap on the TSX, overtaking the Royal Bank of Canada. Its splendid market growth throws light on the changing consumer dynamics as more and more people shift to e-commerce.
SHOP scrips touched a 52-week-high of C$ 1,440 on July 2 and has recorded a 168.8 percent growth since the beginning of 2020.
Barrick Gold Corporation (TSX: ABX)
Market Cap: C$ 64 billion (as on July 7, 2020)
Stock Price: C$ 36.02 (as on July 7, 2020)
Barrick Gold Corporation (ABX) gained significantly with the gold bull rally at the closing of second fiscal quarter. ABX stocks have witnessed a 47 percent growth since January this year, with prices touching 52-week-high of C$ 40.14 on April 23. It yields a dividend return of 1 percent.
ABX is amongst the biggest gold mining companies in the world, with operations across 15 countries. In 2019, it reported gold production of 5.5 million ounces and Copper production of 432 million pounds. Analysts expect ABX to continue its growth trajectory as metals sector continue to rally on the index.