Do you often wonder why your computer works slower than you thought it should? The chances are that you're overstraining your CPU by running some of the highly demanding programs without proper optimization.
If you own an average computer, it can be perfect for everyday tasks like finding an essay helper on the Internet – this highly reliable essay service, for instance – and placing an order there. But try to play a new video game on it, and you'll most probably have to deal with some problems.
Still, it doesn't mean you can't run demanding software on an average gear at all. However, there are some nuances. Let's take a closer look.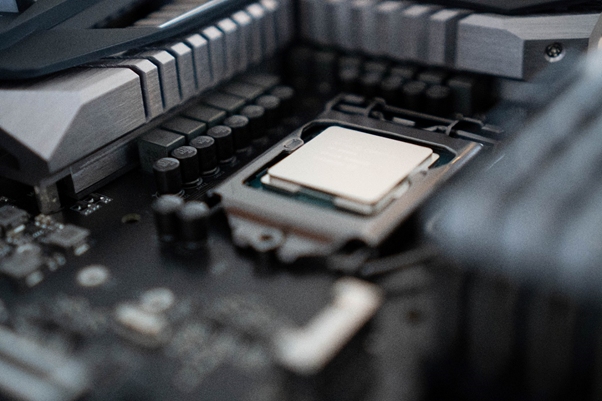 Source: Unsplash
What Is CPU?
CPU stands for a central processing unit (or simply "processor"). In a nutshell, this is the "brain" of your computer, the core component that runs everything from the operating system to every piece of software you choose to install.
The first CPU was invented almost 50 years ago and has evolved immensely since then. Now, we have multicore processors – up to 10 cores – that perform tasks at an astonishing speed. Still, some programs are so CPU-intensive that they can give even the best processors a hard time.
CPU Speed
One of the main characteristics of a processor, CPU speed (also known as clock speed), defines how fast your processor retrieves information from RAM (random access memory) to perform a given task.
It is measured in gigahertz (GHz), and the higher it is – the faster your computer works and the more demanding tasks it can perform. Typically, 3.5 GHz is enough for an average user and enables one to run a wide range of software.
However, some programs are highly CPU-intensive, like video games, video rendering, advanced sound processing, antivirus software, and more. If you plan to run these programs on your computer, be sure your gear meets the requirements.
But what if it fails to? How far can you push it? Below are a few examples of programs that can really strain your CPU, along with advice on how to fix the problems.
Video Games
Video games come to mind first when thinking about software that can push any CPU to the limit. Thanks to their lavish graphics and astonishing detail, video games are often used to test just how much your gear is capable of.
Here are a few of the best-known CPU-demanding examples:
Assassin's Creed Odyssey;
Final Fantasy XV;
Total War: Warhammer 2;
Shadow of the Tomb Raider;
Kingdom Come: Deliverance;
GTA V.
So, how can you play them comfortably on your computer?
Ideally, it's best to have a separate gaming computer customized to meet all the requirements specified by the software manufacturer. But surely it's not always possible, especially if you're a student on a budget. What's the solution, apart from not playing video games on your computer?
Basically, there are two:
Overclocking.
Overclocking is running your CPU at a faster speed than specified by the manufacturer. This method has its drawbacks – particularly, it usually shortens the processor's lifespan. However, it's a popular one, and if performed with due caution, it can be a good solution.
Tweaking the game's settings.
Most games allow users to play with different settings depending on their preferences and gear's capacity. For instance, GTA V can be comfortably run with average settings. But once you add texture and graphics mods to make it look more realistic, it becomes one of the most CPU-intensive games out there.
Remember that video games are demanding not only in terms of your gear's resources. Needless to say, this method should also be used responsibly, just like overclocking!
Anti-Virus Software
Scanning the system, which is what every antivirus software does, is constantly straining. Yet, some Windows-based programs like McAfee antivirus are a common subject to discussion because of how unexpectedly demanding they are.
In one of the tests, Intel Core i5-8250U, up to 3.40 GHz, was pushed to the limit by this piece of software as it required 100% of the processor's capacity. Unfortunately, there are not many solutions to it.
Obviously, identifying and ending all the background processes that can strain the processor can help (if you don't know how to do it, there's software for that too). Or you can search for another antivirus that will be more suitable for your system.
Whatever you do, keep in mind that it's natural for antivirus programs to be resource-demanding.
3D Rendering Software
Last but not least, here come 3D rendering programs. They are also enormously demanding when it comes to both your CPU and GPU (graphics processing unit), especially some of them.
One of the best-known examples is Maxwell Render, which is used in animation and architectural design. It's mainly known for its beautiful, top-quality renders, but also due to how it can push your CPU to the brink in minutes.
It's not alone, however. Here are the alternatives:
3D Max;
Maya;
LightWave;
Blender
If you plan to run any of them, the best advice is to buy a powerful computer first. Yet, there's another way – in Maxwell Render, in particular, there's an option to render in low priority mode, which can somehow ease the strain.
Conclusion
Hardly anyone can argue that it's great to have a top-quality computer that can handle any task you decide to throw at it. However, the reality is often different, and we have to work with whatever we have.
It doesn't necessarily mean that certain programs, like CPU-intensive video games, should be out of reach. In most cases, you just need to know some clever tricks!
Author Profile
Victoria Davis is an experienced content creator and a qualified expert on Communications and Management.
Being one of the leading writers at EssayHub essay help service, she also loves sharing her ideas on different subjects with a broader audience.