The market capitalisation of digital assets has surpassed $2 trillion, and more people than ever are investing in crypto. Although purchasing cryptocurrencies is only half the battle, a safe crypto cash out is equally important.
Withdrawing cryptocurrency can be challenging, especially for newcomers unfamiliar with the process. This tutorial is for you if you are someone who has invested in cryptocurrency but needs to learn how to withdraw your money.
Our guide will walk you through the procedure for withdrawing your cryptocurrency funds. To provide you with the knowledge you need to make wise decisions regarding your crypto withdrawals, we will cover everything from a step-by-step guide to the finest withdrawal methods.
Where to buy crypto?
If you don't currently own any crypto, you can visit a crypto exchange or brokerage and acquire your preferred cryptocurrency. It's important to carefully select the platform for buying crypto, as an increasing number of scam sites have been popping up of late.
You may consider well-known exchanges; however, if this is your first time buying digital assets, you can purchase Bitcoin and other crypto with the help of a broker, who can assist you along the way. Experts recommend brokerage platforms like https://bitcoin360-ai.io, which houses hundreds of skilled and versatile crypto brokers. They can help with anything from setting up a cryptocurrency wallet to guiding you through the withdrawal process.
Once you have found the preferred exchange service of your choice, you'll need to set up a crypto wallet which houses your crypto funds. In the next section, we'll cover how to choose a digital wallet, which you'll need to sell cryptocurrency and convert it to cash.
How to choose a crypto wallet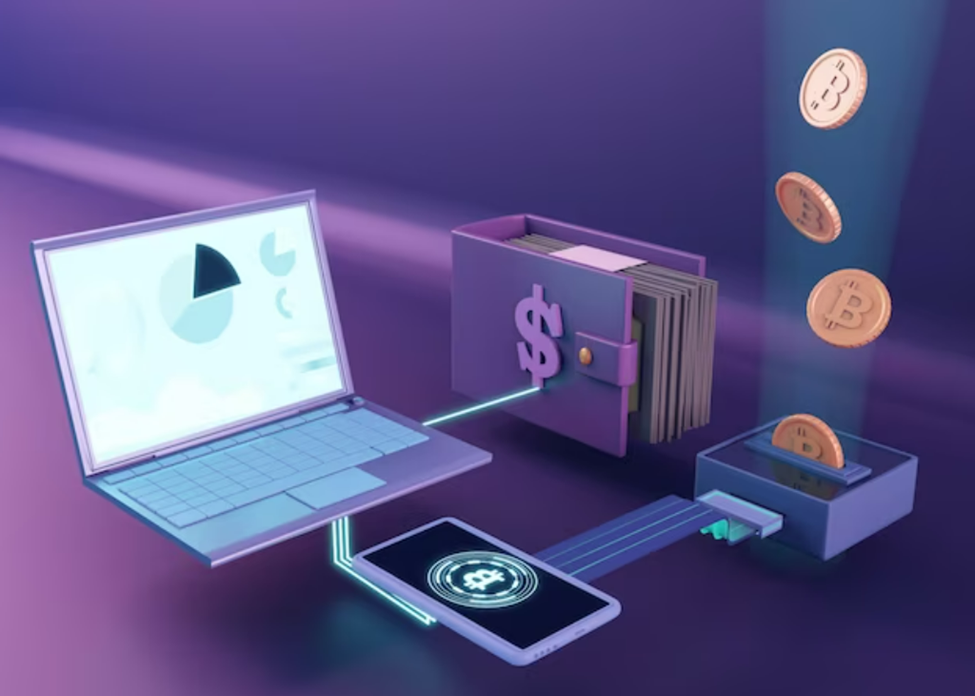 Image source: freepik.com
Before you withdraw funds, you must have a crypto wallet to store your crypto. A digital wallet, or a "crypto wallet" lets you receive, send, and store cryptocurrency. If you want to store a significant amount of digital currencies, you can choose a hardware wallet, also known as a "cold wallet." There are also mobile wallets for those who prioritise access on the go.
Hardware wallets
Out of all these types, hardware wallets are considered safer, as they are not directly connected to the internet. Instead, they store your private keys, which you need to access your currency and complete crypto transactions. They come in the shape of a USB stick and must be plugged into your computer or laptop. Trezor, KeepKey, and Ledger Nano X are popular wallets worth considering.
Mobile wallets
Aside from the fact that they are designed to be utilised on a mobile device via an app, mobile and digital wallets are similar. They are also less secure than hardware wallets - as they are housed online, they can be breached by cyberattacks. Luckily, two-factor identification helps limit the possibility of theft.
Digital wallets
Software wallets or digital wallets can be accessible both on desktop and mobile. Some exchanges offer in-house wallets. That way, when you register and trade on their platform, you may also store your currency in the same place. Kraken is an example of a 2-in-1 wallet and exchange. Aside from that, individual websites offer crypto e-wallet services, such as Exodus and Electrum.
Before you choose any of the wallets mentioned above, consider the following:
Ease of Use
Security
Trading Fees
Withdrawal Methods
Crypto Compatibility
You can start the withdrawal process after selecting the appropriate wallet. In the next section, you can check out the quick beginner's guide to crypto cash out, which should only take a few minutes.
Crypto cash out guide
Image source: freepik.com
While the crypto cash-out process varies from site to site, most methods are similar. You can also head over to your exchange or brokerage and check out their blog for additional information on the withdrawal process.
To complete a withdrawal, you'll need your relevant addresses associated with your wallet, bank account details, laptop or PC, stable Wi-Fi, and hardware wallet if you use one. Here are the steps you should follow if you are looking to cash out Bitcoin or other cryptocurrencies:
Step 1 - Visit a crypto exchange
Head over to your chosen brokerage or crypto exchange, and make sure they offer the option to convert crypto to fiat currency. Log into your account, and navigate to the "Wallet" or "Balance" tab. Look for a "Withdrawal" or "Fiat" tab to begin the withdrawal process.
Step 2 - Check the transaction fees
Before selecting the fiat currency, look at the transaction fees. These may vary depending on the coin or token you wish to cash out. Make sure to check the most current prices on the page. Costs can also differ depending on how much you're withdrawing and the platform you're using.
Step 3 - Cash out Bitcoin
Once familiar with the fees, you can cash out Bitcoin or another crypto of your choice. Simply enter the required details, such as an external wallet address (if you're using one), the bank account withdrawal address, and the amount you wish to withdraw. Double-check (even triple-check) that you entered all the correct data. You want to avoid ending up like the guy from HODL and losing all your coins over a simple typo!
Step 4 - Use a debit card (optional)
Some crypto exchanges allow you to complete crypto cash out directly to your debit card. It is a quick and practical approach to getting your money. A great place to set up a crypto debit card is BitPay.
Step 5 - Confirm your details
You'll see a pop-up page containing all your transaction fees, details, and the average time it takes until you receive your money and see a change in your credit card balance. Once you're sure everything seems okay, you can proceed by pressing "Confirm".
If you have set up two-factor identification, you should enter a code generated through your authenticator app to complete the verification process. Alternatively, you could scan a wallet QR code. Finally, click the withdraw button and you're done! Once the transaction is complete, all that's left for you to do is sit back and check your linked bank account for the completed trade.
Withdrawal methods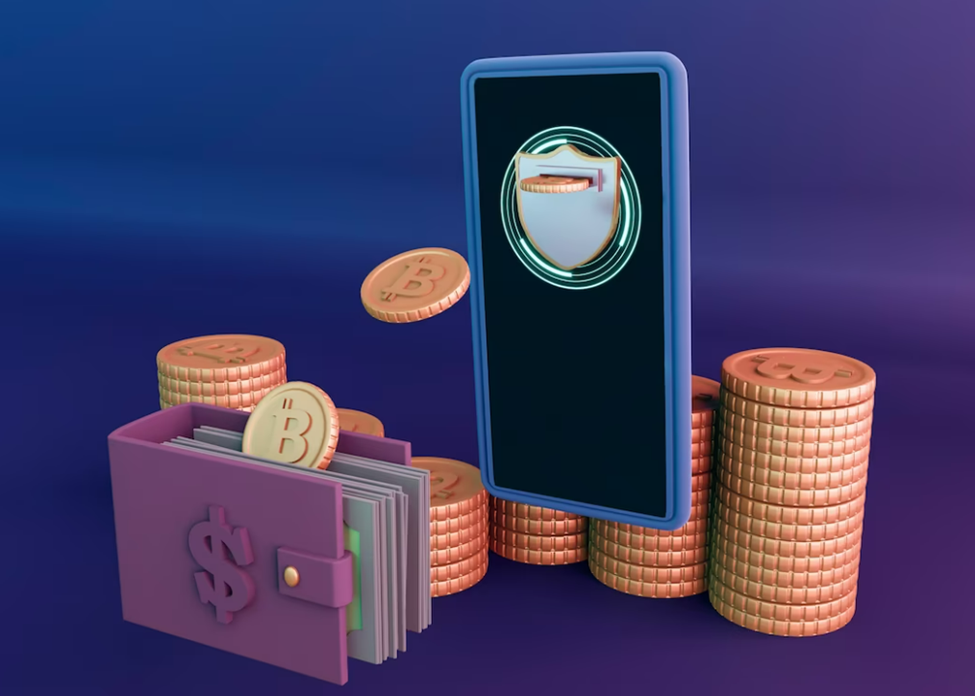 Image source: freepik.com
Are you looking for more affordable ways to cash out Bitcoin and other crypto? There are different options to sell crypto and convert it to cash, with various perks.
Peer-to-peer trades
An alternative withdrawal method is to visit an exchange like Binance, which offers peer-to-peer cryptocurrency exchanges. You may submit your Litecoin, Ether, Bitcoin Cash, or other available cryptocurrency for sale. A buyer willing to exchange his fiat money for your crypto can respond to your offer and complete the trade. P2P is an excellent withdrawal option if you don't want to pay exchange network fees and want to save money. It does take longer to complete, as the right buyer might take some time to find your offer.
Bitcoin ATM
You might think Bitcoin ATMs are a thing of the past, but plenty are still functioning worldwide. There is a nifty Bitcoin ATM map that can help you find the closest one near you. Bitcoin ATMs work similarly to traditional ATMs. All you need to do is type in your wallet address and password at the Bitcoin ATM, select the crypto you'd like to cash out and pull out your money.
A Bitcoin ATM typically offers a limited range of cryptocurrencies, so you might not be able to get an offer for less well-known assets. Additionally, you'll find that crypto ATMs impose high fees, as they take a percentage (typically between 5-15%) of the amount you are withdrawing. However, they offer instant withdrawals, so if time is of the essence, this is an ideal option.
Crypto debit card
You may use a crypto debit card for your withdrawals too. Like debit cards, you can complete crypto transactions without going through a bank transfer. You can shop using your crypto debit card just like your Visa card. You can also send crypto to other users through your account if you like. If you're not too fussed about transferring Bitcoin to cash, this can be a great option for you.
Crypto cash out through a broker
Finally, you can use the services of a crypto broker, who operates as a middleman between you and a cryptocurrency exchange. He can conduct the sale for you and help you find a withdrawal offer from different exchanges. In addition, they can answer any crypto questions you may have, such as how much cash you can receive for your crypto, and provide a wide range of other methods for your withdrawal.
A note on tax
While crypto is widely unregulated, some countries around the globe have taken extra steps to regulate it. You must check the tax implications behind selling your crypto, as you may owe capital gains tax. Not all crypto withdrawals are taxable events, and this largely depends on the country you're based in. Do speak to an accountant or financial consultant to get the precise information you need.
Summary
As you can see, crypto withdrawals are not as intimidating as they look. In fact, they are very similar to a regular withdrawal on a centralised exchange. What is important is doing a bit of research beforehand, so you know your preferred withdrawal method offers the right currency and that you don't pay an exorbitant withdrawal fee for your exchange.
As usual, before you cash out, we recommend you speak to an accountant who can help you determine whether this is a taxable event in your country and give you some tips on withdrawing. We hope this guide was helpful and you can confidently cash out Bitcoin from now on!
Risk Disclosure: Trading in cryptocurrencies involves high risks including the risk of losing some, or all, of your investment amount, and may not be suitable for all investors. Prices of cryptocurrencies are extremely volatile and may be affected by external factors such as financial, regulatory, or political events. The laws that apply to crypto products (and how a particular crypto product is regulated) may change. Before deciding to trade in financial instrument or cryptocurrencies you should be fully informed of the risks and costs associated with trading in the financial markets, carefully consider your investment objectives, level of experience, and risk appetite, and seek professional advice where needed. Kalkine Media cannot and does not represent or guarantee that any of the information/data available here is accurate, reliable, current, complete, or appropriate for your needs. Kalkine Media will not accept liability for any loss or damage as a result of your trading or your reliance on the information shared on this website.