Highlights

Historically, gold holders have been sceptical about any promises made on paper.
Exchanging paper and electronic money for gold bodes well for gold holders because the precious metal is difficult to forge.
One of the main drawbacks for cryptocurrencies, which does not exist in gold - at least not to the same extent - is the volatile nature of the virtual currency.
At this point, it's no secret that the price of Bitcoin has skyrocketed in the past 12 months, in particular. On the back of Bitcoin's success, many other crypto's have followed suit.
In fact, the plight of Bitcoin - the world's largest cryptocurrency – has garnered comparisons to gold, with some experts equating the pursuit of the digital currency to the gold rush in America in the mid-nineteenth century – a period during which gold miners extracted nuggets worth US$2 billion from the San Fernando Valley in California.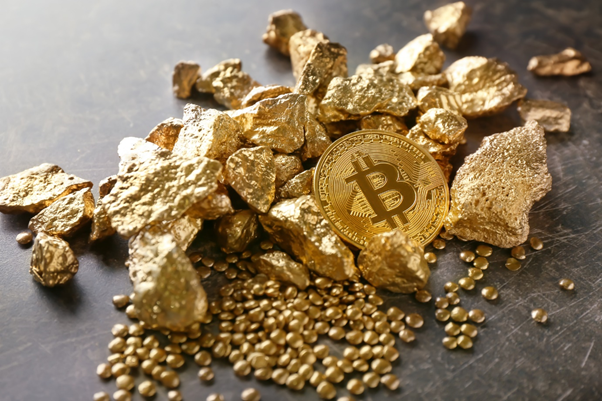 Source: © Serezniy | Megapixl.com
What are the benefits of gold?
Historically, gold has been a safe haven for capital. This is because governments tend to keep gold as reserves, and during uncertain times, like a war, the only mode of payment is gold. This is because in such situations, government promises do not count for much, and gold is the only acceptable payment mode.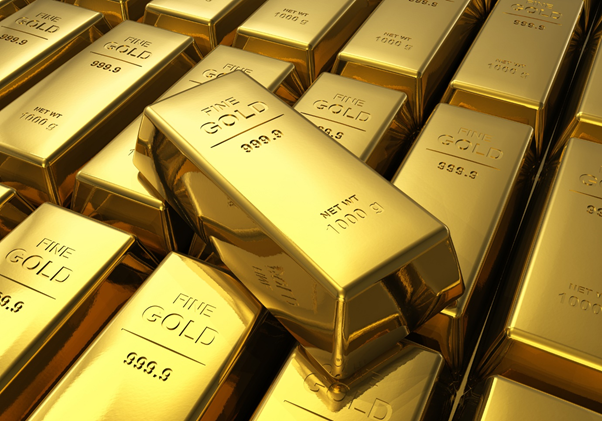 Source: © Scanrail | Megapixl.com
In a similar vein, gold holders are sceptical about any promises made in paper and swapping paper, and electronic money for gold bodes well given the fact that the precious metal – while not completely impossible to forge - is still difficult to fake.
INTERESTING READ: Going for gold? Here are five ways you can invest in the yellow metal
The downside of gold
While gold is indeed difficult to fake, there remain various downsides to possessing it.
The most awkward concern when it comes to possessing gold is its security issues. When one considers that a ton of gold is valued at around US$60 million, it raises concerns when it comes to storing the physical asset. Say, for example, a natural disaster such as an earthquake, landslide, hurricane, or tsunami hits a region where gold is stored, the chances of that gold (and its contained monetary value) being maintained all of a sudden become seriously compromised.
This is why an asset with little weight, which takes up little space, greatly reduces the security risks which would otherwise be associated with gold.
Regardless of the downsides, it's undeniable that gold has been around for thousands of years and doesn't look like going anywhere soon. Moreover, gold is a safe haven; well regarded by traditional financial institutions.
Although, like any other asset, gold can experience downturns depending on the market.
The fact that it's been around for 5000 years is a testament to its safety and is a good indicator that it will be around for many years to come.
GOOD READ: Why you shouldn't have too much gold in your portfolio
The digital answer
So, what does crypto have to offer that gold is lacking? Let's begin with the fact that gold is traded between business hours, whereas crypto can be traded 24 hours a day, seven days a week, 365 days a year.
Bitcoin is similar to gold in that there is a limited supply of bitcoin. To be precise, there are 21 billion available bitcoins. This will lead to an increase in price if the demand increases as the supply is fixed.
This draws parallels to gold which also derives its value from its limited supply.
Copyright © 2021 Kalkine Media
DO READ: Which is the best cryptocurrency you can invest right now?
Bitcoin's disadvantages
One of the main drawbacks for cryptocurrencies, which does not exist in gold - at least not to the same extent - is the virtual currency's volatile nature.
One only need to look at the fluctuating price of bitcoin in 2021, which saw the price go from above US$60,000 in May 2021 to under US$30,000 just months later.
The Verdict
Whether to choose digital currencies like Bitcoin over traditional gold essentially boils down to the investment goals of an individual.
Gold is preferable if the investor is looking for safety and wealth preservation, whereas bitcoin, given its speculative nature, makes it difficult to choose if one is looking for security.
However, it's not a binary choice necessarily. The key to successful investing is diversification. Therefore one would be wise to hedge one's bets between the two.
RELATED ARTICLE: Gold vs. cryptocurrency: Which investment can help you right now